Puente Romano
The jewel of Marbella's famous Golden Mile is undoubtedly the most prestigious beach resort in Spain and for many in Europe, Puente Romano Beach Resort. A five-star hotel complex that represents the Marbella paradise of glamour and the most exclusive lifestyle.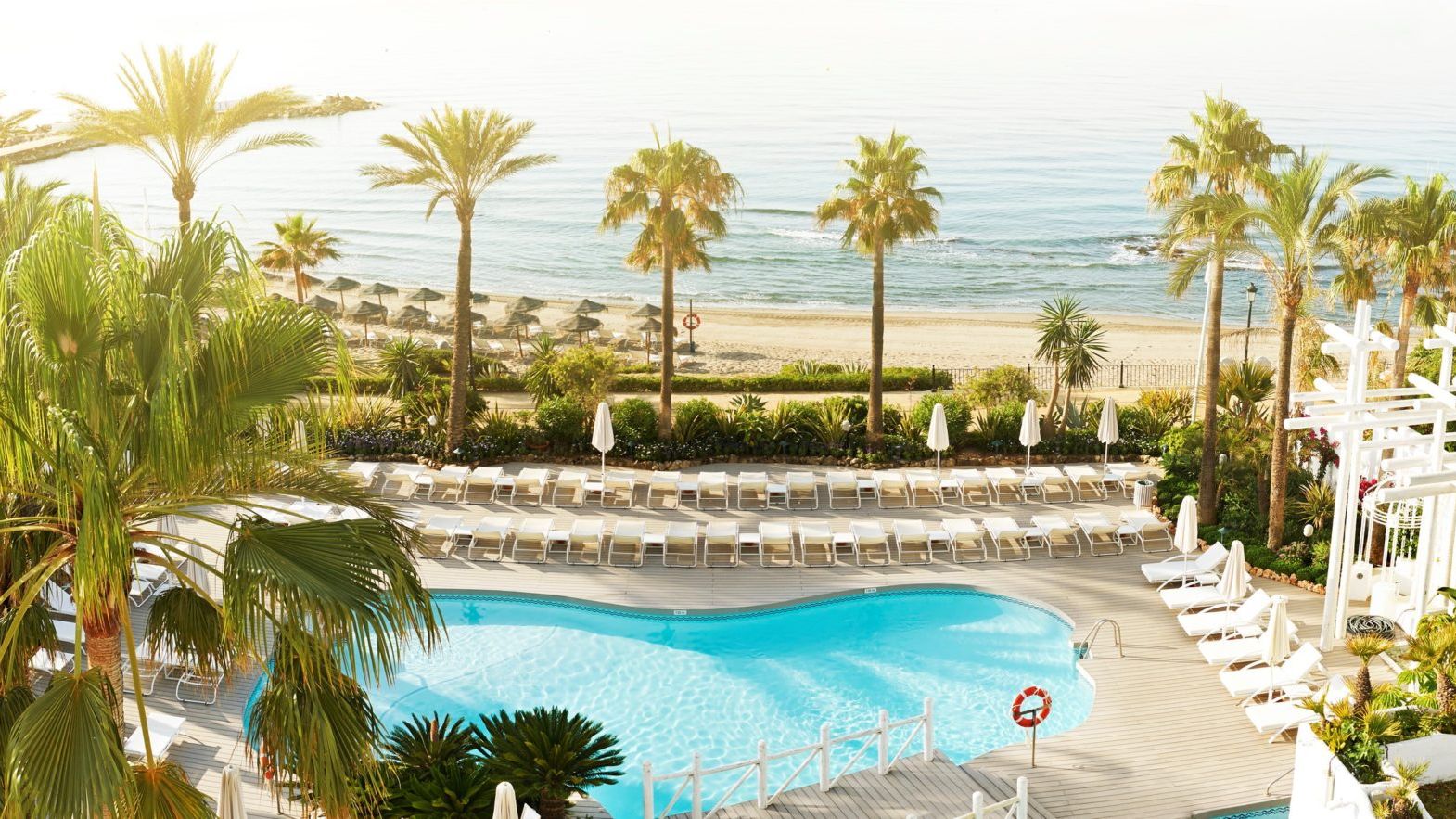 Puente Romano, much more than a hotel
Puente Romano is much more than a wonderful ultra-exclusive hotel-resort. You can live, rent and invest in Puente Romano. You can enjoy its lifestyle without being a hotel client, by renting or owning a part of this exquisite Costa del Sol location. For us, Puente Romano is also our home.
What is Puente Romano in Marbella?
Puente Romano is the name given to one of the most complete, exclusive and sought after areas on the Costa del Sol.
It is a group of ultra-exclusive urbanisations divided into different phases and offering flats, penthouses and villas for both purchase and rent. All around a 5-star hotel that bears its name and that nourishes the rest of the area with numerous services that make Puente Romano a distinguished place.
Why is it called Puente Romano Hotel?
The hotel is built around an authentic Roman bridge that formed part of the Via Augusta, the Roman road that connected Cadiz with Rome. The bridge is still in a good state of preservation, despite its age, and can be visited. There are other Roman archaeological sites of great interest in Marbella and in the province.
Where is Puente Romano in Marbella?
Puente Romano is located on the beachfront, in the heart of Marbella's exclusive Golden Mile. The official address is Puente Romano Beach Resort Hotel, Bulevar Príncipe Alfonso de Hohenlohe, 29602 Marbella. It is 500 metres from the famous Marbella Club Hotel, with the centre of Marbella to the west and Puerto Banús to the east. It also has good connections by sea, road, train and even international airports such as Gibraltar and Malaga.
What areas make up the area of Puente Romano, Marbella?
We can divide Puente Romano into six main zones. All of them have in common a low construction height, a maximum of three floors, security services and lush and exotic gardens. It should also be noted that they are designed as a modern Andalusian village, as designed by its first architect, Melvin Villarroel.
Throughout the area of Puente Romano, we can highlight:
 Puente Romano Hotel Beach Resort
Built in 1974, the hotel has 26 buildings and a total of 190 apartments in suites. Although many are managed by the hotel itself, there is a select group of apartments-suites that operate independently and can be bought or rented. Its great advantage over other phases is that the suites have very close to all the culinary, relaxation and commercial facilities of the hotel.
Puente Romano Phase 2
This phase is no longer managed as a hotel, but as a totally residential urbanization. These homes have a somewhat more inland location, but are actually only a few minutes walk from the beach. It is a U-shaped complex with manicured tropical gardens and a large swimming pool. The properties range from one to three bedrooms, the sizes range from 100 m2 to 136 m2.
What makes up Marina Puente Romano?
This is the largest construction phase of all and is situated to the west of the hotel, and consists of three independent gated developments.
It is made up of three zones:
Japanese Garden
Opened in 1992, composed of 13 buildings with a total of 78 apartments and penthouses. These properties are located on the beachfront. This area stands out for its elaborate landscaping on different levels and has been awarded for its originality. Waterfalls, bridges and winding waterways full of water lilies and colorful fish give the garden an Asian fairytale air, and an infinity pool that communicates with the rest of the green areas of the urbanization.
This is one of our apartments for rent in Jardín Japones.
Andaluz Garden
Opened in 1992, it consists of 12 buildings, with a total of 72 apartments and penthouses. It is located on the north side of the Tennis Club. This Andalusian-style construction is complemented by touches of Roman and Muslim architecture. The complex is full of palm trees, fountains, terracotta walkways and beautiful tiles with geometric motifs. El Jardín Andaluz is the urbanization with the largest swimming pool.
Here you can find apartments for rent in JAndaluz Garden
Persian Garden
Opened in 1986, it consists of 16 buildings, with a total of 96 apartments and penthouses. As the name suggests, it is designed to give an arabesque first impression, with touches very close to the gardens of the Alhambra in Granada. It is full of fountains and irrigation channels that generate a continuous and relaxing sound of water. The garden flows into the promenade of Marbella. It is the only residential complex that is completely surrounded by a fence that gives more privacy to the area.
This is one of our apartments for sale.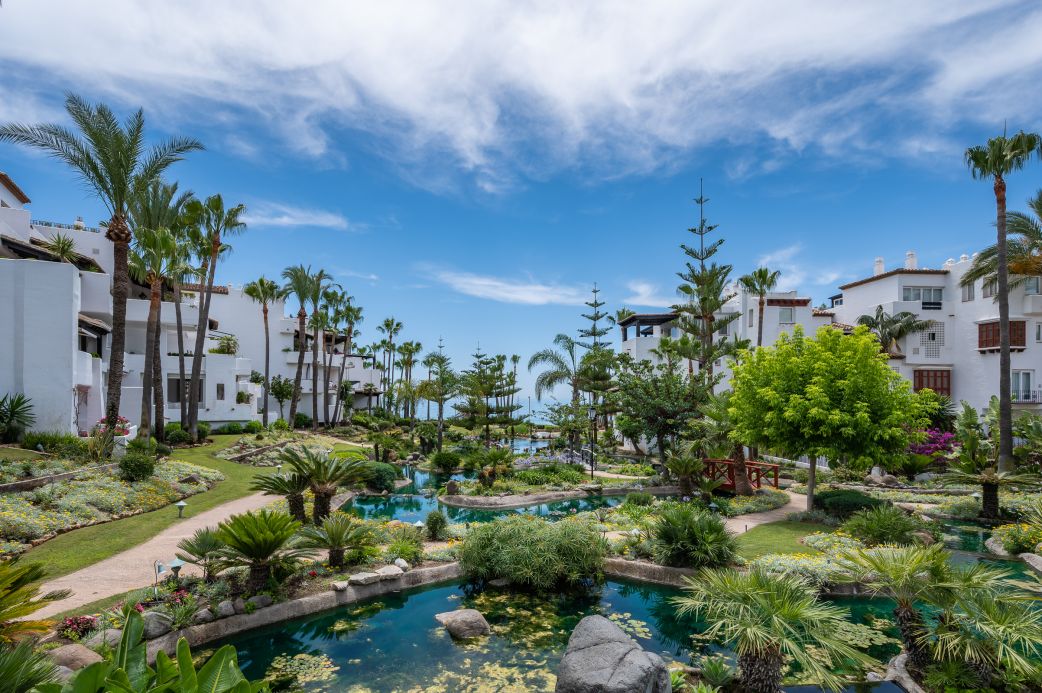 Las Terrazas of Puente Romano
Built in 2003, designed by Carlos Lamas, it consists of 3 buildings (Córdoba, Granada and Málaga) with 6 units in each block. They are distinguished by having a more vertical design, which allows you to have spectacular views, but without exceeding three floors. Some of the penthouses have a private Jacuzzi on the terraces. Here you can see the different properties available in Las Terrazas de Puente Romano.
UNO
This is the new area of Puente Romano. Completion of this project is expected by the end of 2024. This project promises to be the ultimate expression of luxury and will offer another 70 units of between two and five bedrooms. It will have its own Beach Club area and most of the homes will have sea views.
Puente Romano Villas
Puente Romano has a dozen very exclusive villas and only a few are available to buy or rent. They are designed with spacious interiors, including at least 4 bedrooms, private pool and gardens, parking, sauna and even a gym.
We have some of these villas for sale that you can visit in this link.
What does Puente Romano have to offer?
Whether you are a hotel guest, owner or holiday tenant, Puente Romano offers unrivalled facilities and lifestyle. In addition, Puente Romano does not only focus on an individual or exclusive audience for the summer. Shops, restaurants, leisure, clubs for the little ones etc. Below we leave you a list of all the things Puente Romano can offer you.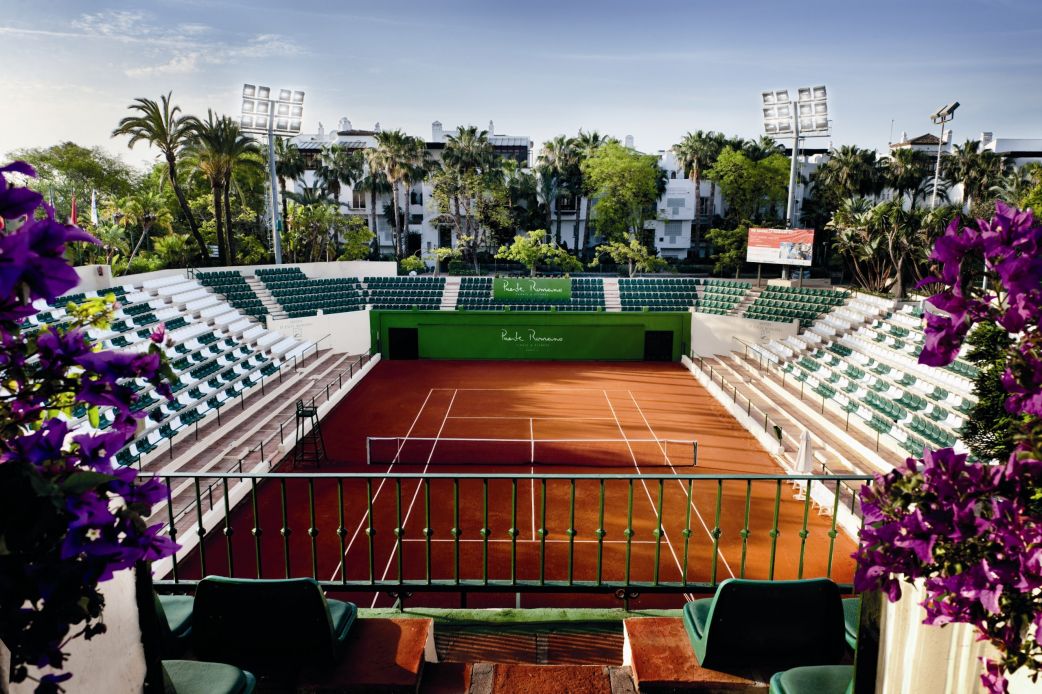 Where to eat in Puente Romano
In Puente Romano you can find a wide variety of restaurants adapted to all types of palates. Highlighting the most gourmet and exclusive gastronomy, such as Grupo Dani García. We found some restaurants like Leña (with three Michelin stars) and others like Babette (French cuisine), Kemuri (Japanese) or Alelí (Italian).
We also have other restaurants such as Rachel's Eco Love, with an Ibizan atmosphere and an ecological cuisine for an audience that decides to take care of itself both outside and inside.
Lagom! It is another restaurant that we can not overlook. It is an exclusive café with a healthy menu and aimed at the most demanding public. It contains tasty, nutritious and of course delicious dishes.
In Puente Romano they do not forget any type of diner. That's why we found Celicioso. Aimed at a more specific audience, Celicioso is a restaurant with a wide variety of specific products for celiacs. Sweets, breakfasts, meals…
Fashion shops in Puente Romano
As it could not be otherwise, Puente Romano has a wide variety of top brand stores aimed at all styles.
Las noches de Ibiza, with typical Ibizan fashion, Orlebar Brown, is with a more classic style, Virginia Macari, specialists in swimwear or Baindoux, with a style of its own.
But of course, we also find better known luxury stores such as Chanel or Luis Vuitton among others.
Jewellery shops and accessories in Puente Romano
The greatest representation of luxury is undoubtedly high jewelry. Of course, Puente Romano has its own establishment aimed exclusively at the highest jewelry. De la Fuente Joyeros is the ultimate expression of luxury and good taste.
What sports to practice in Puente Romano
In addition to the countless sports you can do sun and beach on the beaches of Puente Romano, this area also has a tennis club of the most complete. With up to 8 clay courts, two flexi pavement courts and four paddle tennis courts. This tennis club also has a gym with state-of-the-art technology machines.
Just 15 minutes away you can find numerous golf courses of the most important, such as the great Magna Golf, Banús Executive Golf, and the imposing course of Los Naranjos Golf Club.
Care and wellness in Puente Romano.
Of course in Puente Romano you can find different establishments dedicated exclusively to self-care.
Inside the tennis club you can also find the sauna, spa and Turkish bath. But also more specific sites such as Spa Six Senses, and Milk and Roses, a beauty salon with hairdressing and manicure service.
What can I do with children in Puente Romano?
Puente Romano is a residential complex that does not forget any member of the family. That's why it has different areas reserved for children and not so children of all ages.
Inside the hotel there is an area called La Casita Azul Club. A small enclosure with monitors and children's pool where the little ones have fun doing crafts, painting, movie area etc.
At the same time, there is also the area reserved for teenagers, with television, billiards, playstation and other activities adapted according to the ages.
Of course, the tennis club organizes small tournaments and private lessons for the little ones, where they can learn to play tennis while having fun.
There are some areas adjacent to Puente Romano, such as Altos de Puente Romano, where you find specific urbanizations adapted to families, with children's pools, play areas in common spaces etc.
Here you can find some of those developments.
Which areas of Puente Romano have direct access to the sea?
Being that the entire area of Puente Romano is just a couple of minutes walk from the beach, The Hotel Puente Romano, the Japanese Garden and the Persian Garden have direct access to the promenade with a private door direct to the beach. UNO, the phase of the urbanization that is under construction, will offer sea views and a new Beach Club.
These are some of the beachfront properties available for rent.
Rent or buy in Puente Romano?
Puente Romano continues to grow. It is revalued every day more. Whether as an investment or as a second home, the option to buy in the Puente Romano area is a safe bet.
Renting an apartment or a villa in Puente Romano is an excellent option to experience and enjoy the exclusive quality of life offered by the complex. It is advisable to have the help of an agency specialized in both rental and sale in Puente Romano and that your agent knows your needs. They will be able to advise and help you effectively throughout the process.
You can find properties for sale in Puente Romano here and for rent here.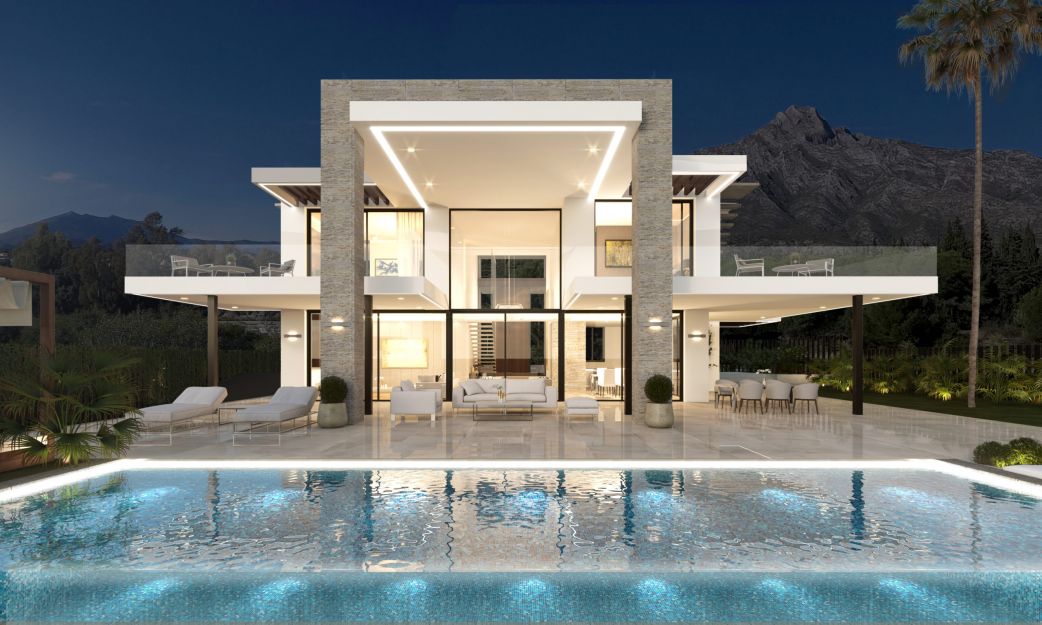 Can you buy an apartment-suite in Puente Romano Hotel?
There is a very limited offer of apartments-suites for sale at the hotel, with prices starting at 995,000 euros. These properties are all 1 bedroom units with an area of between 45 and 55 m². Owners can enjoy the use of the hotel's swimming pools, as well as the resort's room service (always for a fee).
If you prefer to rent, for short or long season, you can find rentals at hotel Puente Romano.
How much does an apartment-suite for sale in Marina Puente Romano cost?
The areas adjacent to the hotel offer two-bedroom apartments for sale from 1,200,000 euros. The exclusive penthouses, decorated with the latest trends and with direct views of the sea, can reach up to 12,000,000€. The owners of this area enjoy separate pools in each sub-garden and have the right to use the gym, hammam and sauna of the Tennis Club.
How much does it cost to buy a villa in Puente Romano, Marbella?
The villas in Puente Romano, due to their scarcity and rarity, always have a price higher than 10,000,000 euros. All are strategically located and spacious, with a minimum of 4 bedrooms, swimming pool and private gardens, parking, sauna and even gym.
This villa is a perfect example to buy in Puente Romano.
Other areas to consider buying around Puente Romano?
Puente Romano is in the heart of Marbella's Golden Mile. Depending on the type of property and the style you are looking for, one of our agents can help you find the best option within your budget and a few minutes from Puente Romano, areas such as Señorío de Marbella, Coral Beach, La Trinidad and the northern area, such as Altos de Puente Romano, are among the most requested urbanizations.
Here you can see some of the examples of properties around the Puente Romano area.
How to access private sales in Puente Romano?
A very limited supply and a constant revaluation increase demand year after year. Buying a home in Puente Romano is a safe and very profitable investment, and the scarce offer is always complemented by the existence of private sales and pocket-listings, properties that will never be publicly announced on the market. The exclusivity, discretion and knowledge necessary for this type of operation make the help of a real estate agency specialized in Puente Romano essential.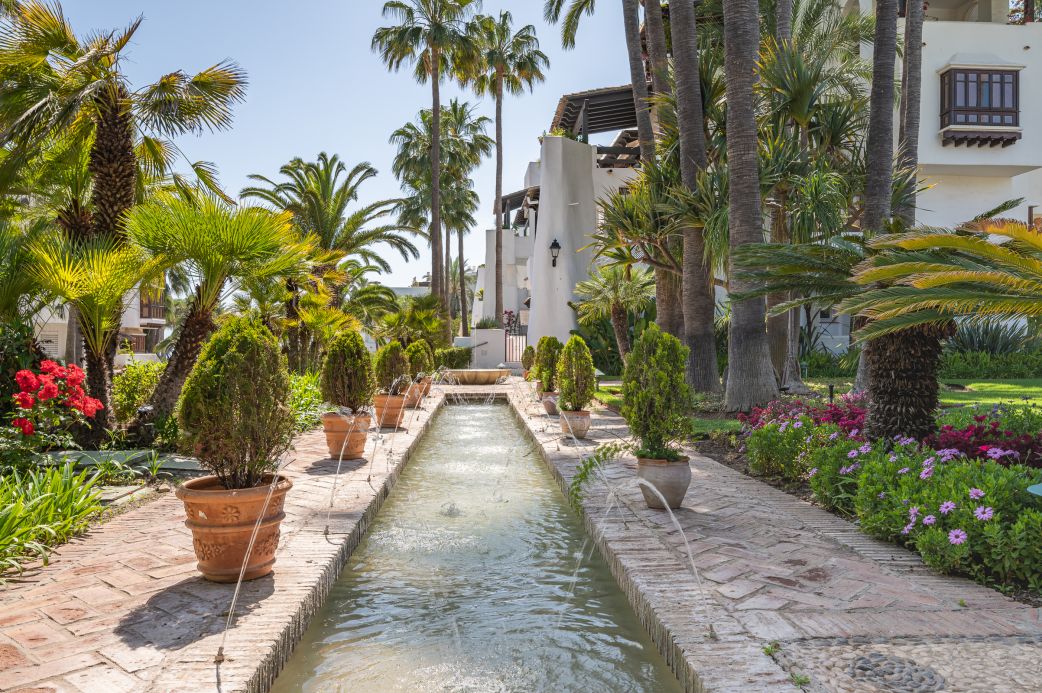 What do our clients think?
After falling in love with Marbella, we decided to buy a place in the area. After looking at numerous properties, we settled for a lovely penthouse in Puente Romano. No regrets whatsoever! Not only do we love our apartment but we couldn't have chosen a better area. We are five minutes away from the paseo where we can bicycle or walk along the ocean and stop for a swim along the way. Across the street is the tennis and padel club where we play almost everyday. After lounging at the beach, there are endless incredible choices of restaurants literally next door! Cocktails and diner at Nobu or any of the other great dining options within minutes! We couldn't have chosen a better spot!
Good luck!
Michel
We came to Marbella in the winter of 2021 to escape Covid lockdowns in Canada. We loved the weather and the Golden Mile area and ended up buying a penthouse in Puente Romano. This was one of the best decisions of our life! Life in Puente Romano is easy and sophisticated. A 100 meters walk takes us to the Paseo where we can walk endlessly by the sea or simply go to the beach for a swim in the Mediterranean. There are a dozen top notch restaurants within walking distance from our apartment.We can reach the tennis courts or the swimming pool in a couple of minutes by foot. We have breakfast on our terrace listening only to the sound of seabirds.It is always sunny and warm in Marbella. Hard to imagine such a great quality of life but now it is ours for good!
Michael
How can we help you?
Pure Living has been helping national and international clients to find their ideal property in Marbella for more than eleven years and, specifically, to settle in Puente Romano. Our advisors are experts in the history of the area as well as in its current real estate market. Our agents will guide you through the purchase or rental process in a professional and efficient manner.

Javier is the founder and CEO of Pure Living Properties. Born and raised in Marbella in an entrepreneurial family who settled on the Costa del Sol in the 1960s, when Marbella's real estate and tourism industry was just a fledgling market, Javier is an expert connoisseur of Puente Romano, which he calls home, and the Golden Mile, but also of the best areas, projects and companies, as their owners and developers have been among his inner circle since childhood.
Properties for sale in Puente Romano