Puente Romano
The jewel of Marbella's famous Golden Mile is undoubtedly the most prestigious beach resort in Spain and for many in Europe, Puente Romano Beach Resort. A five-star hotel complex that represents the Marbella paradise of glamour and the most exclusive lifestyle.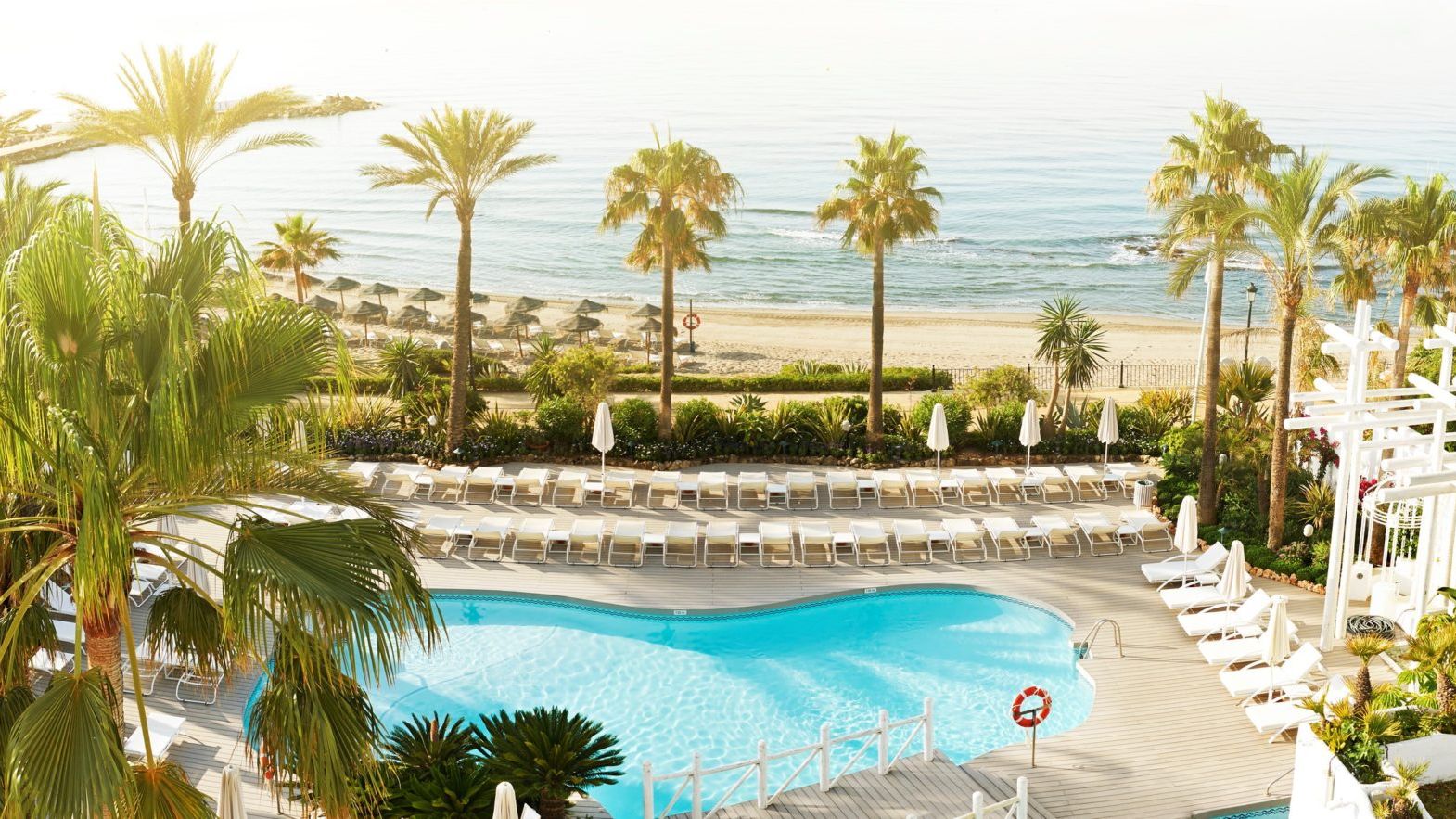 Puente Romano, much more than a hotel
Puente Romano is much more than a wonderful ultra-exclusive hotel-resort. You can live, rent and invest in Puente Romano. You can enjoy its lifestyle without being a hotel client, by renting or owning a part of this exquisite Costa del Sol location. For us, Puente Romano is also our home.
What is Puente Romano in Marbella?
Puente Romano is the name given to one of the most complete, exclusive and sought after areas on the Costa del Sol.
It is a group of ultra-exclusive urbanisations divided into different phases and offering flats, penthouses and villas for both purchase and rent. All around a 5-star hotel that bears its name and that nourishes the rest of the area with numerous services that make Puente Romano a distinguished place.
Why is it called Puente Romano Beach Resort?
The hotel is built around an authentic Roman bridge that formed part of the Via Augusta, the Roman road that connected Cadiz with Rome. The bridge is still in a good state of preservation, despite its age, and can be visited. There are other Roman archaeological sites of great interest in Marbella and in the province.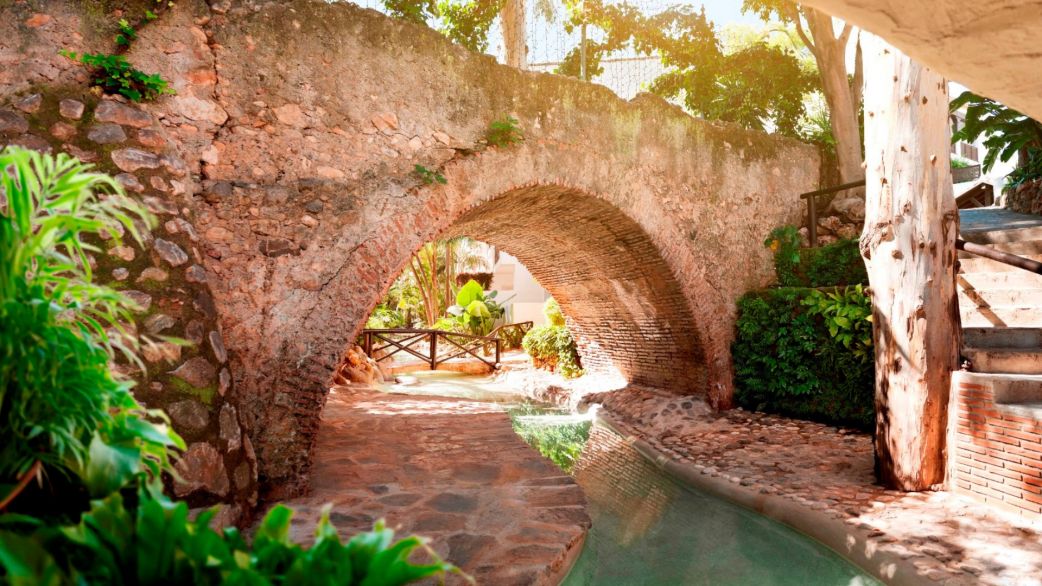 Where is Puente Romano in Marbella?
Puente Romano is located on the beachfront, in the heart of Marbella's exclusive Golden Mile. The official address is Puente Romano Beach Resort Hotel, Bulevar Príncipe Alfonso de Hohenlohe, 29602 Marbella. It is 500 metres from the famous Marbella Club Hotel, with the centre of Marbella to the west and Puerto Banús to the east. It also has good connections by sea, road, train and even international airports such as Gibraltar and Malaga.
What areas make up the area of Puente Romano, Marbella?
We can divide Puente Romano into six main zones. All of them have in common a low construction height, a maximum of three floors, security services and lush and exotic gardens. It should also be noted that they are designed as a modern Andalusian village, as designed by its first architect, Melvin Villarroel.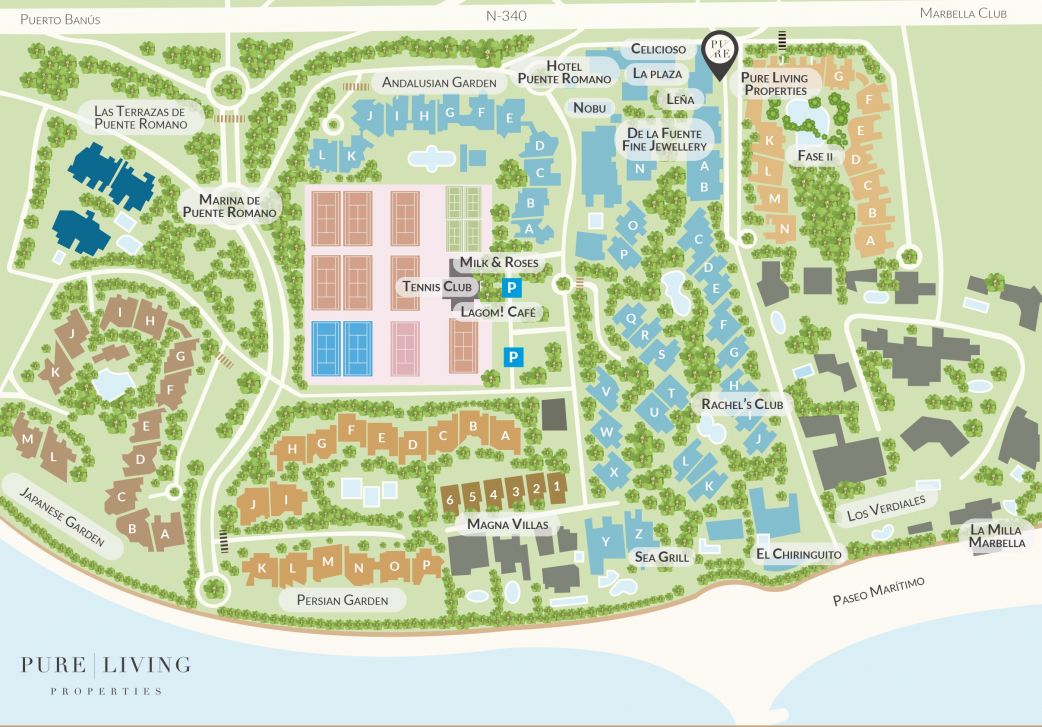 Throughout the area of Puente Romano, we can highlight:
 Puente Romano Hotel Beach Resort
Built in 1974, the hotel has 26 buildings and a total of 190 apartments in suites. Although many are managed by the hotel itself, there is a select group of apartments-suites that operate independently and can be bought or rented. Its great advantage over other phases is that the suites have very close to all the culinary, relaxation and commercial facilities of the hotel.
Nobu Hotel
This 81-room adults-only hotel is a paradise for all of the senses, with elegant Japanese-inspired interiors and a collection of fine dining venues. It pampers guests with exclusive services such as in-room cocktail making and a private members' lounge.
Outside, it joins the Puente Romano Beach Resort surrounded by tropical gardens, ceramic walls, fountains and promenades, often laced with traces of Andalusian and Asian influences.
Puente Romano Phase 2
This phase is no longer managed as a hotel, but as a totally residential urbanization. These homes have a somewhat more inland location, but are actually only a few minutes walk from the beach. It is a U-shaped complex with manicured tropical gardens and a large swimming pool. The properties range from one to three bedrooms, the sizes range from 100 m2 to 136 m2.
What makes up Marina Puente Romano?
This is the largest construction phase of all and is situated to the west of the hotel, and consists of three independent gated developments.
It is made up of three zones:
Japanese Garden
Opened in 1992, composed of 13 buildings with a total of 78 apartments and penthouses. These properties are located on the beachfront. This area stands out for its elaborate landscaping on different levels and has been awarded for its originality. Waterfalls, bridges and winding waterways full of water lilies and colorful fish give the garden an Asian fairytale air, and an infinity pool that communicates with the rest of the green areas of the urbanization.
This is one of our apartments for rent in Jardín Japones.
Andaluz Garden
Opened in 1992, it consists of 12 buildings, with a total of 72 apartments and penthouses. It is located on the north side of the Tennis Club. This Andalusian-style construction is complemented by touches of Roman and Muslim architecture. The complex is full of palm trees, fountains, terracotta walkways and beautiful tiles with geometric motifs. El Jardín Andaluz is the urbanization with the largest swimming pool.
Here you can find apartments for rent in  Andaluz Garden.
Persian Garden
Opened in 1986, it consists of 16 buildings, with a total of 96 apartments and penthouses. As the name suggests, it is designed to give an arabesque first impression, with touches very close to the gardens of the Alhambra in Granada. It is full of fountains and irrigation channels that generate a continuous and relaxing sound of water. The garden flows into the promenade of Marbella. It is the only residential complex that is completely surrounded by a fence that gives more privacy to the area.
This is one of our apartments for sale.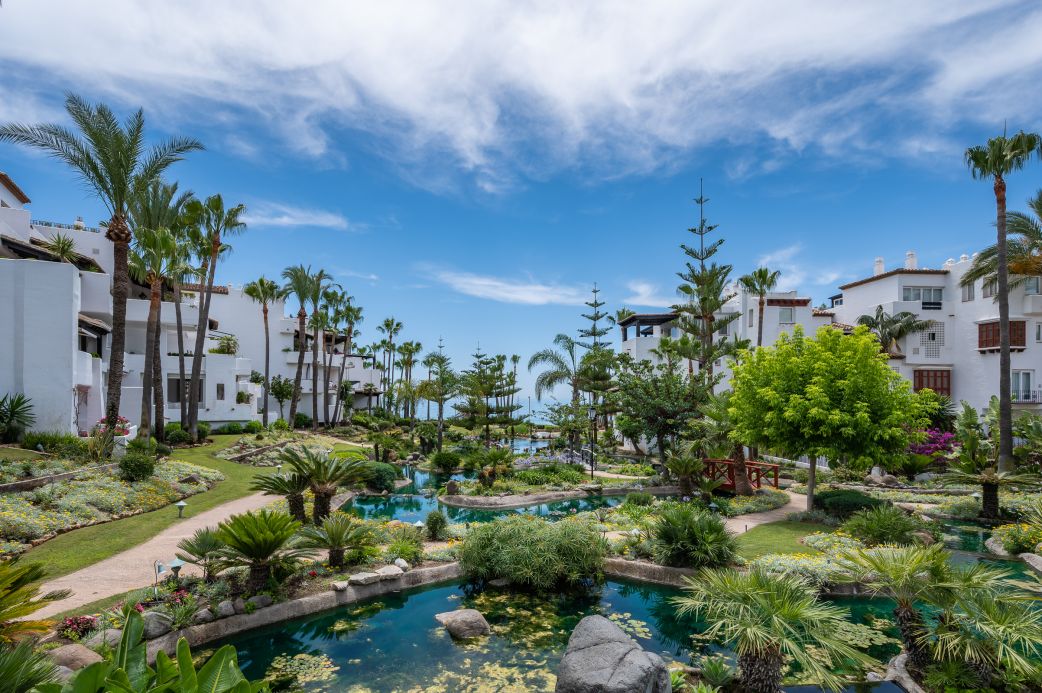 Las Terrazas of Puente Romano
Built in 2003, designed by Carlos Lamas, it consists of 3 buildings (Córdoba, Granada and Málaga) with 6 units in each block. They are distinguished by having a more vertical design, which allows you to have spectacular views, but without exceeding three floors. Some of the penthouses have a private Jacuzzi on the terraces. Here you can see the different properties available in Las Terrazas de Puente Romano.
UNO
This is the new area of Puente Romano. Completion of this project is expected by the end of 2024. This project promises to be the ultimate expression of luxury and will offer another 70 units of between two and five bedrooms. It will have its own Beach Club area and most of the homes will have sea views.
Puente Romano Villas
Puente Romano has a dozen very exclusive villas and only a few are available to buy or rent. They are designed with spacious interiors, including at least 4 bedrooms, private pool and gardens, parking, sauna and even a gym.
We have some of these villas for sale that you can visit in this link.
What does Puente Romano have to offer?
Whether you are a hotel guest, owner or holiday tenant, Puente Romano offers unrivalled facilities and lifestyle. In addition, Puente Romano does not only focus on an individual or exclusive audience for the summer. Shops, restaurants, leisure, clubs for the little ones etc. Below we leave you a list of all the things Puente Romano can offer you.
Where to eat in Puente Romano
In Puente Romano you can find a wide variety of restaurants adapted to all kinds of palates. Highlighting the most gourmet and exclusive gastronomy, such as Dani García Group. We can find some restaurants like Leña (with three Michelin stars), Kemuri (Japanese) and soon Bibo.
We also have other restaurants such as Rachels Eco Love, with an Ibizan atmosphere and ecological cuisine for those who choose to take care of themselves both inside and out.
Nobu Marbella, restaurant of the renowned chef Nobu Matsuhisa combines traditional Japanese cuisine with Peruvian flavours. It promises to satisfy even the most demanding palates with its signature dishes such as Bull Tartar with Caviar, Black Cod with Miso or its famous Japanese Wagyu Sirloin Steak.
The undisputed leader among Spain's culinary destinations, Nobu Marbella's gastronomic experiences will delight the most refined palates. For the private food lovers, guests can enjoy an exclusive 24-hour in-room menu, direct from the famous restaurant.
A beachside paradise called Chiringuito Puente Romano. Specialists in breakfasts that nourish your heart and sunsets that take your breath away. Enjoy the taste of Andalucia with one of their delicious paellas, black rice dishes, fish and espetos.
The Plaza is the heart and soul of Puente Romano Beach Resort, located just a few steps from the reception where you can enjoy cocktails and snacks in the open air.
The best of the sea at your table, enjoy a culinary journey through the Mediterranean on the beautiful terrace overlooking the sea at Sea Grill Puente Romano.
Step into a tropical jungle for an exceptional dining experience at Monkey Club. For foodies, Monkey Club has a unique style and energy that guarantees an unforgettable evening.
If you fancy something exotic and different, don't hesitate to try Thai Gallery. One of the best Thai restaurants in Marbella.
Relax in the tropical paradise of La Selva, a hidden corner in the gardens of Puente Romano with unique recipes and Caribbean touches.
Les Jardins du Liban, a Lebanese restaurant surrounded by lush subtropical gardens and the sound of flowing water under the iconic Puente Romano. Enjoy an explosion of flavoursome kebabs, lamb and beef kebabs and more.
Relax in an adults-only sun retreat with a beautiful view at La Concha. An oasis nestled amongst the resort's gardens with spectacular views of the Marbella mountains. Enjoy a cocktail by the pool or indulge in a menu based on local ingredients.
Patio Sur, a little corner of Andalusia in the heart of Puente Romano, tiles, pots and white walls.
If it's time to unwind by the pool with a good American burger, Cheat is what you're looking for. American dishes using local products and taking care of every detail, with organic chicken, top quality meat and freshly baked buns.
Lagom! is another restaurant not to be missed. It is an exclusive café with a healthy menu aimed at the most demanding public. It contains tasty, nutritious and of course delicious dishes.
In Puente Romano they don't forget about any kind of customer. That is why we find Celicioso. Aimed at a more specific public, Celicioso is a restaurant with a wide variety of specific products for celiacs. Sweets, breakfasts and meals
Coming soon, Coya, inspired by ancient bars in Lima, Peru, offers an innovative menu fusing Peruvian, Japanese and Spanish cuisine. In addition, you can enjoy a Pisco Bar with its selection of exclusive COYA drinks such as Peruvian classics and local specialities. On the other hand, the iconic Cipriani, which will occupy the former Les Jardins du Liban, will offer traditional Italian recipes, specifically Venetian, with beautiful sea views.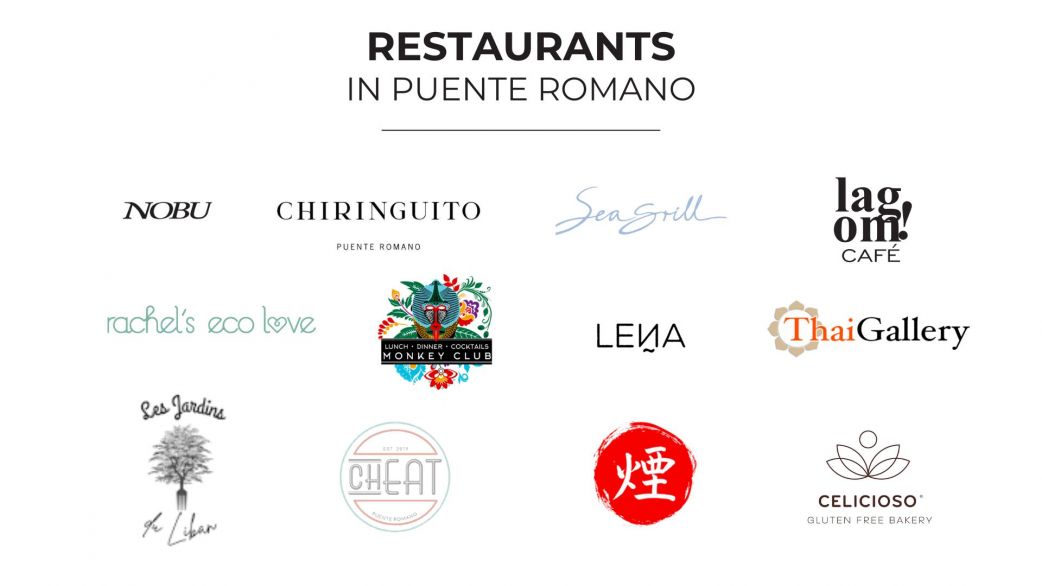 Fashion shops in Puente Romano
As it could not be otherwise, Puente Romano has a wide variety of top brand stores aimed at all styles.
Las noches de Ibiza, with typical Ibizan fashion, Orlebar Brown, is with a more classic style, Virginia Macari, specialists in swimwear or Baindoux, with a style of its own.
But of course, we also find better known luxury stores such as Chanel or Luis Vuitton among others.
Jewellery shops and accessories in Puente Romano
The greatest representation of luxury is undoubtedly high jewelry. Of course, Puente Romano has its own establishment aimed exclusively at the highest jewelry. De la Fuente Joyeros is the ultimate expression of luxury and good taste.
What sports to practice in Puente Romano
Tennis
Puente Romano boasts an impressive tennis center with 10 clay courts and a tennis stadium with a capacity of 2,500 people. Since Bjorn Borg opened the club in 1979, they have hosted some of the top stars in international tournaments and even world-renowned musicians in outdoor concerts. The tennis center has training programs for players of all levels.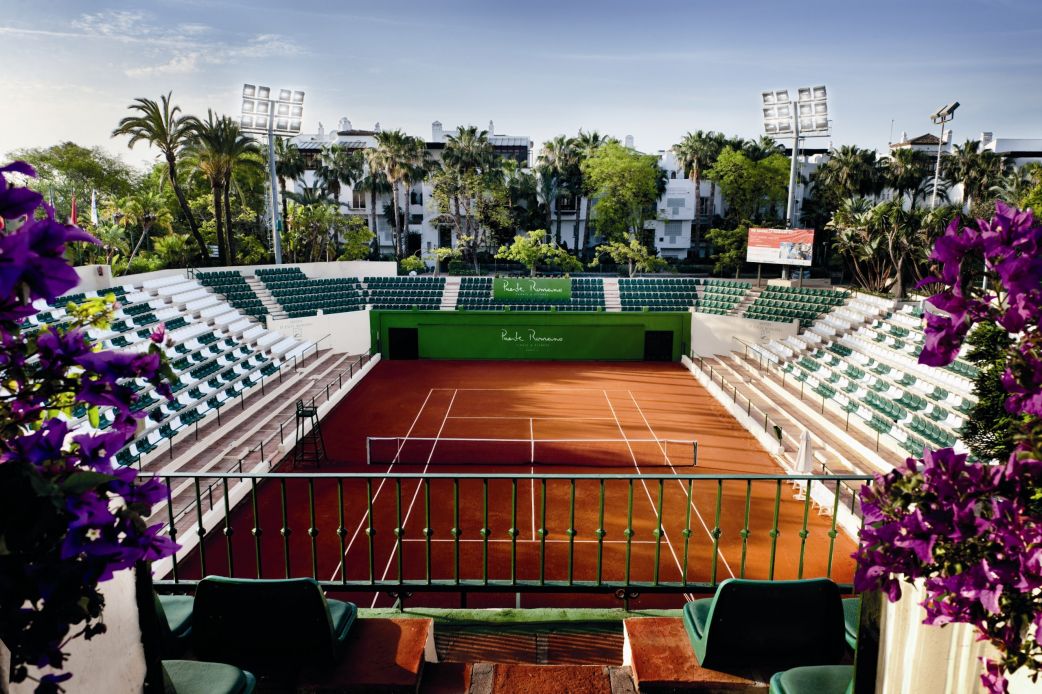 History of tennis in Puente Romano
1988 – Davis´ Cup final between Spain and Mexico, with Spain winning.
1992 – The first summer concerts, with the performance of Monserrat Caballé. This was followed by performances by José Carreras, Ray Charles, BB King, Paco de Lucía, Van Morrison, Grace Jones, George Benson, Dionne Warwick, Lionel Richie and Liza Minnelli, among others.
2001 – Puente Romano's Tennis Club was voted as the Best Tennis Club by the prestigious Spanish Tennis Professional Registry.
In 2007, the Puente Romano Hotel Tennis Club was voted third best Tennis Club in Europe by ACE Magazine.
From 2004 to 2007 – Host of the "Nations Senior Cup" Tennis Tournament with the participation of John McEnroe, Boris Becker, Emilio Sanchez Vicario, Mats Wilander, Jim Courier, Thomas Muster, Yannick Noah and many others.
In 2009 to 2011 – Celebration of the women's tennis tournament "Andalucía Tennis Experience", with the participation of Serena Williams, Jelena Yankovic and directed by former tennis player Conchita Martinez.
In July 2009 the Puente Romano Tennis Club hosted training sessions for the Spanish and German Davis Cup teams.
During 2010 to 2011 – Host of the Women's Wheelchair Tennis Masters, with the participation of the best players on the circuit.
2010 – The X Marbella Masters International is held with the presence of tennis figures such as Sergio Bruguera, Pat Cash, Krajicek or Martina Hingis. Training venue for players such as Feliciano Lopez, Polona Hercog, Stephi Voght and Petra Martic.
2013 – Novak Djokovic visited the club as a training venue in preparation for the Australian Open.
2014 – International events of the prestigious World Padel Tour. With the presence of the best racquets in the world.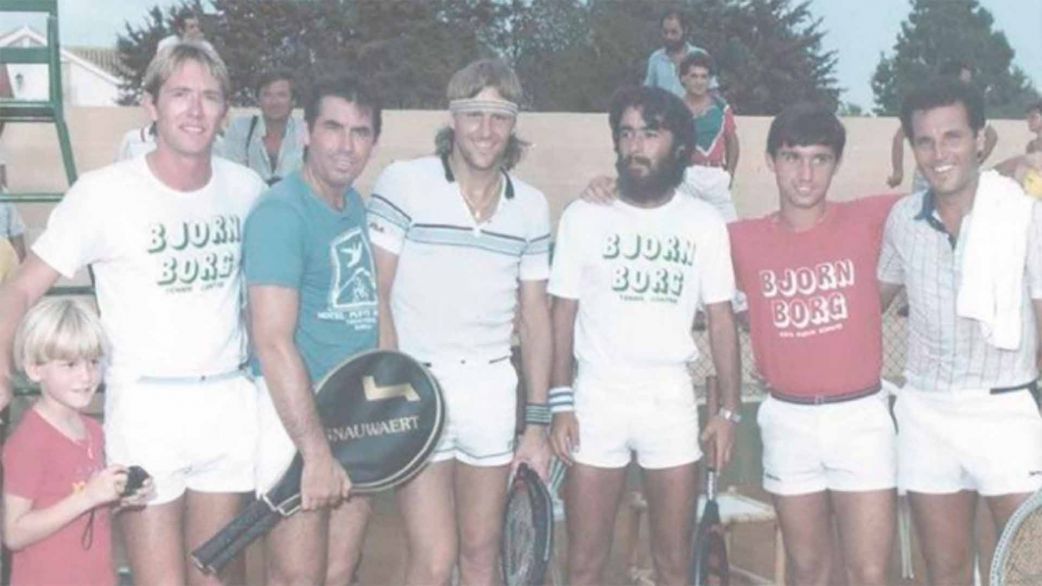 Paddle
Paddle tennis is another popular sport at Puente Romano. The complex has 4 state-of-the-art paddle tennis courts and offers classes and training programs for all levels of play. In addition, Puente Romano is home to several official paddle tournaments such as ATP, WTA, Fed Cup and Davis Cup.
Gym
It has a fully equipped gym with state-of-the-art equipment and offers fitness classes and personalized training.
Water Sports
Puente Romano offers a wide variety of water sports such as windsurfing, water skiing, jet skiing, kayaking and paddle surfing. In addition, the resort has a sailing school that offers classes for all levels.
Golf
Just 20 minutes from Puente Romano, the resort has a golf course called Marbella Golf Club, an 18-hole course designed by the legendary Robert Trent Jones Sr. In addition, you can find numerous top golf courses, such as the great Magna Golf, Banus Executive Golf, and the imposing course of Los Naranjos golf Club.
Care and wellness in Puente Romano.
Of course in Puente Romano you can find different establishments dedicated exclusively to self-care.
Inside the tennis club you can also find the sauna, spa and Turkish bath. But also more specific sites such as Spa Six Senses, and Milk and Roses, a beauty salon with hairdressing and manicure service.
What can I do with children in Puente Romano?
Puente Romano is a residential complex that does not forget any member of the family. That's why it has different areas reserved for children and not so children of all ages.
One of the best options to spend a day with children in Puente Romano is the Kid's Club. The club offers fun and educational activities for children between 4 and 12 years old. Children can enjoy arts and crafts, games and sports, which gives them the opportunity to meet other children and make new friends.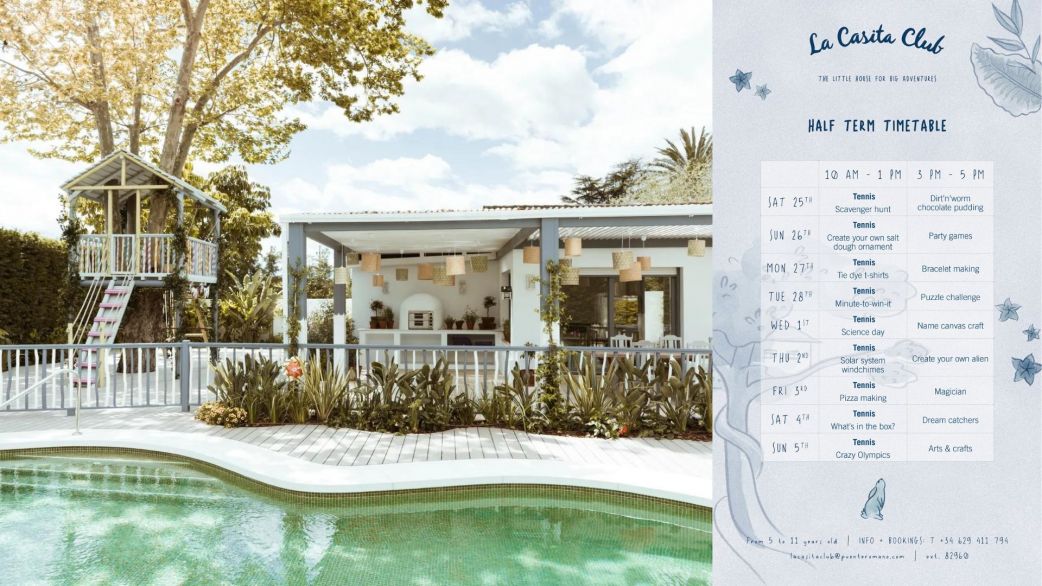 Another option for children is to enjoy the resort's swimming pools. Some of the pools are designed for children and are equipped with slides and other water attractions. Children can spend a refreshing and fun day in the water, while parents can relax on the sun loungers around the pool, while parents can relax on the sun loungers around the pool.
Finally, Puente Romano offers a wealth of tours for the whole family. They can visit the old town of Marbella, the natural park of the Sierra de las Nieves or even take a trip to Gibraltar. These trips give them the opportunity to explore the natural beauty and rich history of the Costa del Sol.
There are some areas adjacent to Puente Romano, such as Altos de Puente Romano, where you find specific urbanisation adapted to families, with children's pools, play areas in common spaces etc.
Here you can find some of those developments.
Education
Finding a good school for your children can be one of the most important decisions you make as a parent. Here are some of the best schools near Puente Roano Marbella.
Aloha College: Located 20 minutes from Puente Romano. This bilingual school prides itself on offering an international education for children from 3 to 18 years old. They have a strong focus on values education and offer a wide variety of extra-curricular activities and sports. They also have state-of-the-art facilities, including an indoor swimming pool and a theatre.
Laude San Pedro International College: Located just 10 minutes drive from Puente Romano. Focuses on providing a bilingual education in a multicultural environment. They offer a wide variety of extra-curricular activities, including sports, art and music. In addition, they have a cultural exchange programme so that students can learn about other cultures and improve their fluency in English.
Colegio Bilingüe Atalaya: Located just 15 minutes' drive from Puente Romano which prides itself on being a multicultural, bilingual educational community with a strong focus on values education. They offer an extensive academic programme as well as sporting and artistic activities to complement the students' education.
Colegio Alborán: Located about 20 minutes away, it focuses on the academic, personal and social development of students. They offer a wide variety of extracurricular activities, including sports, art, music and drama. They also have a strong focus on emotional and values education.
Swans School: Located 15 minutes' drive from Puente Romano, Swans School has a broad academic programme, and offers a variety of extra-curricular activities to complement students' education. It has a special focus on project-based learning, and the development of practical and critical thinking skills.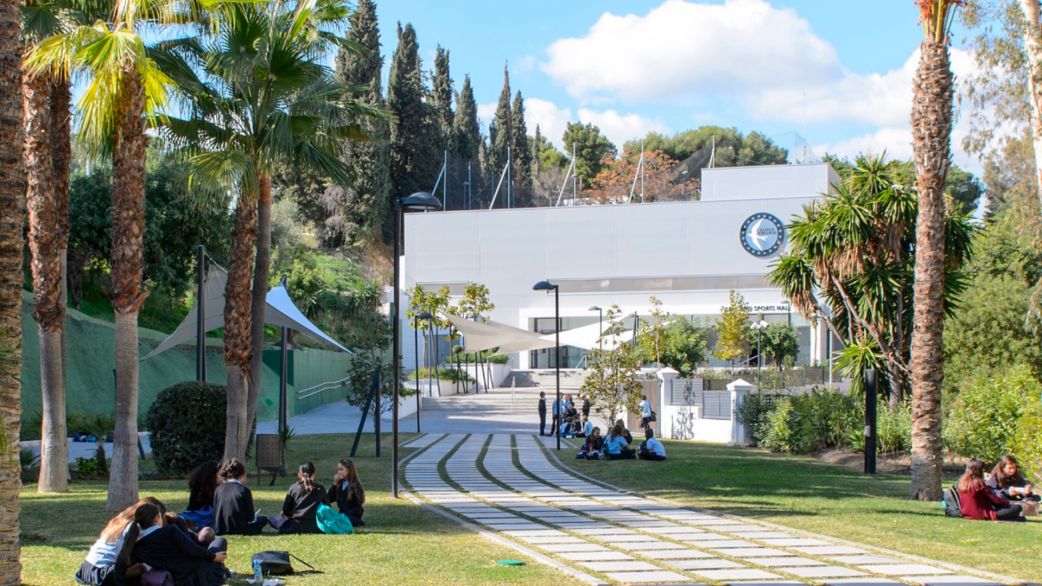 Medical Centre
If you are looking for private healthcare options near Puente Romano in Marbella, there are a variety of private healthcare centres that can offer you high quality services.
Here are some of the main private health centres nearby:
Hospiten: Located about 15 minutes' drive from Puente Romano, Hospiten offers a wide range of medical and surgical services, including emergency care, diagnostic, and laboratory services.
HC Marbella: This private health centre is located about 10 minutes' drive from Puente Romano, and offers specialised medical and surgical services, including oncology, plastic surgery, and urology.
Clínica Premium Marbella: Located about 10 minutes drive from Puente Romano, and offers a wide range of medical and surgical services, including dermatology, gynaecology, and traumatology.
Beaches
Puente Romano Beach
One of the most popular beaches in the area, with a wide range of water activities and beach sports on offer. Find creative cocktails, balanced cuisine and dreamy sunsets at the Chiringuito Puente Romano. The main stars of the menu are paellas, black rice, fish and espetos.
Nagueles Beach
The symbol of the beach is the pier of the Marbella Club Hotel, which has become an attraction for visitors to the beach.
A 100m long pier, from where you can enjoy spectacular views.
Don't miss the beach bars MC Beach, the beach restaurant of the Marbella Club Hotel or La Milla, an exclusive Gastro-Beach where you can enjoy delicious Mediterranean food right on the beach.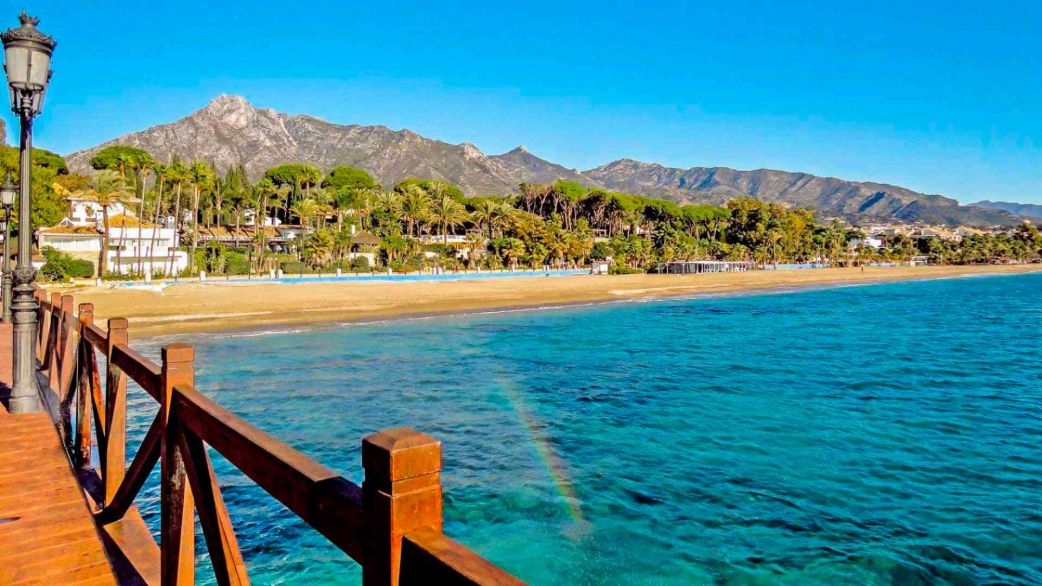 Culture and Art
The complex has an open-air theatre, the "Puente Romano Amphitheatre", which offers live performances throughout the year, from music concerts to dance and theatre performances. There is also an open-air cinema showing classic and contemporary films.
Puente Romano Beach Resort has an extensive collection of contemporary art on display throughout the resort. Guests can enjoy guided tours of the art collection, which includes works by local and international artists.
In addition, the resort offers a range of workshops and activities for guests wishing to learn about Spanish culture and gastronomy. Guided tours can be arranged to nearby historical sites, such as the Roman city of Baelo Claudia or the medieval town of Ronda.
Nightlife
Bars and nightclubs: The resort has several bars and nightclubs offering a wide variety of drinks and live music, from electronic music to jazz. Some of the most popular venues include La Suite Nightclub, Bar Picasso and Sea Grill.
Live entertainment: Puente Romano Amphitheatre offers a variety of live entertainment throughout the year, from music concerts to dance and theatre performances. Guests can enjoy a cultural evening at this impressive open-air theatre.
Supermarkets and Pharmacies
Aldi – 3 minutes – At Aldi you can find everything from food and drink, hygiene and cleaning products to small household appliances and other goods and products.
Lidl – 5 minutes – Lidl is a German supermarket chain that offers a wide variety of food products with the best offers and promotions.
Carrefour – 7 minutes – Carrefour is a multinational distribution chain (hypermarkets) of French origin present in areas of almost all over the world. The main sectors in which the multinational operates are food, drugstores, electronics, perfumery and sports.
Farmacia Universal – 6 minutes – Pharmacy, parapharmacy and cosmetics. Accepts all types of payments.
Which areas of Puente Romano have direct access to the sea?
Being that the entire area of Puente Romano is just a couple of minutes walk from the beach, The Hotel Puente Romano, the Japanese Garden and the Persian Garden have direct access to the promenade with a private door direct to the beach. UNO, the phase of the urbanization that is under construction, will offer sea views and a new Beach Club.
These are some of the beachfront properties available for rent.
Rent or buy in Puente Romano?
Puente Romano continues to grow. It is revalued every day more. Whether as an investment or as a second home, the option to buy in the Puente Romano area is a safe bet.
Renting an apartment or a villa in Puente Romano is an excellent option to experience and enjoy the exclusive quality of life offered by the complex. It is advisable to have the help of an agency specialized in both rental and sale in Puente Romano and that your agent knows your needs. They will be able to advise and help you effectively throughout the process.
You can find properties for sale in Puente Romano here and for rent here.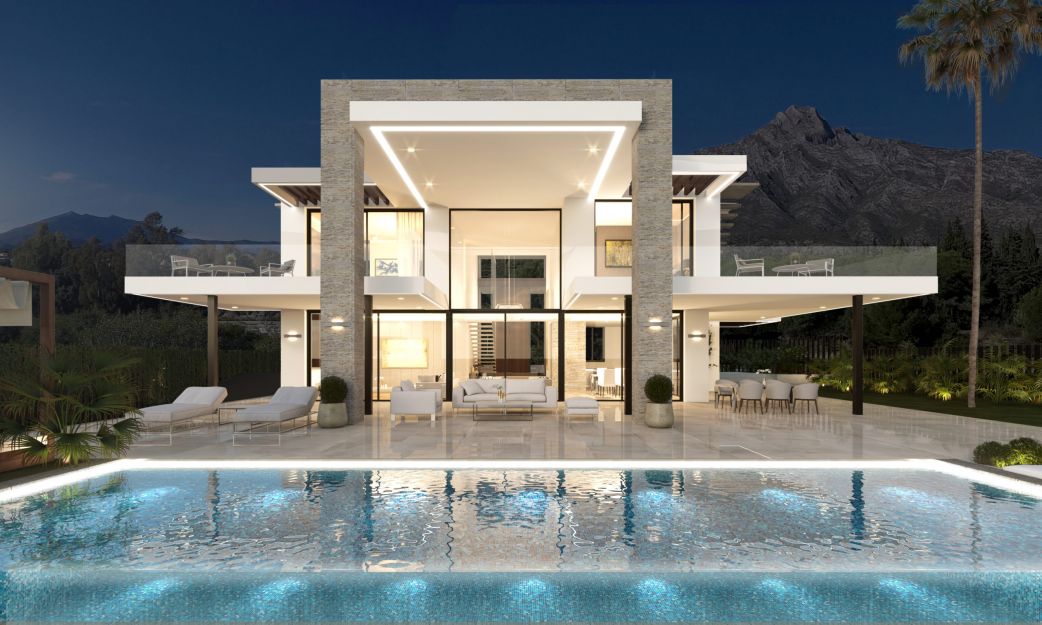 Can you buy an apartment-suite in Puente Romano Hotel?
There is a very limited offer of apartments-suites for sale at the hotel, with prices starting at 995,000 euros. These properties are all 1 bedroom units with an area of between 45 and 55 m². Owners can enjoy the use of the hotel's swimming pools, as well as the resort's room service (always for a fee).
If you prefer to rent, for short or long season, you can find rentals at hotel Puente Romano.
How much does an apartment-suite for sale in Marina Puente Romano cost?
The areas adjacent to the hotel offer two-bedroom apartments for sale from 1,200,000 euros. The exclusive penthouses, decorated with the latest trends and with direct views of the sea, can reach up to 12,000,000€. The owners of this area enjoy separate pools in each sub-garden and have the right to use the gym, hammam and sauna of the Tennis Club.
How much does it cost to buy a villa in Puente Romano, Marbella?
The villas in Puente Romano, due to their scarcity and rarity, always have a price higher than 10,000,000 euros. All are strategically located and spacious, with a minimum of 4 bedrooms, swimming pool and private gardens, parking, sauna and even gym.
This villa is a perfect example to buy in Puente Romano.
Other areas to consider buying around Puente Romano?
Puente Romano is in the heart of Marbella's Golden Mile. Depending on the type of property and the style you are looking for, one of our agents can help you find the best option within your budget and a few minutes from Puente Romano, areas such as Señorío de Marbella, Coral Beach, La Trinidad and the northern area, such as Altos de Puente Romano, are among the most requested urbanizations.
Here you can see some of the examples of properties around the Puente Romano area.
How to access private sales in Puente Romano?
A very limited supply and a constant revaluation increase demand year after year. Buying a home in Puente Romano is a safe and very profitable investment, and the scarce offer is always complemented by the existence of private sales and pocket-listings, properties that will never be publicly announced on the market. The exclusivity, discretion and knowledge necessary for this type of operation make the help of a real estate agency specialized in Puente Romano essential.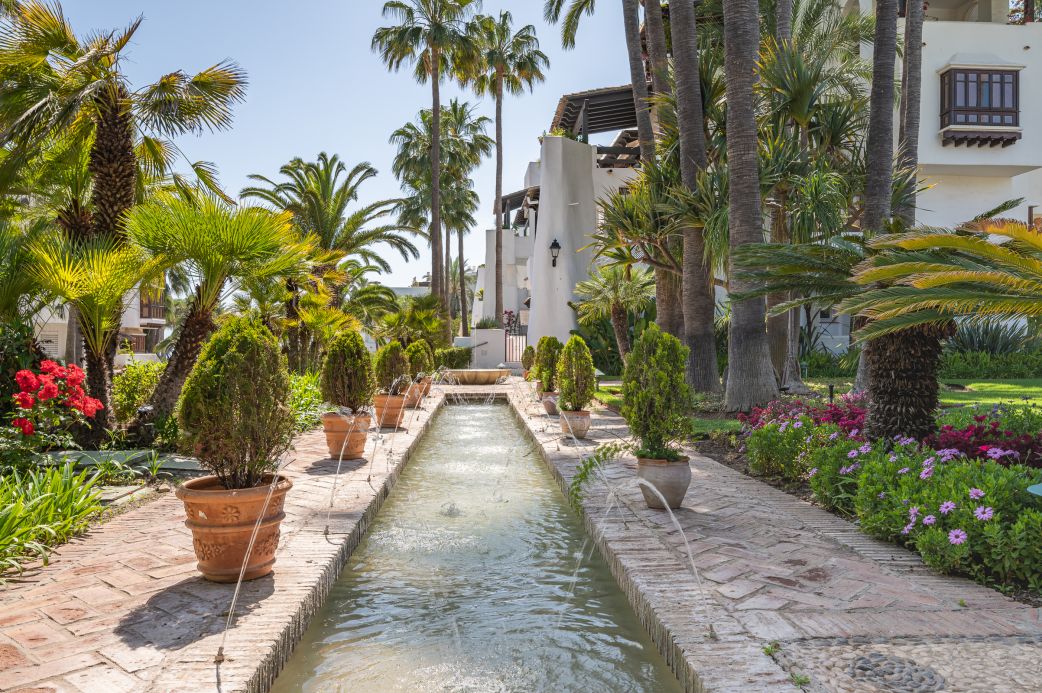 What do our clients think?
After falling in love with Marbella, we decided to buy a place in the area. After looking at numerous properties, we settled for a lovely penthouse in Puente Romano. No regrets whatsoever! Not only do we love our apartment but we couldn't have chosen a better area. We are five minutes away from the paseo where we can bicycle or walk along the ocean and stop for a swim along the way. Across the street is the tennis and padel club where we play almost everyday. After lounging at the beach, there are endless incredible choices of restaurants literally next door! Cocktails and diner at Nobu or any of the other great dining options within minutes! We couldn't have chosen a better spot!
Good luck!
Michel
We came to Marbella in the winter of 2021 to escape Covid lockdowns in Canada. We loved the weather and the Golden Mile area and ended up buying a penthouse in Puente Romano. This was one of the best decisions of our life! Life in Puente Romano is easy and sophisticated. A 100 meters walk takes us to the Paseo where we can walk endlessly by the sea or simply go to the beach for a swim in the Mediterranean. There are a dozen top notch restaurants within walking distance from our apartment.We can reach the tennis courts or the swimming pool in a couple of minutes by foot. We have breakfast on our terrace listening only to the sound of seabirds.It is always sunny and warm in Marbella. Hard to imagine such a great quality of life but now it is ours for good!
Michael
How can we help you?
Pure Living has been helping national and international clients to find their ideal property in Marbella for more than eleven years and, specifically, to settle in Puente Romano. Our advisors are experts in the history of the area as well as in its current real estate market. Our agents will guide you through the purchase or rental process in a professional and efficient manner.

Javier is the founder and CEO of Pure Living Properties. Born and raised in Marbella in an entrepreneurial family who settled on the Costa del Sol in the 1960s, when Marbella's real estate and tourism industry was just a fledgling market, Javier is an expert connoisseur of Puente Romano, which he calls home, and the Golden Mile, but also of the best areas, projects and companies, as their owners and developers have been among his inner circle since childhood.
Properties for sale in Puente Romano