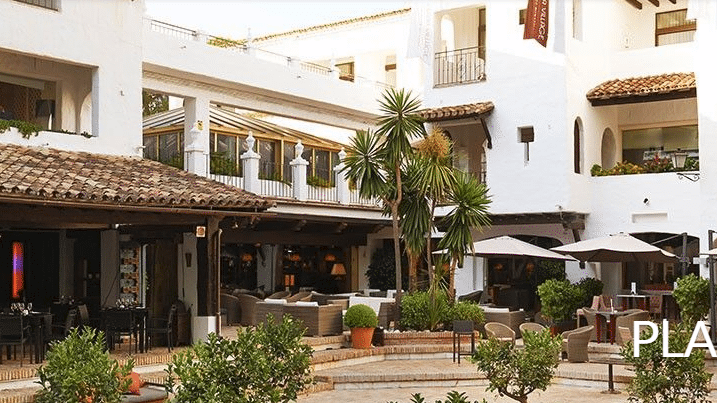 The Puente Romano Resort was the setting for a culinary masterclass when chefs bearing a combined total of 71 Michelin stars came together for the A Cuatro Manos food festival.
Dani García hosted the event at the restaurant bearing his name within the resort's Plaza Village, with superstar chefs from around the world gathering to pay homage to Joel Robuchon.
The opening night, attended by the cream of Marbella society, including Mayor José Bernal, featured a menu of 20 of guest of honour Robuchon's greatest dishes. Fittingly they were all prepared by a brigade of Michelin rated chefs, including names of the stature of Ferran Adria, Joan Roca, Quique Dacosta and Sebastian Frank.
They were amongst 20 chefs attending, all of whose restaurants have been awarded the coveted stars, and included Daniel Humm, from New York's Eleven Madison Park restaurant—rated number five in the world!
The culinary stars were gathered together to celebrate the career of Robuchon, a French restaurateur dubbed 'Chef of the Century' by the Gault Millau guide, and recipient of the prestigious Meilleur Ouvrier de France award. He now heads an empire of twelve restaurants in the United States, London and East Asia.
While the first evening of the four day event was dedicated to Robuchon, the focus of the festival was on inspired and creative cuisine from some of the most talented practitioners of the culinary arts to be found anywhere in the world.
The second night saw Dani García, Paco Morales and Angel Leon team up for an evening of 'Unplugged' cooking, where they prepared a feast eschewing the most modern methods. No techniques developed since 1995 were allowed—thus showcasing the chefs' mastery of more traditional skills.
García took centre stage again on the third day, this time accompanied by Humm to create a sumptuous meal, before he closed the event on the fourth day alongside Sebastian Frank from Horvath Restaurant in Berlin.
A Cuatro Manos was a huge success and can be counted as the largest gathering of Michelin starred chefs ever seen in Spain—and quite possibly Europe. It was a real coup for García to make the Puente Romano Resort the focus of the gastronomic world for four days—one that highlighted the culinary standards of the resort.

Javier is the founder and CEO of Pure Living Properties. Born and raised in Marbella in an entrepreneurial family who settled on the Costa del Sol in the 1960s, when Marbella's real estate and tourism industry was just a fledgling market, Javier is an expert connoisseur of Puente Romano, which he calls home, and the Golden Mile, but also of the best areas, projects and companies, as their owners and developers have been among his inner circle since childhood.