Sierra Blanca
Everything you need to know about one of the most prestigious residential areas in Marbella is in our Sierra Blanca Guidebook.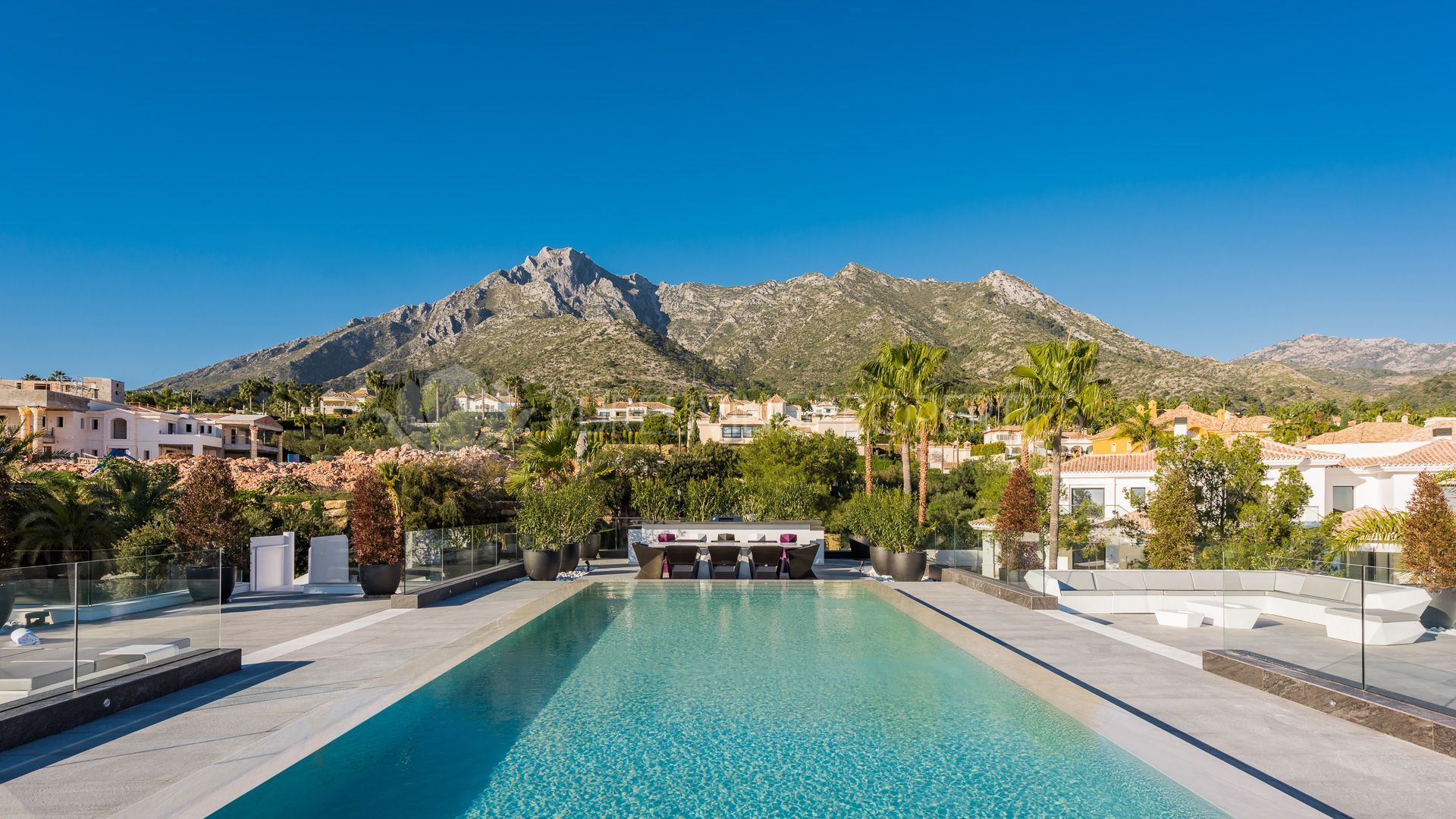 Luxury views and privacy combined
Known as the Beverly Hills of the South, and with a privileged setting, Sierra Blanca is one of the most exclusive residential areas on Marbella's Golden Mile.
Situated in the north of Marbella and just a few minutes from the beach, its location in the heart of the mountains means that its luxurious villas have some of the most coveted views of the Costa del Sol. In addition, due to its proximity to the AP7 motorway, Sierra Blanca is perfectly connected to Puerto Banús , where Sierra Blanca residents will be able to find endless options for leisure, luxury and catering, just a short car ride away.
The Sierra Blanca area encompasses different well-known urbanisations, such as Condado de Sierra Blanca, Jardines de Sierra Blanca, La Quinta de Sierra Blanca, Lagos de Sierra Blanca, Lomas de Sierra Blanca, Reserva de Sierra Blanca, Sierra Blanca del Mar … where some of the most spectacular properties in Sierra Blanca are located.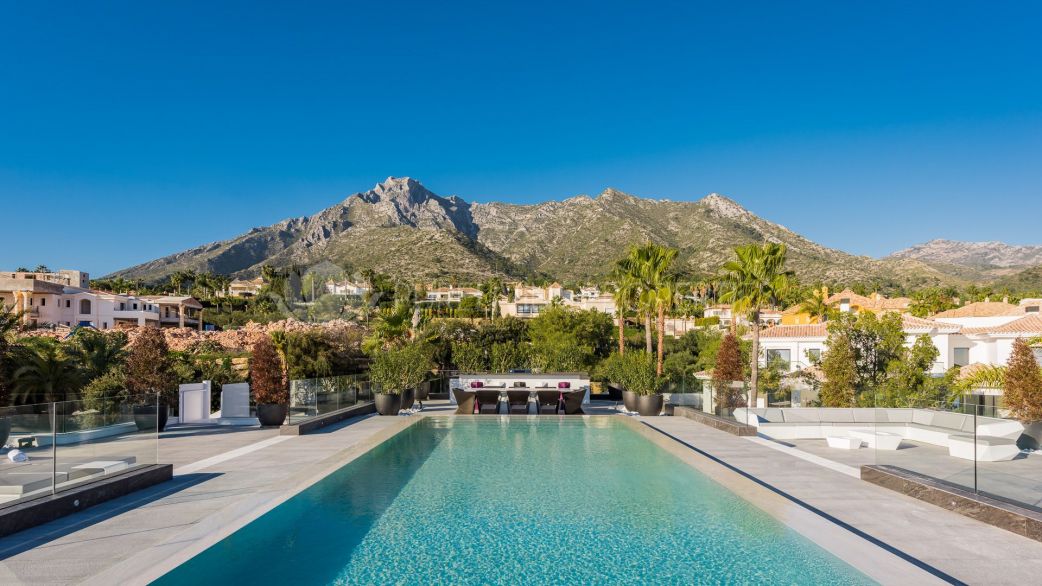 Exclusive Properties in Sierra Blanca
If Sierra Blanca is known for anything, it is for housing spacious villas and chalets, with spectacular panoramic views of both the coast and the mountains. In Sierra Blanca, the villas are a fusion of classic and traditional style with a modern and trendy flare.
The Sierra Blanca urbanisation is characterised by its 24-hour security systems offered throughout the entire urbanisation, and the privacy of the villas, as well the wide avenues that give way to perfectly lit landscaped villas. As for the properties, they are built with the highest quality standards, equipped with all necessities , have large windows to enjoy the spectacular views and an outdoor area with a solarium and beautifully cared for tropical gardens. Most of these villas have a private spa with a Turkish bath, a sauna, fully equipped gyms with the latest technology, large garages that house collections of the most exclusive vehicles, Ferrari, Bugatti, Aston Martin, beauty and hairdressing salons, private wineries where you can enjoy the best wines of the land, and so much more…
In addition, these exclusive villas offer areas for rest and leisure with family and friends, such as double-height living dining rooms, with unique views of the coast and the mountains, equipped with exclusive furniture chosen by renowned experts in interior design and en-suite rooms with private terraces, to offer its residents and guests maximum comfort.
All these characteristics make Sierra Blanca one of the areas of Marbella with the highest demand both for clients who wish to establish their residence in Marbella, as well as for investors and architects, who aspire to develop their new projects in one of the most recognised areas of Marbella.
At Pure living Properties we have a long professional career in managing the sale and rental of villas and properties in Sierra Blanca, always paying special attention to satisfying the needs of our client.
If you are interested in acquiring a property in Sierra Blanca we would be happy to help you in the process of finding the ideal villa, in one of the most luxurious residential areas of Marbella, where you can enjoy an unprecedented quality of life and luxury in Marbella.
Services in Sierra Blanca
Education and Schools
As a residential complex, in the Sierra Blanca area you will find anything from nurseries to schools where you can continue with your studies and training. Sierra Blanca has one of the most recognised
private primary and secondary schools on the Costa del Sol, Swans International School, which opened its doors almost 50 years ago, and whose teachers have been educating students of more than thirty nationalities for over a decade.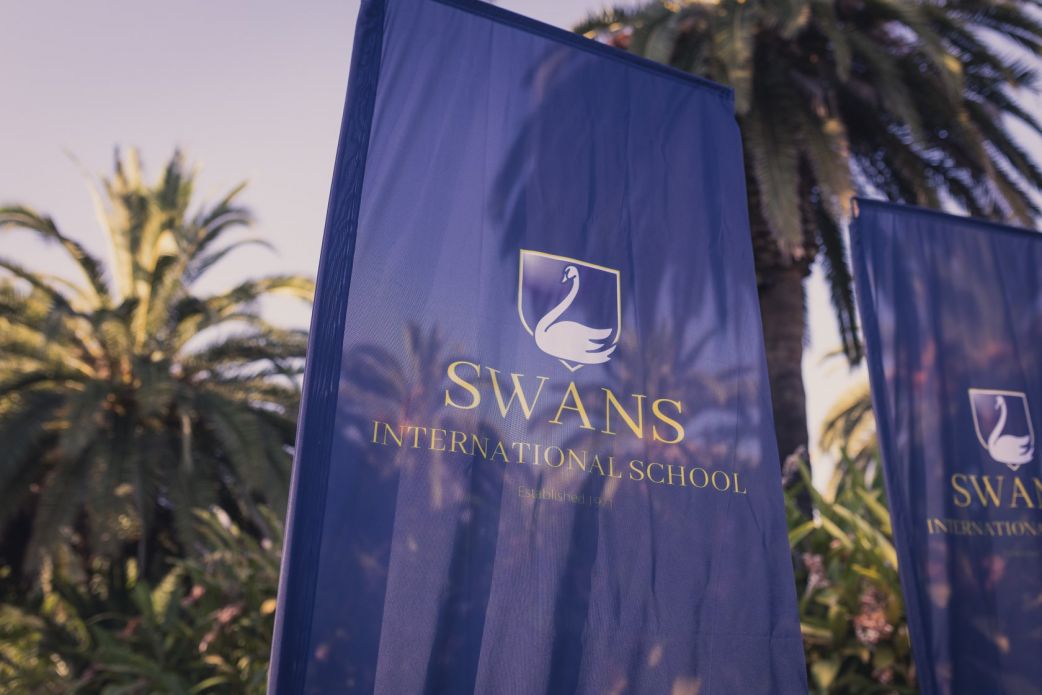 Restaurants and shopping
Sierra Blanca offers a privileged setting, close to the hustle and bustle Marbella Centre, Puente Romano and Puerto Banús, with all the services they offer, including supermarkets and clothes shops… but at the same time away from the hustle and bustle and located in the middle of a haven of peace and tranquillity. The proximity of this area to Puerto Banús, means that its residents can enjoy the opulence and exclusivity of shopping in some of the boutiques in Puerto Banús, as well as enjoying the select restaurants in Marina Banús. Discover more information about exclusive restaurants and luxury shops in our Guide of Puerto Banús.
Beauty and Care
Sierra Blanca offers its residents the care and comfort they need. Beauty centres, spas, hairdressers … As well as housing the renowned Buchinger Wilhelmi therapeutic fasting and integrative medicine clinic.
Sport and Fitness in Sierra Blanca

Sierra Blanca has the perfect location for golf lovers. Real Club de Golf Las Brisas , located in the heart of the Golf Valley, has a total of 18 holes and is recognised as one of the best golf clubs in Spain; Golf Club Aloha was designed by Javier Aranda, with more than 6,000m of route and surrounded by trees and vegetation that make it an ideal place to relax while playing your favourite sport; and Magna Golf Marbella, which with a total of 9 holes combines simpler and more complicated holes, in a golf course suitable for all levels.
Within Sierra Blanca you will also find the renowned Dr Blum Centre, which offers its clients a personalised sports training, recovery after surgery and injury recovery, as well as a Hamman and Turkish bath, to help relax after a long day at work.
Sierra Blanca is quality of life, exclusivity in one of the best areas of the Costa del Sol. If you are interested in knowing more about some of the most luxurious properties in the area, feel free to request more information and our team of professionals will contact you to show you all the luxury properties and villas available in Sierra Blanca.

Javier is the founder and CEO of Pure Living Properties. Born and raised in Marbella in an entrepreneurial family who settled on the Costa del Sol in the 1960s, when Marbella's real estate and tourism industry was just a fledgling market, Javier is an expert connoisseur of Puente Romano, which he calls home, and the Golden Mile, but also of the best areas, projects and companies, as their owners and developers have been among his inner circle since childhood.
Luxury villas for sale in Sierra Blanca