Casablanca
Casablanca is a classic movie set in an evocative Moroccan city, but it is also the name of one of Marbella's smallest but also most exclusive residential addresses. The name – which is Spanish – means 'white house', as indeed are many of the villas in this peaceful suburb in the heart of glamorous Marbella.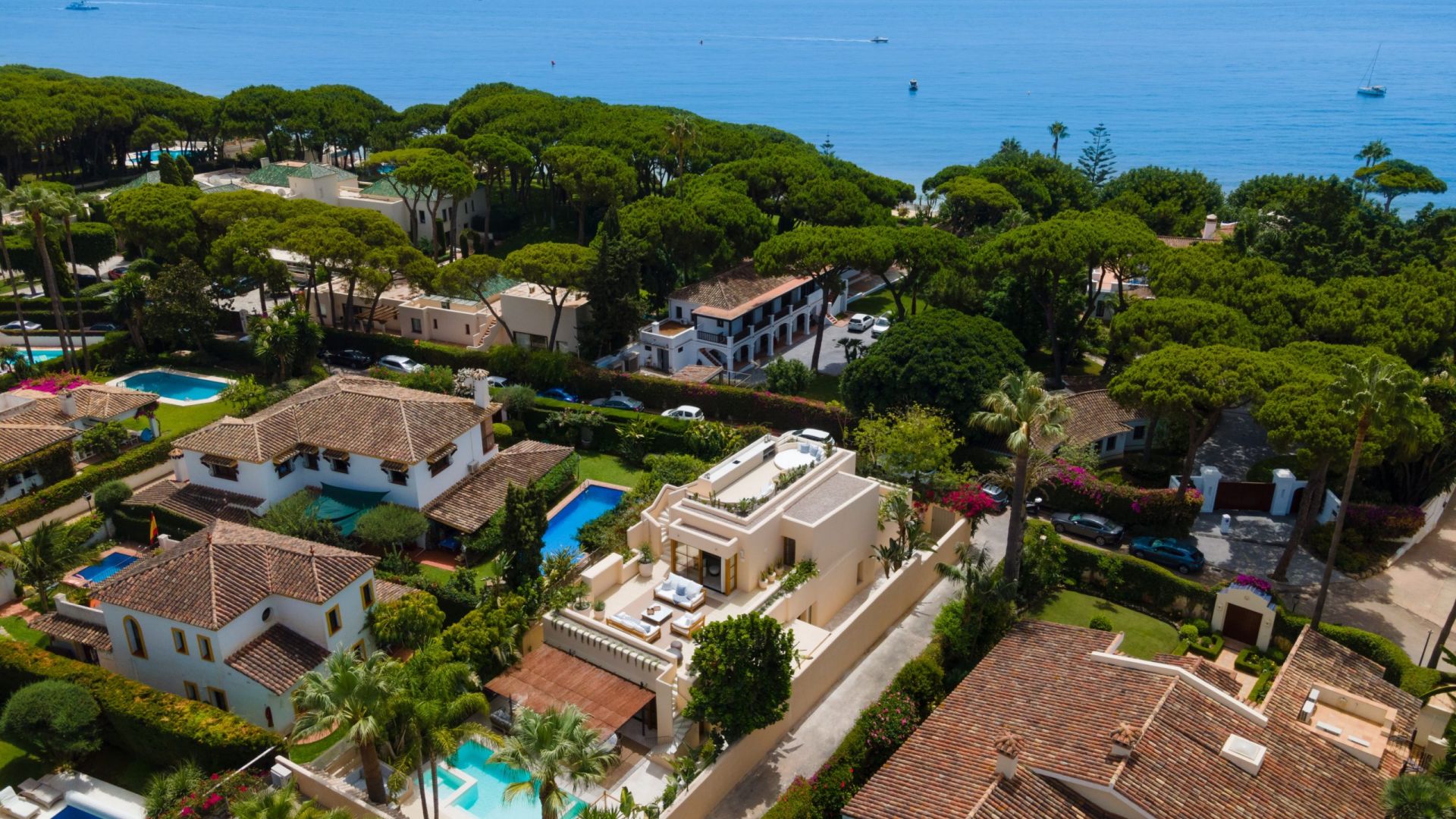 Casablanca, classic beachside Golden Mile, Marbella
A completely beachfront area where you can walk to the sandy beach and promenade, but also within walking distance of the urban heart of the Marbella. Casablanca has everything you need for luxury living on the Costa del Sol.
Why Live in Casablanca?
Simple. Casablanca is within walking distance of everything you need. 5 star hotels, promenade with stunning beaches and beach clubs, supermarkets, schools, institutes, restaurants, leisure and entertainment areas… And of course, all the quietness and peace of living just outside the suburbs.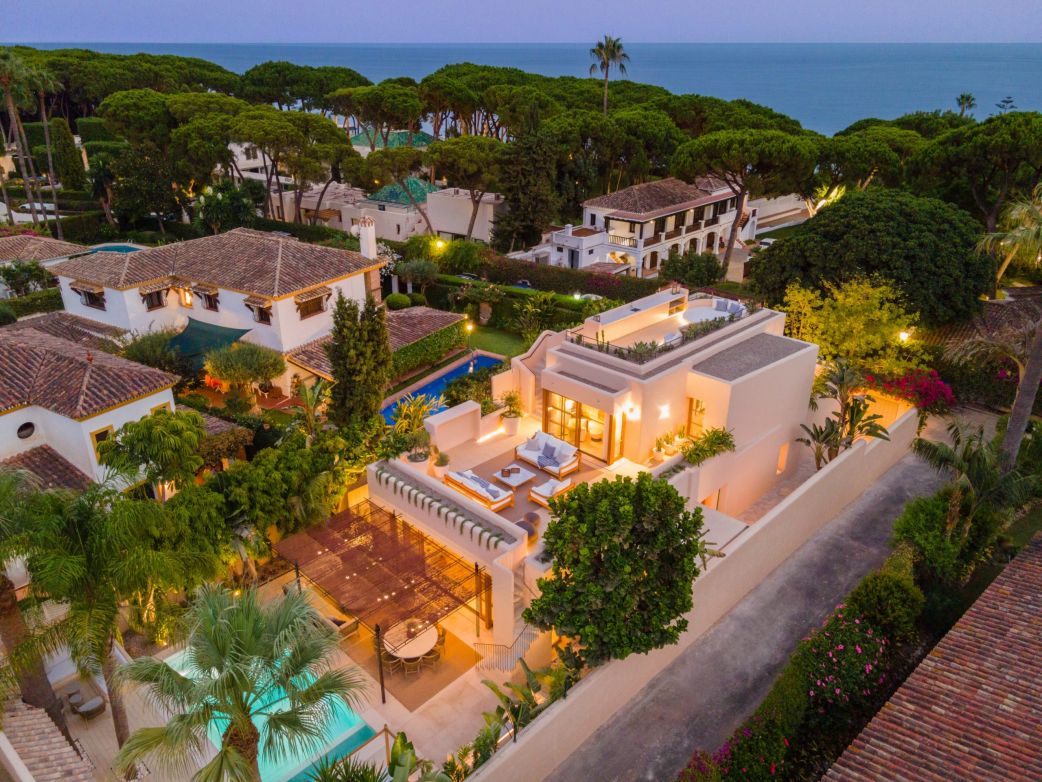 Where to live in Casablanca?
The prevalent style of housing in this area, is surely detached villas. You can also find residential complexes and apartment developments very close by. However, that would not be strictly speaking the Casablanca area itself.
There are villas of all types, of all sizes and adapted to all tastes and needs.
We can advise you and help you find the house that best suits your needs.
Discover our Casablanca  properties at Casablanca
¿Shopping in Casablanca?
Shopping in Casablanca is the easiest and closest thing in the world. In the same area you can find two big supermarkets like Lidl and Carrefour. These two supermarkets are opened in summer every day, including Sundays and holidays.
Like the rest of Marbella, a couple of minutes away by car you can also find the shopping center La Cañada with the Alcampo supermarket, and hundreds of stores of all kinds, decoration, fashion, toys, cinemas…
And of course, the Corte Inglés, located in Puerto Banus. It is the shopping center par excellence, where you also have from food to a small gourmet area and travel agency.
Buying and Refurbishing in Casablanca
Usually, being one of the areas closest to the center, you will find some older houses. This is a perfect opportunity for investors. You may buy a house and Refurbish it entirely to your taste, thus getting a new beachfront home in Marbella at a very competitive market price.
Whether you plan to buy a property or  invest, let me tell you that the percentage of rental occupancy in this area is very high, even in the off-season months. In Pure Living Properties, we have actually an occupancy rate in Casablanca of 80% all year round.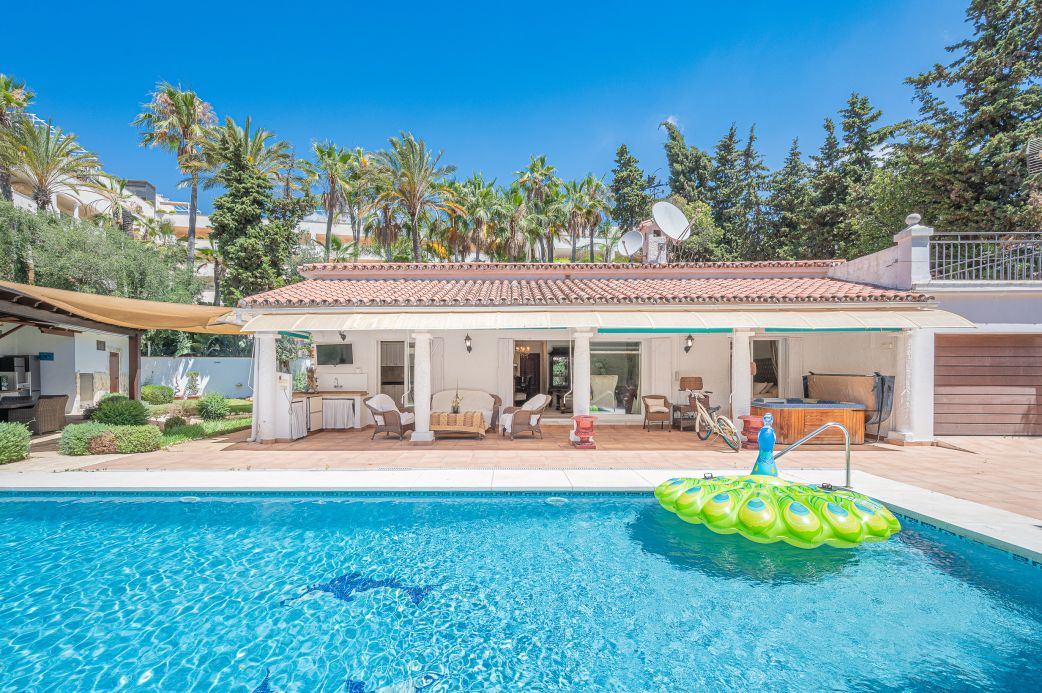 Children's Playgrounds and schools in Casablanca?
Very close to Casablanca there are numerous educational centers. One of the closest is the public institute Guadalpin, where there is a great variety of higher courses and different types of baccalaureate.
Other schools that can be found  very close to the area are La Latina, a bilingual center with more than 30 years of experience, or the Muic University, located a couple of minutes drive from this magnificent area.
There are many other schools at 5 minutes drive away such as Aloha College, Swans, San José, Las Chapas, EIC.
Very close to this area is also a beautiful park with a small pond and a zip line to enjoy with the little ones.
Hospitals and health centers in Casablanca
Casablanca is very well located regarding health. 5 Minutes away from  Quirón Marbella Hospital or the hospital Ochoa, where you will find have all kinds of specialists, aesthetic medicine, advanced medicine and operating room. You can also find natural medical centers as Fremap, Keto coffee´s and many others. Beaches In Casablanca have a beach guard (SOS) in summer and a access to the beach for disabled people.
In casablanca, you also have a 24/7 pharmacy.
Where to eat in Casablanca?
Casablanca has a wide variety of gastronomic offers of all categories and all prices. From Bocaseca, a restaurant with more than 50 types of beers from all countries on its menu. Da Bruno ristorante, a very prestigious pizzeria in Marbella, Momo restaurant, gourmet food, and Cibo, Trocadero Playa and Cappuccino Grand Cafe.
Of course, being so close to the area of Puente Romano, you also have within walking distance all the catering services in the area. Restaurant Leña or Alelí, by Dani García.
Beauty Centers in Casablanca
Casablanca area also has specific establishments for self-care. One of the closest is Damien Piazza beauty salon.. This place offers all kinds of services such as laser hair removal, skin care and specific massages.
Of course, you can also nourish yourself with the services you find in the area of Puente Romano, as already mentioned Milk and Roses, a prestigious hairdresser in the area where they also provide manicure services and more care.
What other services does Casablanca offer?
It is worth mentioning that right where the Casablanca area begins you will also find other services of interest. These services can be, among others, the BP gas station and water sports services where you can rent pedal boats and jet skis (Aqua time Marbella). Casablanca has a maritime boat entry too.
Expert Brokers in Casablanca area
If you have any questions, do not hesitate to contact us, we have a team of experts in the area of Casablanca and we can offer different properties for sale and rental service both short and long term.
Visit us on our social networks or in our general offices in Puente Romano.

Javier is the founder and CEO of Pure Living Properties. Born and raised in Marbella in an entrepreneurial family who settled on the Costa del Sol in the 1960s, when Marbella's real estate and tourism industry was just a fledgling market, Javier is an expert connoisseur of Puente Romano, which he calls home, and the Golden Mile, but also of the best areas, projects and companies, as their owners and developers have been among his inner circle since childhood.
Properties in Marbella Golden Mile