The future of Real Estate Market in Marbella
Javier Nieto - Apr 14, 2023 - Property Advice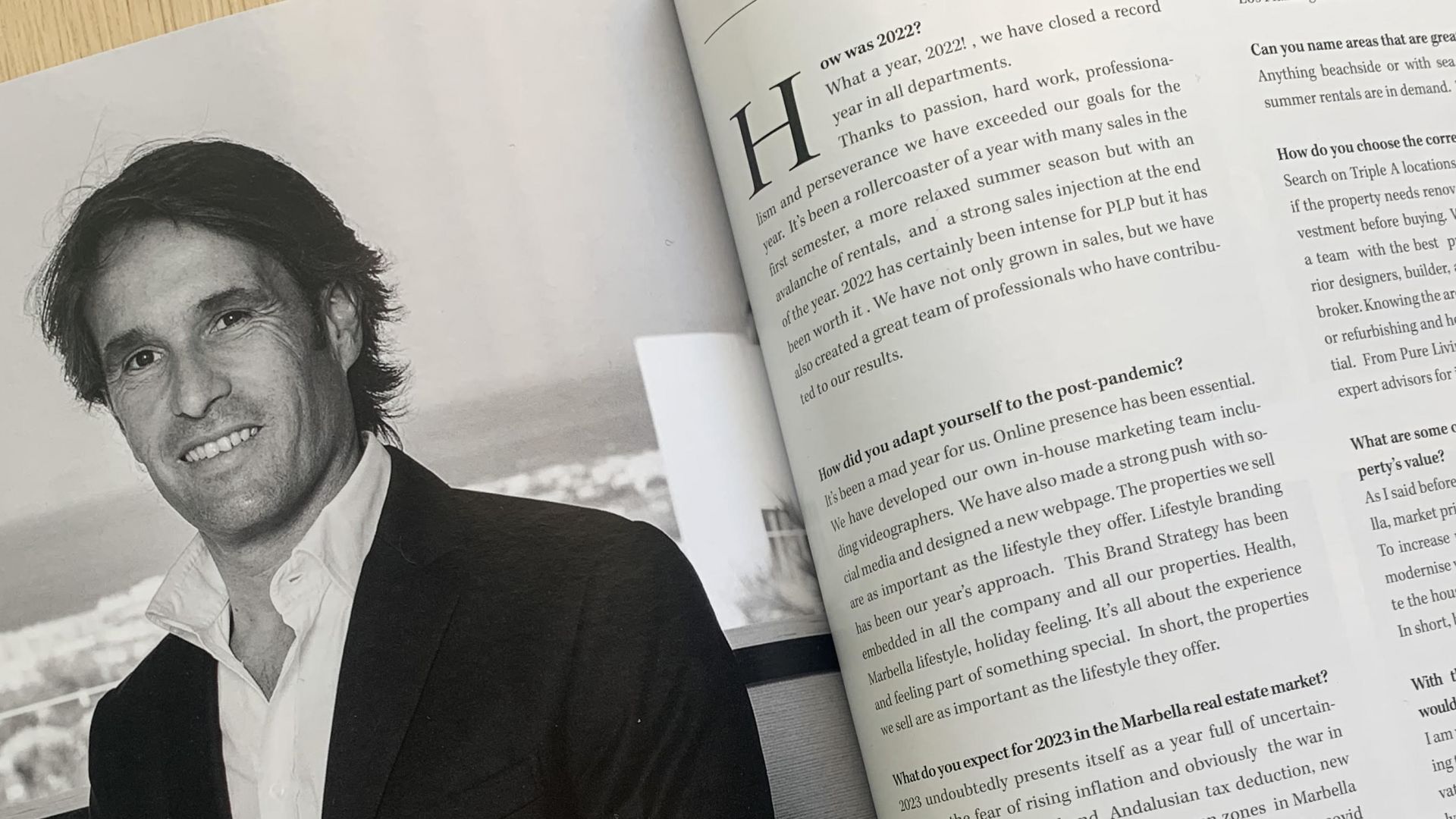 In an interview with Javier Nieto, CEO of Pure Living Properties, he discusses the current state of the Marbella real estate market. He shares that 2022 was a record year for the company in terms of sales, and they have adapted to the post-pandemic world by focusing on lifestyle branding and online marketing. Nieto expects 2023 to be uncertain due to inflation and global conflicts, but he believes that Marbella will continue to be a desirable location for those seeking a good quality of life. The interview covers topics such as investment opportunities, areas to consider for buyers, and effective ways to increase a property's value. Nieto also emphasizes the importance of personalized attention, local knowledge, and a boutique agency experience in the competitive Marbella real estate market. Sea interview in  Exclusive life Magazine
How was 2022?
What a year, 2022! We have closed a record year in all departments. Thanks to passion, hard work, professionalism and perseverance we have exceeded our goals for the year. It's been a rollercoaster of a year with many sales in the first semester, a more relaxed summer season but with an avalanche of rentals, and a strong sales injection at the end of the year. 2022 has certainly been intense for PLP but it has been worth it. We have not only grown in sales, but we have also created a great team of professionals who have contributed to our results.
How did Pure Living Properties adapt to the post-pandemic real estate market in Marbella?
It's been a mad year for us. Online presence has been essential. We have developed our own in-house marketing team including videographers. We have also made a strong push with social media and designed a new webpage. The properties we sell are as important as the lifestyle they offer. Lifestyle branding has been our year's approach. This Brand Strategy has been embedded in all the company and all our properties. Health, Marbella lifestyle, holiday feeling. It's all about the experience and feeling part of something special.
What do you expect for the Marbella real estate market in 2023?
2023 undoubtedly presents itself as a year full of uncertainty given the fear of rising inflation and obviously the war in Ukraine. On the other hand, Andalusian tax deduction, new luxury projects, economic input and green zones in Marbella offer more confidence. From my point of view, the COVID-19 pandemic has changed the way everyone understands life. Our clients' priorities have changed. People want to enjoy themselves. Good weather, well-being, tranquillity and quality of life, good communications to Europe are offered by few other places in the world. Therefore, Marbella will continue to be one of them and a safe bet for many select clients.
What are the top investment opportunities currently available in Marbella?
We see that Marbella has stabilized in terms of pricing. There is limited availability of properties on the market. If the intention is a long term placement of capital, Puente Romano is for sure one to be considered.
If you had to recommend areas to a buyer who does not know Marbella, what would you recommend?
Obviously each person has their lifestyle, golf lovers, family oriented, beach lovers, business… I have an answer for each one. But if I had to recommend areas it would be Puente Romano, Golden Mile, Nueva Andalucia, La Quinta, La Zagaleta, Los Flamingos or Los Monteros.
Can you name areas that are great for investors?
Anything beachside or with sea views or a location where summer rentals are in demand. These properties sell rapidly.
How do you choose the correct properties to invest in?
Search on Triple A locations, decide on the use and area, see if the property needs renovation, calculate your return on investment before buying. We always recommend building up a team with the best professionals. Find an architect, interior designers, builder, and of course a good local lawyer and broker. Knowing the area, what properties are ideal for renting or refurbishing and how to place it back to market are essential. From Pure Living Properties, we can consider ourselves expert advisors for investment projects.
What are some of the most effective ways to increase a property's value?
As I said before, having knowledge on different areas of Marbella, market price range, rental prices is very important. To increase property value you have to update the property, modernise with the latest market trends, and of course decorate the house as if it were a show house down to the last detail. In short, being on trend, offering maximum quality and luxury.
With the rising environmental concerns, some individuals would like a sustainable home, are there many options out there?
I am very glad that you asked me this question. This detail is being taken into account, especially in new projects or when renovating a property.We are receiving clients who value eco-friendly houses. The new projects of La Quinta are a good example.
What makes Pure Living Properties different from other Real Estate agencies?
Honesty, local knowledge and personalised and individual attention. Pure Living agents are all local residents and I was born here and know the market like the back of my hand. We are a boutique agency where all our clients are important regardless of their budget. Finding their dream home is essential to us.. This is why we spend a lot of time understanding the needs of them It is very gratifying that clients end up being part of the Pure Living family. The trust that our clients have in us, makes them open their doors to all their properties, give us their property for rent and manage its maintenance. Another factor is that the members of Pure Living form a great family of which they are proud to be a part. Taking care of my team is essential. This feeling of belonging to something intimate and caring goes hand in hand with the company's brand philosophy.
In conclusion, the interview with Javier Nieto of Pure Living Properties provides valuable insights into the real estate market in Marbella. As the CEO of a successful real estate agency, Nieto's advice on investment opportunities, property value increase, and areas to consider for buyers is informative and helpful. Pure Living Properties' commitment to individual attention, honesty, and local knowledge sets them apart from other agencies, making them a great choice for those looking to buy or sell property in Marbella. Overall, the interview highlights the importance of adapting to changing market conditions and the value of personalized service in the real estate industry.

Javier is the founder and CEO of Pure Living Properties. Born and raised in Marbella in an entrepreneurial family who settled on the Costa del Sol in the 1960s, when Marbella's real estate and tourism industry was just a fledgling market, Javier is an expert connoisseur of Puente Romano, which he calls home, and the Golden Mile, but also of the best areas, projects and companies, as their owners and developers have been among his inner circle since childhood.