Nueva Andalucia
It was established as a luxury area to accommodate the international tourist, housing the renowned Puerto Banus. It is still a first-class residential area, with an outstanding golf course. It has also been modernized in its building profile and has been filled with new life in its exclusive urbanisations.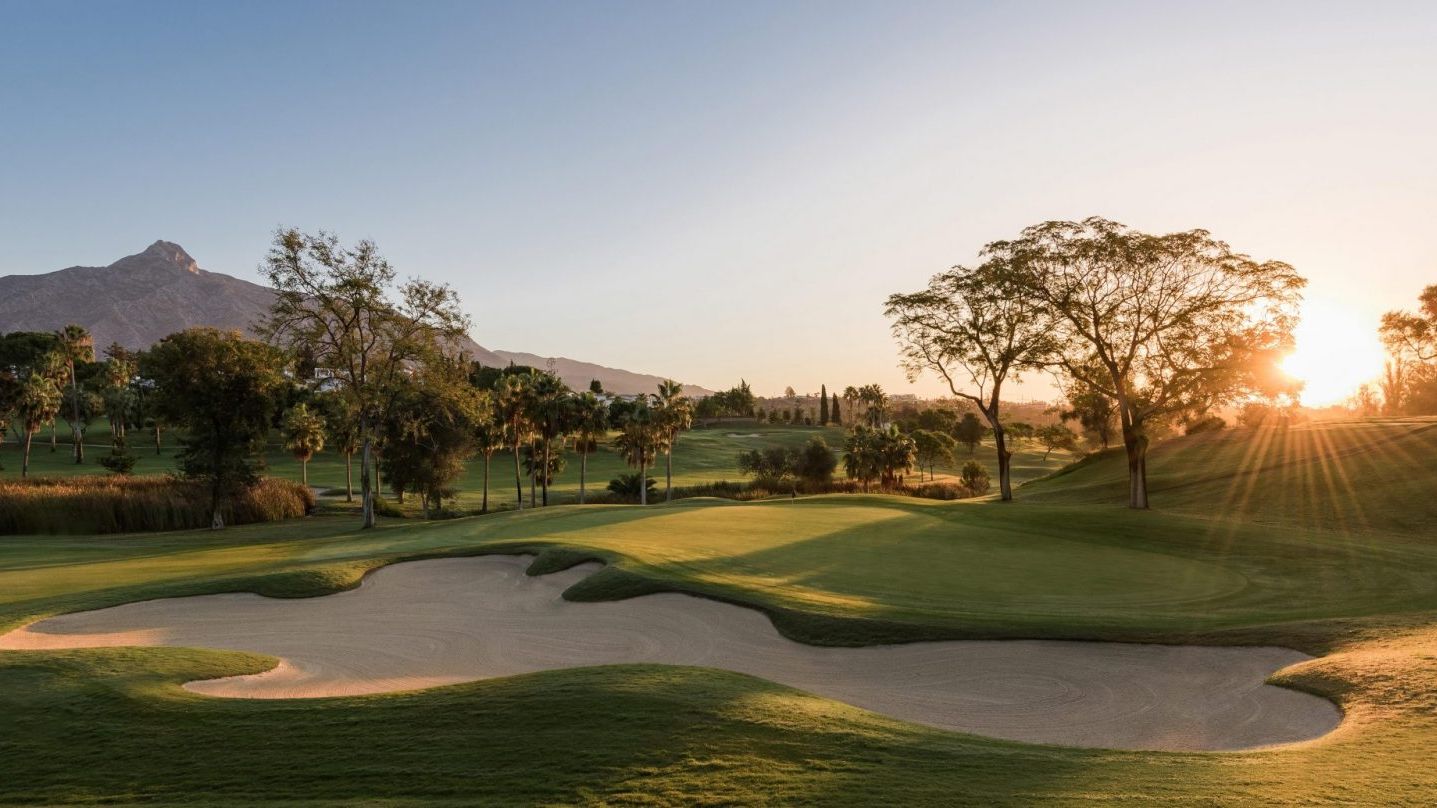 It's not just "Golf Valley", but a residential paradise under the sun
We can say that Nueva Andalucia is very special. It goes from the glamour of Puerto Banus, to the nature of El Lago de Las Tortugas; from the incredible international golf, to the "pescaito malagueño"; from a craft market, to being able to "play all on black" in the Casino. It is Marbella´s "tipsy" area and a must for luxury living.Nueva Andalucía, known locally as the 'Golf Valley', has long enjoyed its status as one of the most popular suburbs of Marbella.
Where is the area of Nueva Andalucia located in Marbella?
The district of Nueva Andalucia is in the west of Marbella. Next to it, in the direction of Estepona (link), is the town of San Pedro de Alcantara (link). In the direction of Malaga it borders the famous Golden Mile (link) and its international Puente Romano (link). Of all its territory, its best-known enclave, which has its own entity, is the tourist resort of Puerto Banus. But being a large district, it has other important neighborhoods in the city.
From Nueva Andalucía you can easily reach the rest of the districts of Marbella by road; also, Istan, Benahavis (link) or Estepona (link) and, by motorway, if necessary, Malaga and its airport.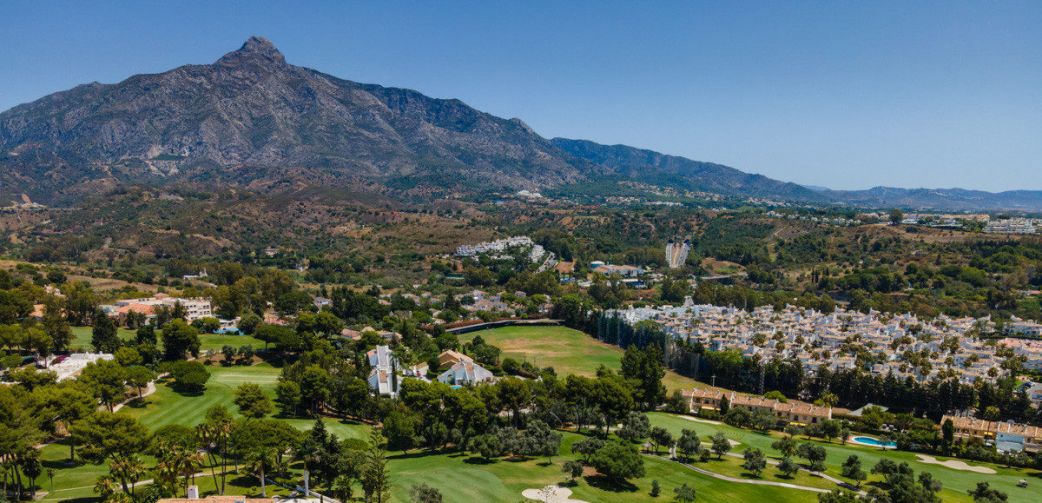 What is Nueva Andalucía like?
We could say that Nueva Andalucia is almost a mini-village within Marbella. It has over 18,000 permanent residents and considerable visitors of its own in the summer, especially because of its attractive harbour area. Many of its inhabitants feel that they do not need to leave its borders because they are so comfortable here. And no wonder, because the area has everything imaginable. There are two post offices, numerous banks, renowned golf courses and shops of all kinds. It is a place with lively discotheques and pubs, pharmacies, doctors, dentists… it has it all, and in a relatively concentrated space.
There is a wonderful understanding between locals and international residents in this area. This is reflected in its multicultural schools and its varied gastronomic offer. You only have to go to the craft market on Saturday mornings to see the casual atmosphere. Antiques, paintings, jewellery, fans, wicker baskets… and many words in many languages, but always in English to be understood. Nueva Andalucia goes from the glamour of Puerto Banus to the nature of El Lago de las Tortugas; from the incredible international golf, to the "pescaito malagueño"; from an industrial estate in La Campana, to being able to play "all on black" in the Casino. And let not forget that it has one of the most beautiful beaches in the whole city, El Duque.
Why is Nueva Andalucía known as the "Golf Valley"?
For golf lovers Nueva Andalucia is a paradise. In fact, it is nicknamed "GolfValley" because it is home to some of the most prestigious courses on the Costa del Sol. The Aloha Golf Club is particularly noteworthy, with its undulating terrain, dense woodland and spectacular views of the Sierra Blanca. It has a magnificent restaurant and social club, with an attractive and welcoming atmosphere, where you can attend different celebrations and events.
Located in the heart of the "Golf Valley", and designed by Robert Trent Jones, the Real Club de Golf La Brisas also offers its members a magnificent infrastructure that places it among the best golf clubs in Spain. To the west of Las Brisas is another superb course by the same designer, Los Naranjos Golf Club. With a classic touch in areas and obstacles, and which has hosted events of the stature of the PGA Professional Championship. We cannot forget in this same valley, the Magna Marbella Golf course, with a total of 9 holes of different levels that make it unique and fun at the same time. It offers Caddy Master services and a specialized shop. Next to Nueva Andalucia, the courses of Benahavis add to the "Golf Valley". The closest, and among the most valued, would be La Quinta Golf Country Club.
Apart from golf… what other sports can be practiced in Nueva Andalucia?
Within the golf courses themselves, there are often sports centres that offer alternative activities. But the area also has its own gyms such as Centro Plaza M13 GYM, Dynamic, or in Puerto Banus, Planinium Wellness. In the neighborhood of La Campana, the Omega centre is very popular. Another popular option for those who want to get fit in Marbella is to have an
individual personal trainer, a service provided by Personal Training in Banus, for example. And in Nueva Andalucia there is the option of continuing to pamper your body at the Full Vitality spa or the Hamman and massages at the EYWA yoga centre.
In this district there is a wide range of paddle tennis facilities. For example, the Real Club de Padel de Marbella, with ten courts and an outdoor gym. In the area of San Pedro, but really close, you can also find the Paddle & Tennis Club de Nueva Alcantara. ten courts and an outdoor gym.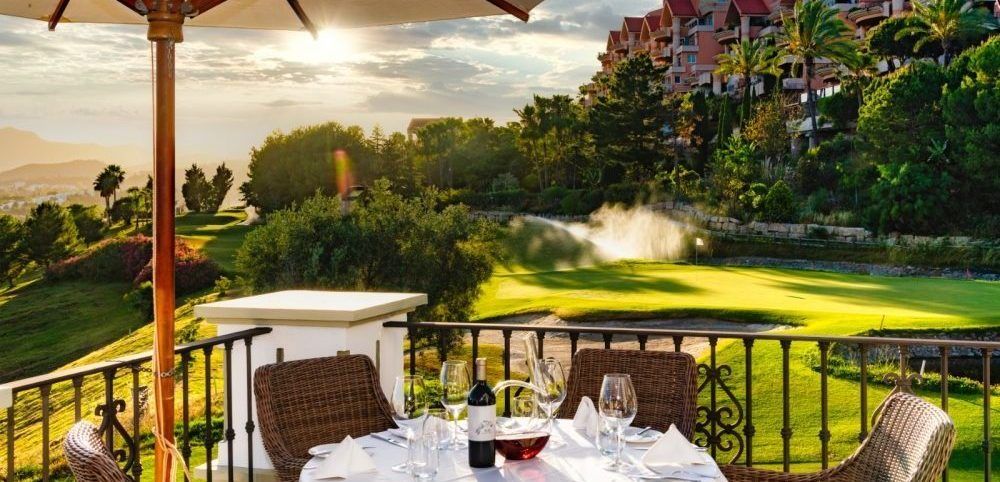 Continuing with the racquets, Tennis Brother Club Marbella, with more than 30 years of experience training children and adults individually or in groups. Another important sports facility in Nueva Andalucia is the Dama de Noche Football Pitches. A high-performance centre for professional football training, where teams from all over the world come to catch up and play friendly matches against each other. For beach or sea sports, Nueva Andalucia has great offers in and around Puerto Banus.
Where to eat well in Nueva Andalucia?
One of the culinary singularities of Nueva Andalucia is that many of its restaurants are located in the vicinity, or on the golf courses themselves, and therefore, enjoy fabulous views. This is the case of Magna Café Marbella, which offers its visitors a unique setting with recipes paired with the best wines. On the seafront, of course, the gastronomic offer of Puerto Banus stands out. There you will find places such as Txoco de Luis Salinero, of the Mediterranean and Spanish type, or Inimitable, for the fusion and international cuisine type. For the family, a visit to the Picasso pizzeria is a classic. Outside the port, and with a high profile, the Vovem grill is highly recommended, which has a chamber for maturing beef and ox. Very much appreciated in the
area by its neighbours are El Banco, in the Aloha Pueblo urbanization, and El Bigote, for lunch only. The latter is a small bar that has been offering local fish and seafood at very good prices since 1983. It is a must-visit if you want to experience the atmosphere of Malaga to the fullest.
Dining at the Casino is also an experience and, close to it, is Noto Food & People, with a fun menu where the pasta and risotto are delicious. Italian in style, and with popular prices, Los Farolillos is also famous in the area. For large celebrations, on the road to Istan, Finca La Concepción is a good choice.
Where to have a drink in Nueva Andalucia?
If you want to have lunch or dinner and avoid taking the car for a drink in Nueva Andalucia, there are restaurants with a good bar and cocktail atmosphere. The gastrobar Breathe or the funky La Sala are ideal. The former boasts a beautiful decoration with integrated planting, it is almost an urban garden, and has differentiated leisure areas; the latter schedules a weekly
musical agenda with nightly shows, where live music is a highlight. The Casino is also an option for drinking and gambling, in the Hotel Plaza de Marbella. Mosh Fun Kitchen or Jack & SmokeHouse are also very enjoyable. Beach clubs in Nueva Andalucia include the well-known Ocean Club, La Sala By the Sea, Mistral Beach and Nao Pool Club, among others.
Is Nueva Andalucía a good place for shopping?
In the coastal shopping part of Nueva Andalucía, we are talking about Puerto Banus, shopping is a spectacle. Impressive yachts, shiny sports cars and chic people are always in the background. The world's top brands Gucci, Versace, Dior, Loewe, Louis ¡ Vuitton, Carolina Herrera… all have glamorous window displays in the port facilities of Banus. And those that don't, are inside one of the best El Corte Inglés centers in Spain, which is also located in the same area. The nearest urbanisations to Banus are only a ten minute walk away and, if you drive, there are ample parking options. Below the motorway are also the Cristamar Shopping Center and the Banus Marina Mall. For a quieter, more business-oriented atmosphere, the Centro Plaza Shopping Center is ideal. Then there are concentrations of shops in various areas of Nueva Andalucía, such as the Ibérico Mall on Avenida de Manolete.
What schools and extracurricular activities does Nueva Andalucía offer?
Nueva Andalucia has several schools for the youngest members of the family such as La Campana, Jardín de Infancia Los Arcos, Saint George's School or Minimicos. After the infant stage, there are several public schools such as Francisco Echamendi or Fuente Nueva. For older children there is, for example, the Instituto de Secundaria Nueva Andalucía.
In terms of private education, Aloha College is one of the most prestigious in the whole municipality. The American College in Spain, in the urbanisation La Alzambra, also teaches in the area, as well as the only Swedish school in the municipality Svenska Skolan. There is a wide range of British schools in the town, and it is always easy to get children to school by road. The Calpe or
Swans schools are not far away, nor is the French school Efim.
What parks and nature activities does Nueva Andalucía have to offer?
High up in the mountains, and known above all by the locals, Nueva Andalucía has a beautiful natural area called El Lago de La Tortugas, on the road to Istan. It is an enclave of ecological interest where, as well as turtles, many aquatic birds can be seen. It is an ideal place for picnics and hiking with the children. El Mirador is located further into the town centre, but very relaxing. A perfect place to take a nice walk and take beautiful photographs of the peak of La Concha. In Nueva Andalucía there is also the beautiful Botanical Garden of El Ángel, with an impressive variety of trees, including more than eighty species of
palm trees and centenary ficus.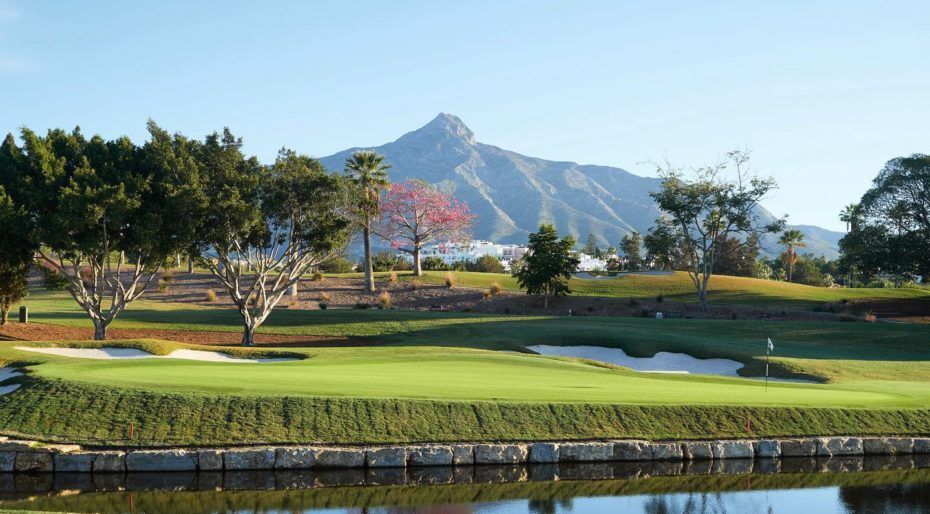 What are the health services in Nueva Andalucía like?
The main public health clinic in the area is located in La Campana. For private health services you can turn to the family and general practitioners of the Atlantic Clinic or HC International Hospital. There are, of course, numerous individual practitioners of all kinds with their own practice (ophthalmologists, dentists, aesthetic specialists, physiotherapists…). The city's major hospitals are also within easy reach by car. For the health care of the pets of the house there are several veterinary centres
(Medivec, Animalogic…) as well as shops specializing in their food, toys and various needs.
Why is Nueva Andalucía one of the best residential areas in Marbella?
Nueva Andalucia is not a ghost district. It is not overcrowded in summer and desolate in winter, like other tourist areas in Spain. It is an area that is always full of life. There are many foreigners who live here all year round, because it is a very good place to live, and others who certainly come during the warmer months. But the volume of movement is always pleasant. Obviously, it is more intense in the summer months, as many of those who choose Marbella as theirholiday destination prefer this area because of its proximity to Puerto Banus. This is, however, a real estate advantage if you are looking to rent out your property.
At first glance, and even more so from an aerial perspective, it is easy to see that this is an area full of quality, spacious urbanisations and beautiful luxury villas. Two areas are easily distinguishable: the more maritime properties in and around magnificent Puerto Banus; and other urbanisations more focused on the mountains and golf.
In its origins, Nueva Andalucía was already designed to build exclusive villas and luxury flats. In the early years they had a more traditional, Andalusian-style profile, but in recent years there has been a tendency to rebuild with more modern architectural profiles.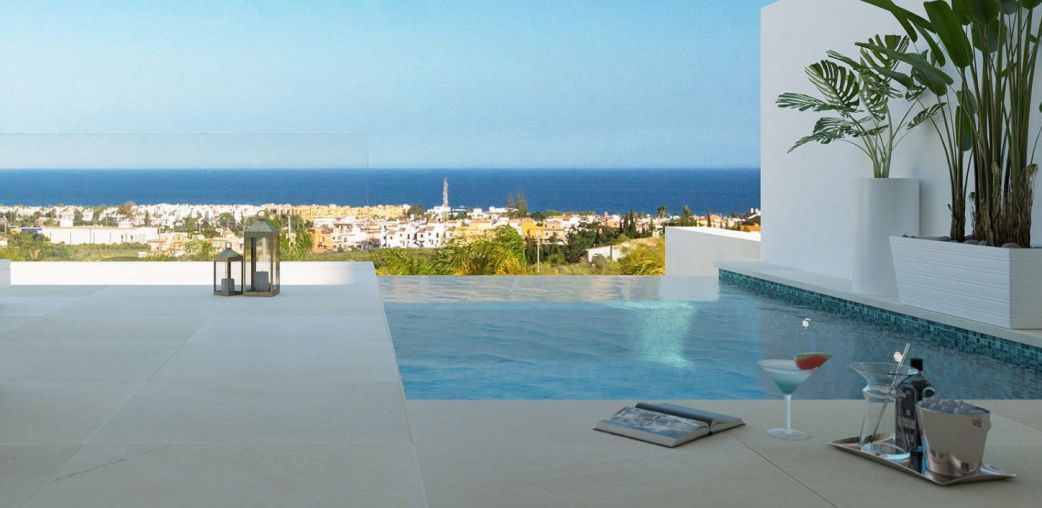 How is Nueva Andalucía distributed by areas?
Before buying or renting a property, it is useful to know a little about the sub-zones of Nueva Andalucía. This whole district can be identified very well on a map thanks to the fact that it is delimited, practically in a straight line, by two of Marbella`s rivers. To the east we would speak of Rio Verde and to the west of Rio Guadaiza. Close to Banus, inland, but still very close to the coast, we would find four large areas: Rodeo Alto, Nueva Andalucía Pueblo, La Alzambra and La Dama de Noche. Next, up the hillsides would be Guadaiza, Las Brisas and Aloha-El Angel. Finally, the highest area of Nueva Andalucía, the highest up the mountain, would be Los Naranjos. To the north of Nueva Andalucía would be the neighbouring towns of Benahavis and Istan.
How much is a luxury property in Nueva Andalucía worth? And what are the best areas to buy?
Luxury properties in Nueva Andalucía start at around 400,000 euros and upwards. In that first range there are few options on the market and there are only a few flats in Aloha Hill or Los Naranjos. Below one million euros, or close to one million, flats can be found in Jardines del Puerto, Playas de El Duque, El Embrujo or Andalucía del Mar, if a more marine environment is desired. Golf lovers will find properties in Los Granados Golf, Los Belvederes, La Morelia or Magna Marbella, among others.
From one million and up to three million, the offer is extended in the residential areas mentioned above and Ventura del Mar or Malibu are added; and further inland La Alzhambra or 9 Lions Residence. Above three million, properties are offered in Laguna de Banus, Gray D'Albión, Benabola, Las Brisas, Parcelas de Golf or Atalaya de Río Verde. But, without a doubt, apart from the entire Puerto Banús property market, which is obviously a great investment, one of the best areas to buy in Nueva Andalucia is La Cerquilla, on the front line of the Los Naranjos Golf Club.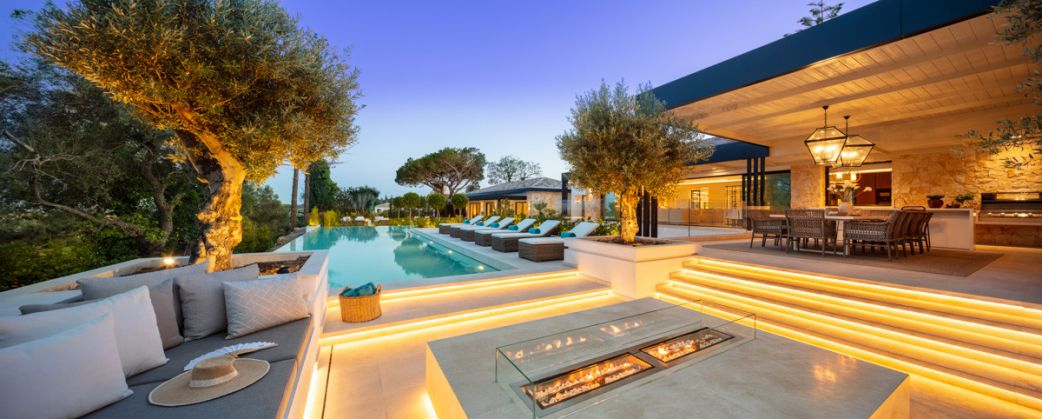 How can we help you?
Nueva Andalucia has a lot to offer you in luxury flats and villas because it is a very exclusive area. If you are interested in finding out about the most prestigious, beautiful and profitable properties in the area, please do not hesitate to ask us for more information. Our team of professionals will contact you to show you all the luxury homes and villas available in Nueva Andalucía.

Begoña is the Sales Director of Pure Living Properties. Born in Galicia, she moved with her family to England at the age of eight. There she completed her education and then returned to Spain, but this time to the Costa del Sol. An expert connoisseur of the Golden Mile, Puerto Banús and Nueva Andalucía, Begoña is one of the most respected agents in the luxury market in Marbella.
Luxury properties for sale in Nueva Andalucía, Costa del Sol