Estepona
Estepona has been given the lovely title of "The Garden of the Costa del Sol" because it has redesigned its urban fabric to fill it with colourful, Andalusian pots of geraniums. It has kept a more natural profile, with lovely beaches to the south and its beautiful Sierra Bermeja mountain range to the north. It is, to this day, a "coastal green paradise".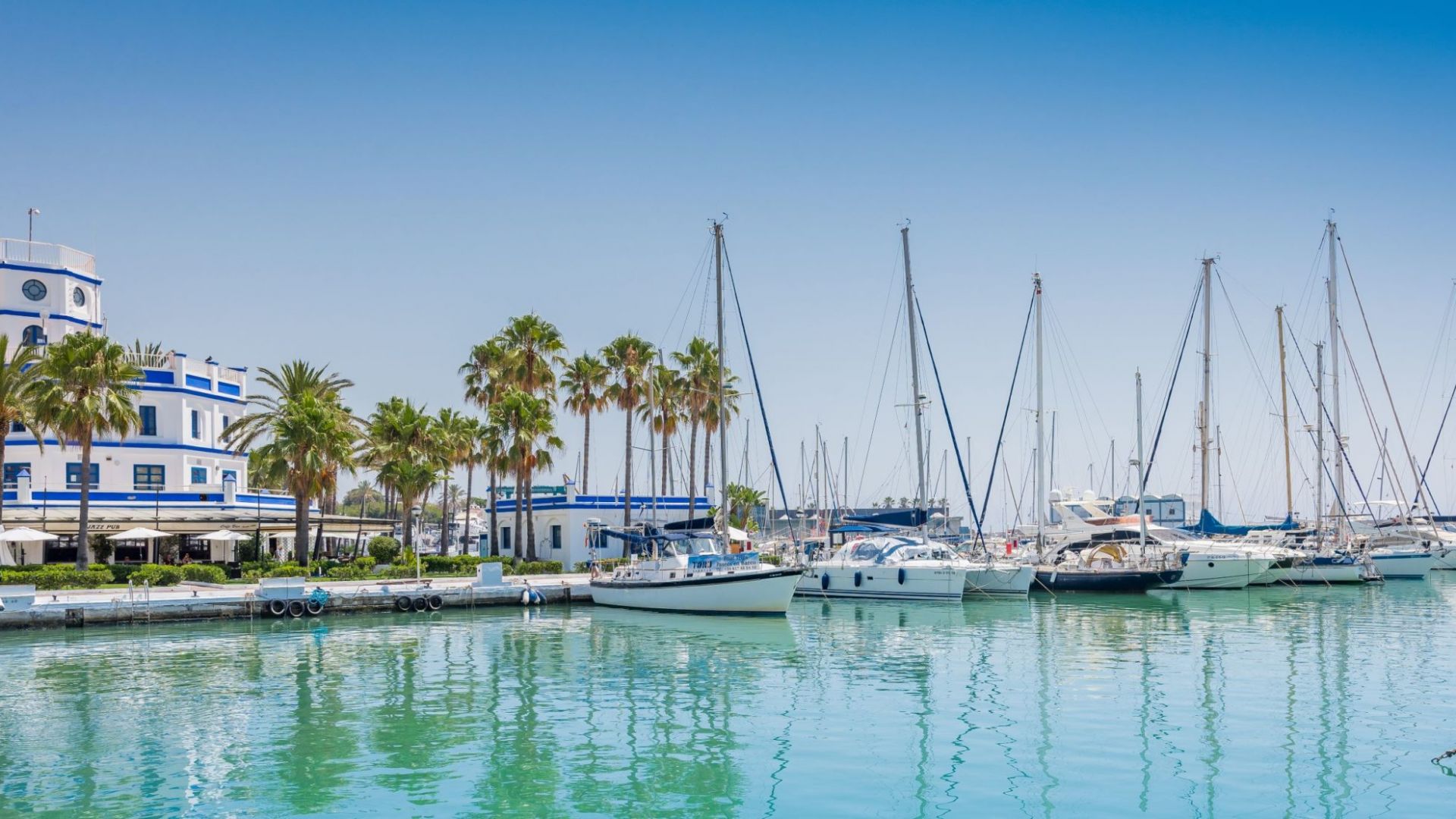 Costa del Sol´s urban garden
It is said that Estepona has more than a million flowers in its town centre. It also boasts the impressive reddish Sierra Berbeja mountain range and beautiful beaches. Driving into the town you get the impression of being in a more unspoilt place, with a more authentic lifestyle. To buy a property in Estepona is to buy in a vegetable kingdom overlooking the sea.
Where is Estepona?
Estepona is a municipality in the province of Malaga which enjoys a privileged position in the west of the Costa del Sol. Only approximately 30 km from the centre of Marbella it offers the same high quality standards, but with a quieter pace of life. It is 28 km from Sotogrande and only a few kilometres from Tarifa or Gibraltar, which means that in addition to its offer of renowned golf courses, marinas, equestrian facilities, events, … there are also the options of the neighbouring towns. Estepona is perfect for those who want to enjoy a great quality of life without giving up anything that the Costa del Sol has to offer.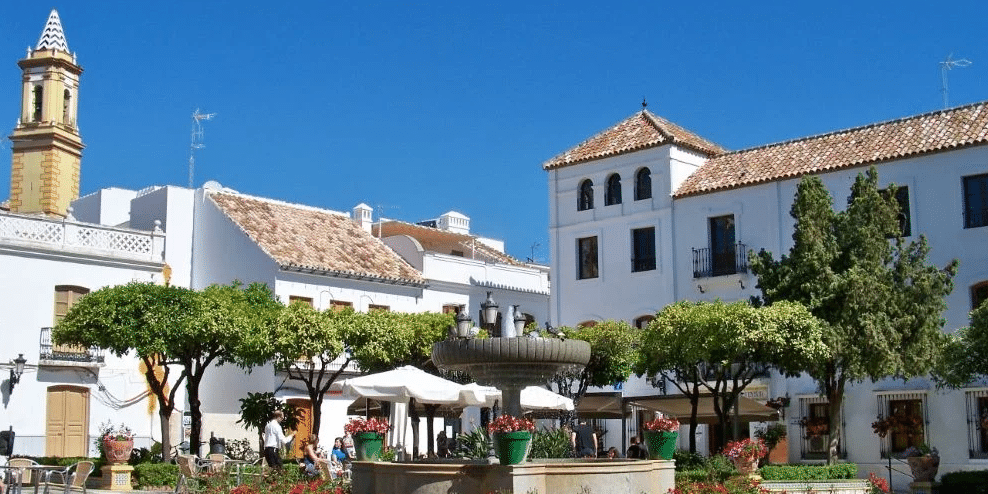 What is it like to live in Estepona?
Living in Estepona is extremely pleasant. The town has a very accessible urban structure and the leisure areas are very well defined, so that the restaurants and nightlife do not affect the life of its inhabitants.
The old town is very concentrated in the centre-south by the sea and offers an Andalusian village atmosphere that enchants visitors. It is also largely pedestrianised, which makes shopping, going to restaurants or doing any other business a pleasant stroll through beautiful squares and narrow streets.
Outside Estepona town, there are high quality urbanisations. These enjoy all kinds of dining and entertainment options along the coast, along the N340 road. To the west, there is a succession of establishments towards San Pedro de Alcántara (especially on the well-known New Golden Mile), and to the east the offer reaches as far as Sabinillas (Manilva). Inland from Estepona, and overlooking the impressive Sierra Bermeja mountain range, there are numerous urbanisations with sea and mountain views. They are dotted across the hills to the borders of neighbouring villages such as Benahavis and Casares.
Many of these urbanisations offer the same quality of life, luxury, security and privacy as other better known areas of the Costa del Sol.
Is there a large foreign community in Estepona?
Of Estepona's total population of around 70,000 inhabitants, 16,000 are foreigners of 120 different nationalities. Of all the non-national residents, those from the United Kingdom and English-speaking countries, as well as Germany and Russia, are the most important. It is worth highlighting the increase in recent years of new residents from Nordic countries and Central Europe.
Why is Estepona called the "Garden of the Costa del Sol"?
Whether you are arriving from Marbella or Sotogrande, the entrances to Estepona already answer this question. A succession of large ficus trees, palms and other large trees welcome and accompany the visitor to the large promenade. This promenade, on the other hand, has been designed with minimalist and uncluttered landscaping where the use of large cactus formations stands out, giving the sea and the beaches all the prominence.
On the other hand, as soon as the visitor goes on foot and dives into the historic centre, a succession of streets and squares overflowing with pots of geraniums and large bougainvilleas make inevitable hundreds of selfies that daily overflow on social networks. Because to buy a property in Estepona is to buy in a plant kingdom that overlooks the sea. A place that adds, to its impressive Sierra Bermeja, 70 hectares of green areas in its town centre (a figure well above the average for Spain).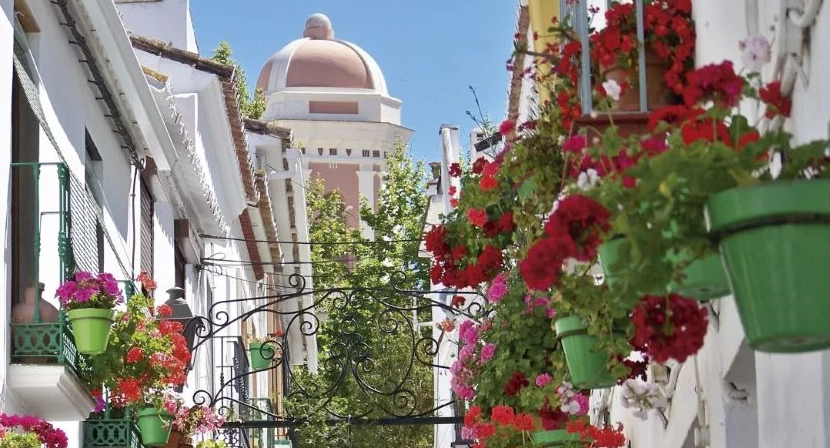 This environment is very much appreciated by the inhabitants of the village and in recent years has been one of the main attractions for foreigners when buying a second home. Buying a property for renovation in the town centre of Estepona is undoubtedly a booming market.
Estepona is also home to the largest Botanical-Orchidarium Park in Spain, making it truly the place for those who appreciate natural beauty in their quality of life. A property in Estepona is always a property in a small green coastal paradise.
Where to have lunch, dinner and drinks in Estepona?
In terms of variety, quality and price, Estepona is very interesting in the gastronomic panorama of the Costa del Sol. We can say that there are three main areas of restaurants. The first is around the "Plazoleta Ortiz", where there are numerous places to enjoy meat, fish, Italian food or typical Andalusian tapas. We would highlight, among them, Las Brasas de Alberto, with a more traditional touch, or La Bulla Gastrobar for more sophisticated palates.
The second area, in the heart of the historic centre of Estepona, is the "Plaza de las Flores". In this emblematic square a four-star hotel, El Pilar Andalucía, has been installed, which has five essential restaurants. Mediterranean style Bistro Casafina; with Iberian products and wine cellar atmosphere Don Rudolfo; with an Asian fusion menu Celestepona; with a fun English pub atmosphere Cooper's Barrel and, to top it all off, there is the Rooftop Bar Sierra Bermeja where you can have the best cocktails in Estepona with the best panoramic views. The installation of the hotel in the centre has revitalised the area and, among the narrow streets, there are a multitude of bars with highly recommended menus.
The third area for lunch or dinner is Estepona's own promenade and marina. The restaurant El Pescador stands out here for the beauty of its views and its quality seafood. For those who prefer the authentic local flavour La Escollera is high on the list.
Of course, every urbanisation in Estepona has some top class eateries. Restaurants on the outskirts of Estepona include Fons, with Mediterranean and contemporary flavours, and Tanino, with flavours from around the world.
Where to go shopping in Estepona?
In the "Calle Real", and in the surrounding streets, is where the shopping for clothes, shoes, make-up, sports equipment,… of Estepona. It is a central area, quiet, pedestrianised and with parking options that facilitate shopping. Here you can find brands such as Mango, Springfield, Intersport… but there are many options of smaller shops, with less overcrowded designs. In addition, the town has a unique weekly market where you can buy, above all, fresh fruit and vegetables.
Estepona itself does not have any large shopping centres, but only 30 kilometres away there is a wide range of large shopping centres, such as La Cañada or El Corte Inglés, as well as the first class brands offered by its neighbour Marbella, especially in Puerto Banús.
What to see and do in Estepona?
Estepona is a tourist town and therefore offers a multitude of leisure options. It is well known for its animal park Selwo Aventura, ideal for families. It also has, especially in summer, a large number of water activities (diving, surfing, kayaking, dolphin watching, sailing trips…) in addition to its wonderful beaches, among which the beaches of "El Cristo" and "La Rada" stand out.
It is essential to know how to enjoy the lively atmosphere of its old town whose main square is the "Plaza de las Flores". Two other strong points of the municipality are its beautiful promenade, as well as its lively marina, with more than 400 moorings.
Estepona also boasts an open-air urban art museum: more than 60 murals and graffiti fill the façades of some of its buildings.
Estepona's many attractions are completed by its wide range of golf courses and equestrian activities. Among its courses are Valle Romano Golf, El Paraíso Golf Club, Atalaya Golf & Country Club and Estepona Golf. Horse lovers will be pleased to know that Estepona has an Equestrian Art School, considered one of the most prestigious equestrian centres in Spain.

If you live in Estepona, are there good schools?
It is good to know that Estepona has good schools if you are moving with your family. Most of them are public schools but there are three private options to highlight. The international International School of Estepona, which is dedicated to nursery and primary. Bilingual and covering up to Bachillerato is Atalaya Internacional School. Finally, and with many years of experience, there is Colegio San José which has another school in San Pedro de Alcántara.
Does Estepona have good health centres, hospitals and private clinics?
In terms of health Estepona is part of the Costa del Sol District, so it has its own outpatient clinic and is also served by the Costa del Sol Hospital. But on a public level it also has its own High Resolution Hospital (Nuevo Chare) which from February 2021, when it was inaugurated, will progressively open different medical areas. On the other hand, at the private level it is covered by two large firms: Hospiten, with a wide range of medical services, and Cenyt, which also covers therapies, treatments, surgeries, analyses… with high quality care.
What exactly is Estepona's "New Golden Mile"?
The "New Golden Mile" is the area to the west of Estepona that stretches as far as San Pedro de Alcántara. It is an area dotted with large urbanisations of high quality and privacy that unashamedly rivals those of neighbouring Marbella.
A few years ago, the construction of luxury homes spread to other areas of the Costa del Sol beyond Marbella. Estepona itself began to experience a great urban development in this sense and some of its best residential complexes were born, such as Costalita, Cabo Bermejo, Torre Bermeja or Hacienda del Sol.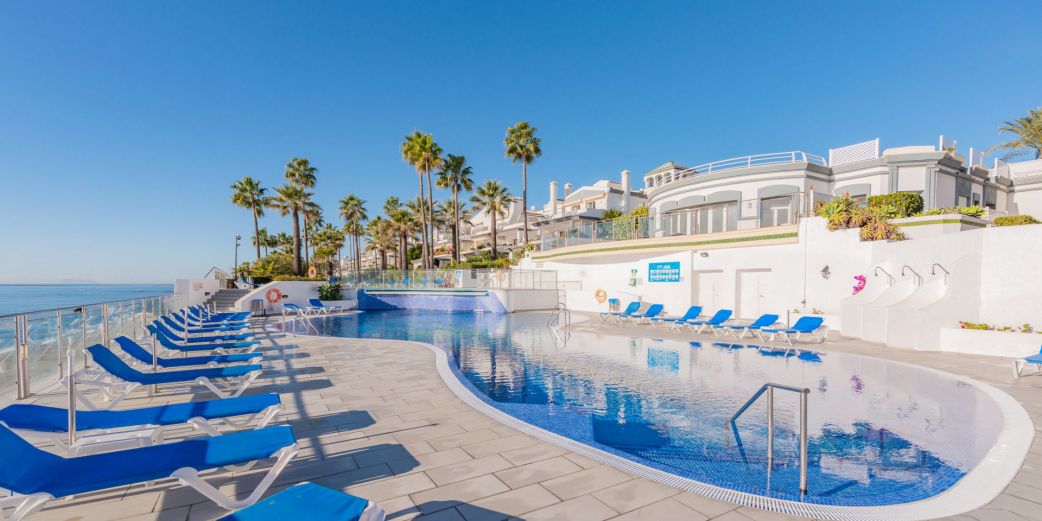 The urbanisations on the "New Golden Mile" are not necessarily completely by the sea. Some of them go further into the town centre or the mountains of Estepona but they are still very exclusive and with great views. It is also important to know that, in the area of the "New Golden Mile", you will find important five star hotels such as Las Dunas, Laguna Village or Kempinsky.
Can I buy a property by the sea in Estepona?
Bathed in its southern part by the Mediterranean Sea, Estepona has 21 kilometres of beach with a much more unspoilt profile than other areas of the Costa del Sol coastline. It is therefore an ideal destination for lovers of life by the sea. It has a wide variety of urbanisations with very interesting properties (on the first or second line of the beach). Dominion Beach, Cabo Bermejo, Costalita or The Edge stand out for their beauty.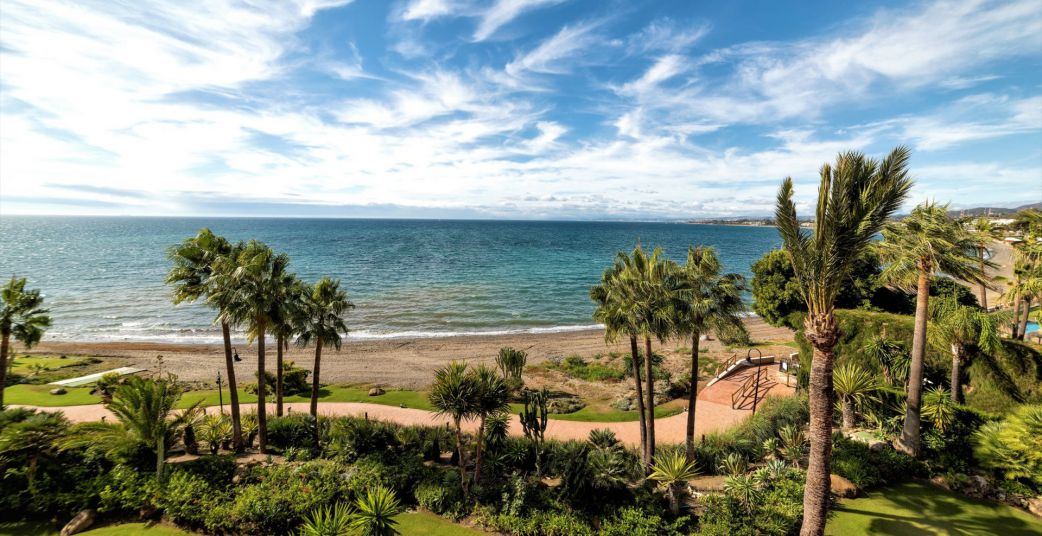 Which urbanisations are close to the sea in Estepona?
In the coastal profile of Estepona, very exclusive urbanisations stand out such as: Atalaya, Benamara, El Paraíso, Park Beach, La Gaspara, Bahía Dorada, Buenas Noches, Los Granados del Mar, Alcazaba Beach, Arroyo Vaquero, Sierra Bermeja, El Velerín, Emare or Dominion Beach. All of them with good construction qualities and well-kept urbanisations. Its beaches are more natural and peaceful than others on the Costa del Sol and many have the "Blue Flag" award in recognition of their good state of conservation and quality.
Can I buy a property with mountain views?
The northern part of Estepona is protected by the reddish and impressive Sierra Bermeja mountain range, which offers a wide range of hiking and country activities. The combination of wild and urban nature makes it an ideal place for homeowners looking for a more ecological and natural lifestyle. With mountain views, the properties in Cancelada, around the Selwo Park or Valle Romano Golf stand out.
Can I get a luxury property in Estepona at a lower price?
In Estepona, unlike other towns on the Costa del Sol, the square metre has a slightly lower cost, so you can buy a better luxury property at a lower cost. Although this is only a general concept, because the fact that the demand for property is increasing has been driving up prices in recent years. Moreover, there are multi-million euro villas in Estepona as in other luxury areas of the Costa del Sol. It is important to underline that both its refreshing beachfront flats and its exclusive mountain and golf urbanisations are always a great investment.
How much does a luxury flat or villa in Estepona cost?
Estepona's price range for the luxury property sector can go from a cosy flat in Resina Golf for 230,000 euros, to a stunning five million euro frontline beach villa in the "New Golden Mile" area. In between there are many possibilities between 300,000 and 500,000 euros for flats, and many between one and four million for villas.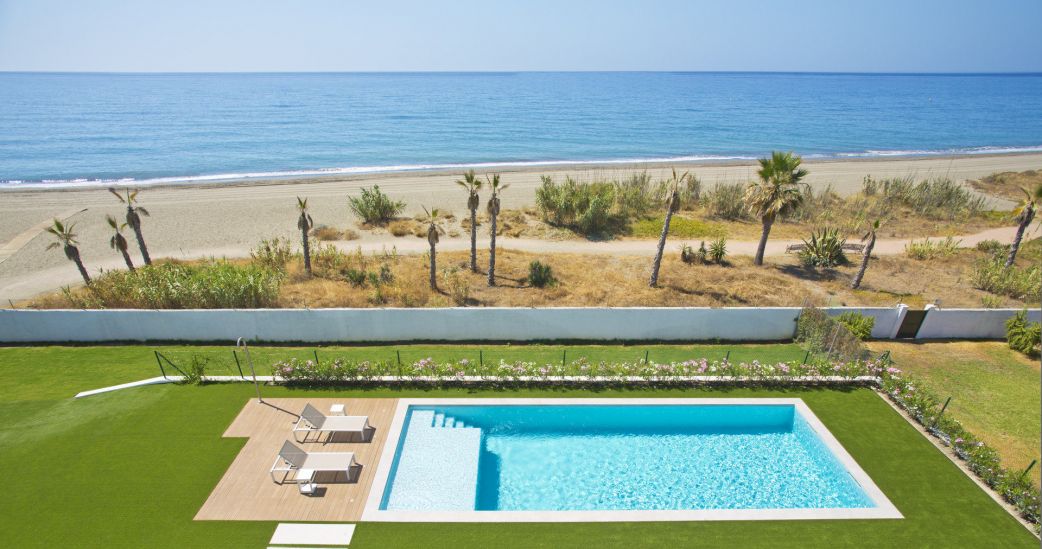 What is the quality of luxury properties in Estepona like?
In Estepona the architectural qualities, the beautiful views, the complementary services of the urbanisations (swimming pools, garden areas, security…) we can say that they meet the same standards as other luxury properties on the Costa del Sol. They would be the same qualities as properties in Marbella, for example, because the construction companies are often the same in both towns.
How can we help you?
Pure Living has been helping national and international clients find their ideal property in Estepona for over eleven years. Our advisors are experts in the area as well as its current property market. Our agents will guide you through the process of buying or renting in a professional and efficient manner.

Begoña is the Sales Director of Pure Living Properties. Born in Galicia, she moved with her family to England at the age of eight. There she completed her education and then returned to Spain, but this time to the Costa del Sol. An expert connoisseur of the Golden Mile, Puerto Banús and Nueva Andalucía, Begoña is one of the most respected agents in the luxury market in Marbella.
Properties for sale in Estepona