Benahavis
Benahavis is a beautiful municipality in the Costa del Sol situated in the Ronda mountain range and is only 7 km from the coast. It is known worldwide for being home to the most exclusive urbanisation in Europe: La Zagaleta; and it is highly appreciated locally for its delicious gastronomy. Located between Marbella, Estepona and Ronda, making it a very interesting location when buying a property.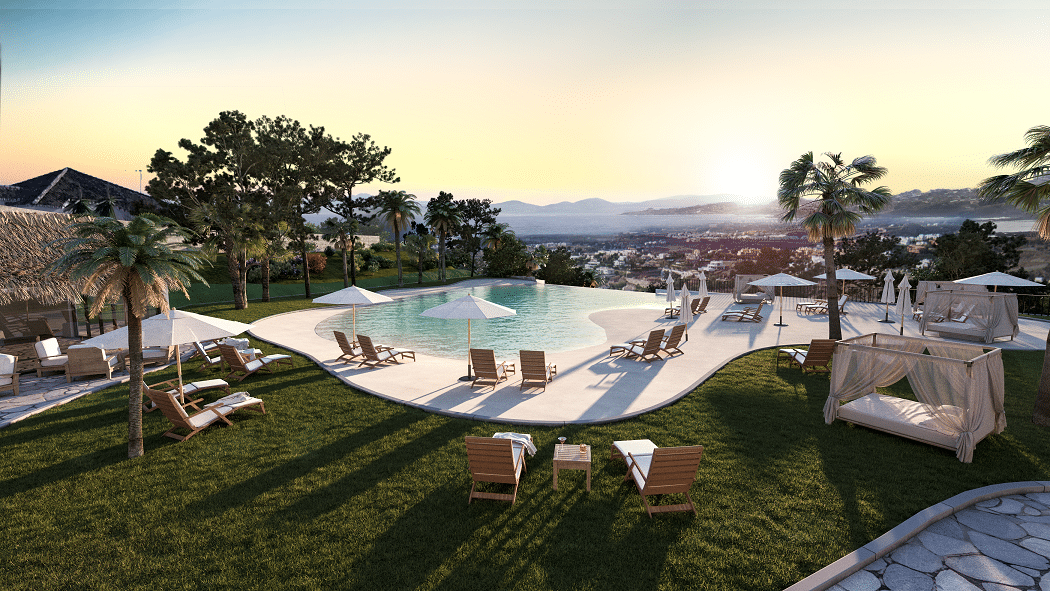 Benahavis: luxury and golf in the mountains
Amongst its strengths are its well-kept golf courses, award-winning national and international restaurants and its magnificent luxury urbanisations. Properties in Benahavis are always beautifully integrated into lush hillsides, while many of them boast breathtaking views of the Mediterranean sea.
Where is Benahavis located and is it well communicated?
Situated in the foothills of Sierra Blanca, only 20 km from Marbella, Estepona (link) and 80 km from Malaga. It is very close to the westernmost district of Marbella, San Pedro de Alcantara (link). It is one hour from Malaga International Airport and its high speed train station that connects in a few hours with important cities such as Madrid and Barcelona. In addition, it also has excellent road communications, both with the Mediterranean motorway (A-7) and the Autopista del Sol (AP-7) that run along the entire Malaga coastline.

What is it like to live in Benahavis?
Benahavis is a typical Andalusian village, with whitewashed houses and an Arabic layout that hide great monumental treasures such as the Castle of Montemayor or the Palace of Benahavis. It has a population of around 10,000 inhabitants, where, curiously, there are more foreign residents than national. The British population stands out for its high proportion, but also those from other European countries.
Its municipal district has preserved the traditional and pleasant calm that characterises the inland villages of Andalusia; but it is not a sleepy village in the mountains, as it is one of the richest municipalities in the province and its inhabitants take care to generate plenty of activities throughout the year. They take special care to provide entertainment for the youngest members of the family. In its cultural offer there are always concerts, theatres, exhibitions or conferences as well as colourful proposals for traditional festivities such as carnival, Easter or Christmas.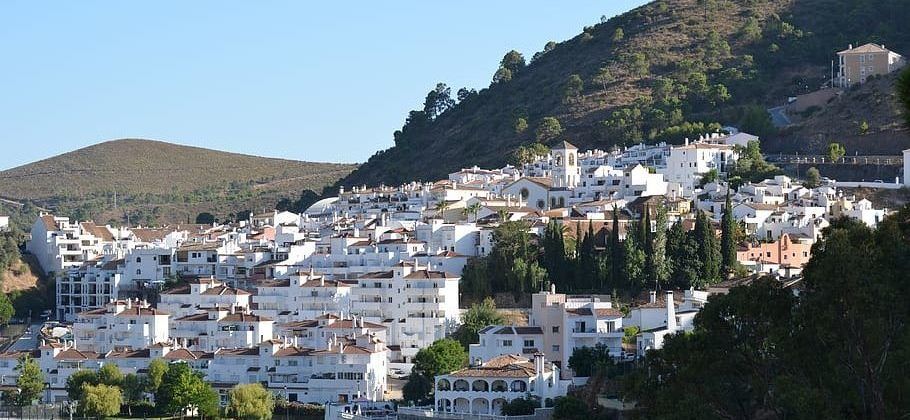 It also has complementary activities such as the restaurant Bolera in Los Arqueros where you can have a great time, or the Marbella Hills Countrty Club Wellness & Spa, where you can relax deeply in its water circuits, different therapies and massages with unbeatable views.
On the other hand, the land of Benahavis is crossed by three rivers: Guadalmina, Guadaiza and Guadalmansa. It is, therefore, a fertile area densely covered with Mediterranean vegetation, especially olive and chestnut trees. It has interesting areas for hiking and wonderful urban parks such as the Parque Torre La Leonera or the Parque Infantil de Benahavis.
In its beautiful countryside, incredible golf courses have been developed in recent years, as well as the most important luxury urbanisations on the Costa del Sol. To live in Benahavis is to opt for nature, tranquillity, exclusivity and excellence.
 If I live in Benahavis, will I have quality schools?
For all those families who decide to take up residence in Benahavis, if they want to be taught in Spanish, they can take advantage of the municipal school and nursery. For those who prefer private schools, there is a wide range of quality education close to the town. One of the most recommendable centres is the Atalaya School in Estepona, some 20 kilometres away, with quick access by road. Or you can opt for the many international schools in neighbouring Marbella.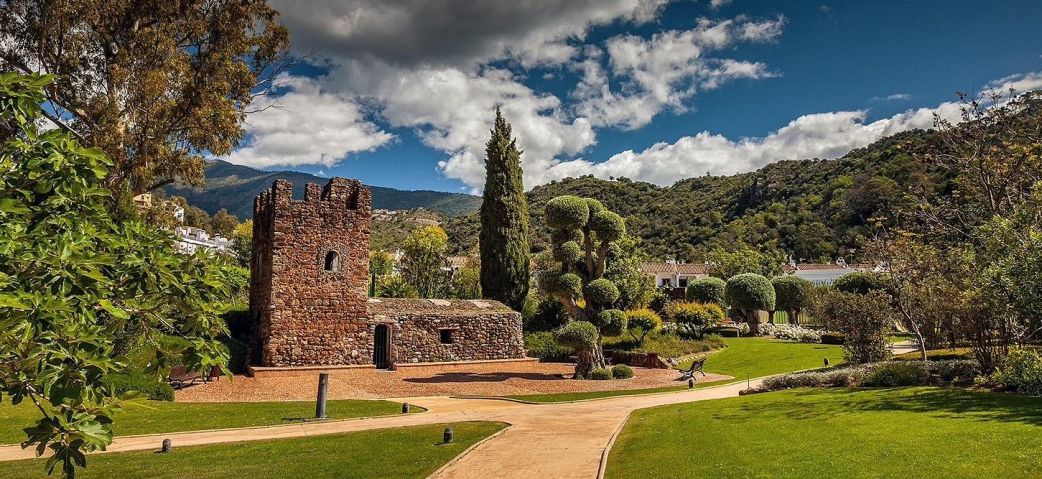 What is it like to go shopping in Benahavis?
Benahavis being a small town offers mainly traditional shopping. There is a large Mercadona supermarket, a couple of pharmacies, a veterinary centre, several local bakeries… But for more sophisticated shopping the better option is Marbella. Puerto Banus (link), with its luxury boutiques, yachts, cars, jewellery… is only 15 minutes away and is home to a large El Corte Ingles department store.
Also within easy reach by car, there are other shopping centres such as the popular Centro Comercial La Cañada, Centro Plaza or La Colonia. A special mention should be made of the Benahavis "Rastro" (flea market) on Sundays, for its local produce, such as fresh fruit and vegetables, and its unique second-hand stalls.
What sports facilities are available in Benahavis and the surrounding area?
Benahavis has its own municipal sports centre, with options for basketball, football, paddle tennis, handball, swimming… There are high-performance private gyms in some of the urbanisations and there is an equestrian centre within La Zagaleta. For nautical options the coast is just a few minutes' drive away, as is the top quality tennis courts at the Puente Romano in Marbella. But Benahavis is, above all, the best place for golf lovers and mountain sports enthusiasts.
Why does Benahavis have the best golf on the Costa del Sol?
Benahavis concentrates, in just a few kilometres, some of the best golf offers on the Costa del Sol. It is home to a dozen courses of 9, 18 and 27 holes. La Quinta Golf & Country Club, La Zagaleta, Los Arqueros, Monte Mayor Golf Club, El Paraíso, Flamingos Golf Club and El Higueral stand out. In addition, there are other prestigious golf courses in Marbella, Mijas or Estepona.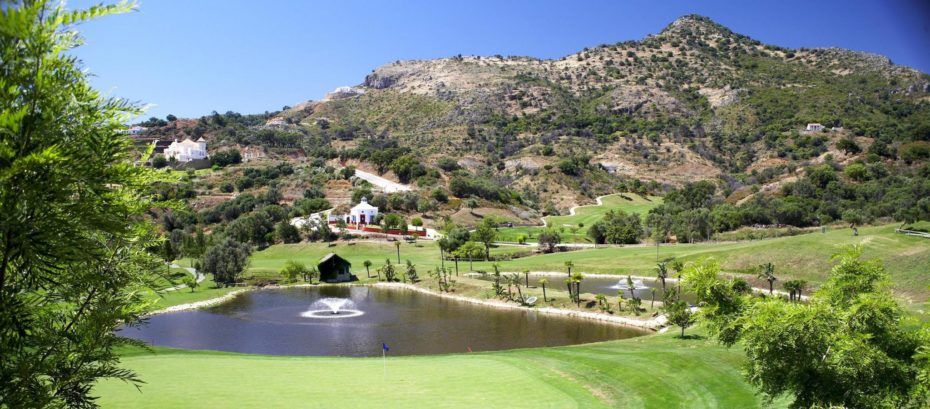 It is very significant that there is a golf teaching centre owned by the municipality and that there are attractive agreements with private golf courses so that those registered in Benahavis can access their facilities under more advantageous circumstances.
Why is Benahavis ideal for mountain sports?
As Benahavis is surrounded by nature, it is an ideal place to practice a wide range of outdoor sports. There are some impressive hiking areas, amongst which we can highlight the route to the "Charco de las Mozas", the "Acequia de Guadalmina" path or the "Cañón de las Angosturas".
One of the most popular activities for adrenaline lovers is canyoning. You can go down the spectacular canyons and ravines of the river Guadalmina. And, of course, mountain biking is also an excellent option in Benahavis. Almost all the routes are of moderate difficulty and have very beautiful and well signposted trails. In fact, La Zagaleta has recently opened an e-bike centre for its residents.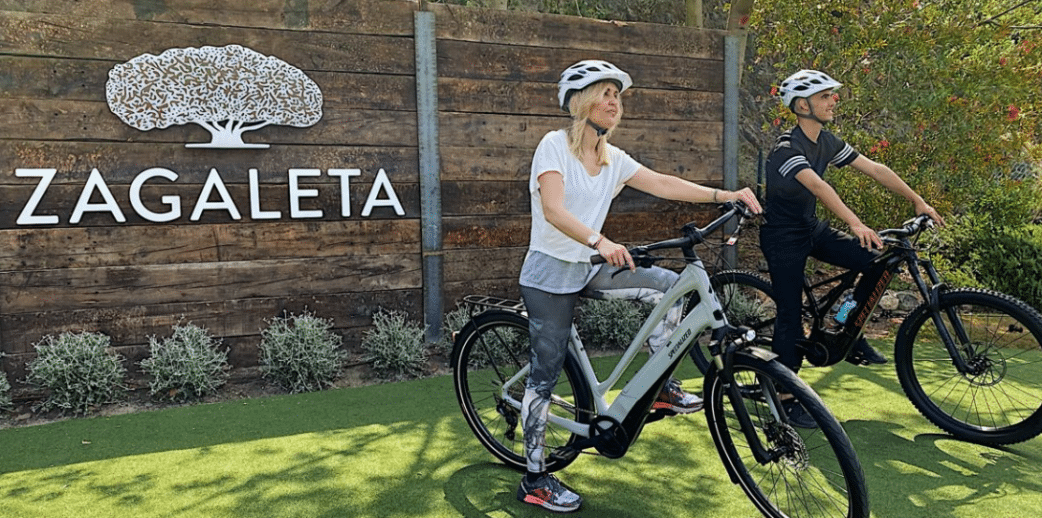 Where to eat in Benahavis?
It is not surprising that Benahavis is considered one of the gastronomic stars of the Costa del Sol, as it offers an incredible number of catering establishments. In fact, it has a catering training centre, the Hispano-Arabic School of Mediterranean Diet, for the training of highly qualified professionals. By reservation, you can request to taste its dishes.
On our gastronomic tour, we will start with the restaurants located in the centre of the village. The atmosphere, especially at night, is very inviting. There are a multitude of restaurants of all types, but the most popular are the family-run Spanish ones offering homemade food. They are traditional dishes made by generations. Among them are the Bodega de Villa Josefa, Restaurante Amigos, Rufino, El Castillo and La Sarten.
For top-of-the-range gastronomy, the Amanhavis restaurant is the ideal choice. Located in the hotel of the same name, it stands out for its daily use of local and fresh products, known as "Cuisine du Marché". The dining room is rustic and elegant, making the customer feel "at home". Speaking of hotels, we cannot miss the restaurant located in the Hotel Villa Padierna, La Loggia. Its menu features avant-garde and traditional fusion dishes, with a wide range of Andalusian and Mediterranean flavours.
Among the typical dishes to try in the area, the most popular are mountain dishes such as suckling pig, rabbit, veal, venison, partridge or Iberian products such as cured ham or chorizo; but, being close to the coast, it is also delicious to try more seafood dishes such as fish and the seafood dish "zarzuela".
What are the best areas to buy a luxury property in Benahavis?
There really is a wide range of luxury properties to choose from in this beautiful municipality. Benahavis has a concentrated urban centre, but then expands widely towards the mountains. Also, the developers have not spoiled the landscape, as they have managed to distribute the amount of buildable land well in order to maintain the feeling of nature at all times.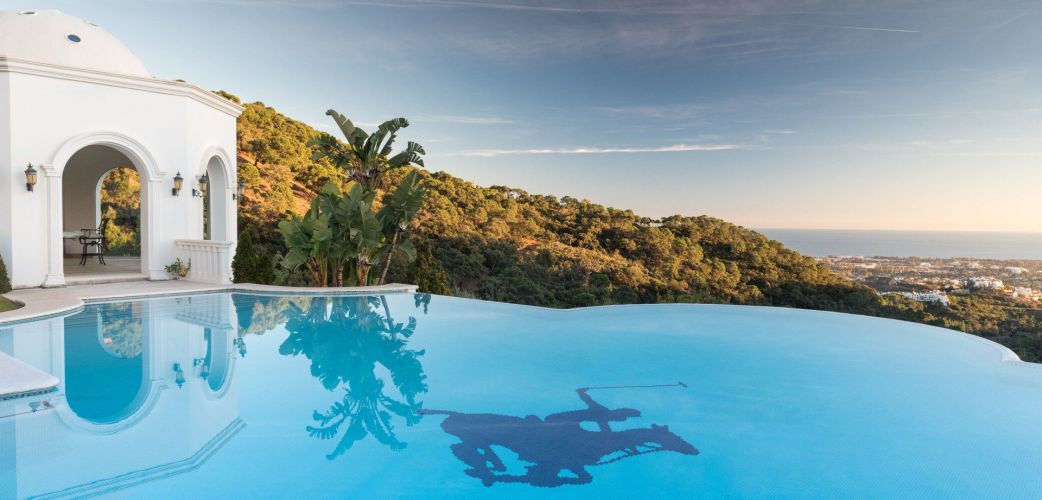 In general, the urbanisations are very quiet, safe and exclusive. The following clearly stand out: La Zagaleta, El Madroñal, El Herrojo, La Reserva de Alcuzcuz, La Quinta, La Heredia and La Alquería.
Why is La Zagaleta the most exquisite residential area in Europe?
Today there is a queen in the world of luxury urbanisations and that is La Zagaleta in the wonderful municipality of Benahavis. Entrepreneurs, politicians, aristocratic and artistic elite… have been, or are looking to be, in impressive and luxurious villas because they are, indeed, the epitome of residential excellence.
The origin of the construction of this dream place dates back to the nineties. Its founders bought a 900-hectare property to start the construction of a group of luxury villas that would be in total harmony with nature. The final project will include just over 400 units, ranging in size from 3,000 to 10,000 square metres, but there are currently 230 homes of unrivalled design, comfort, luxury and beauty in La Zagaleta. With high class facilities available such as a Heliport, golf course, restaurants, an equestrian club, tennis and paddle tennis courts, events, personalised services… a world of its own with the highest quality standards. At the disposal of its residents, whether they are temporary residents (for holiday periods) or "permanent members".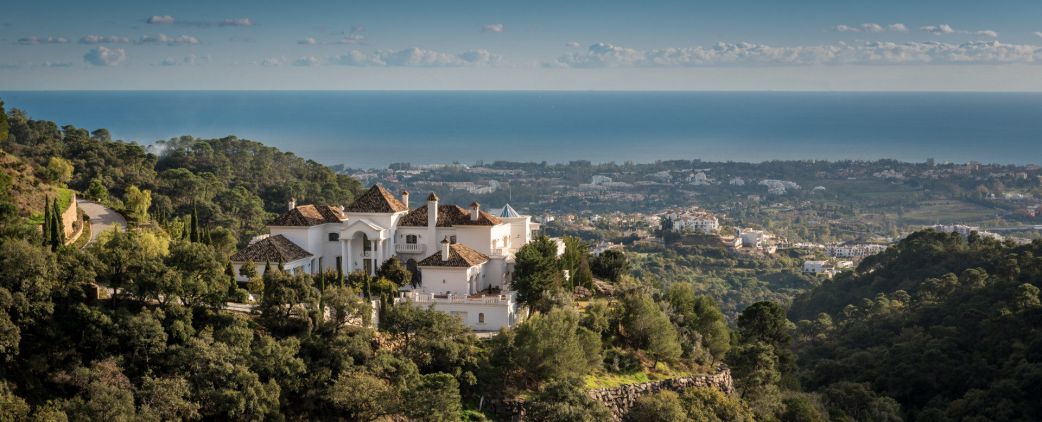 What also makes La Zagaleta so attractive is its great location; especially its proximity to international Marbella (link) and its prestigious Puerto Banus (link). Both add to the glamour, sea life and unrivalled leisure facilities that complete the luxury lifestyle on offer.
How much can a luxury property in Benahavis cost?
In the lower price range, but not in terms of quality or beauty, you can get an apartment in the Paraiso Alto urbanisation for 255,000 euros, or another for 355,000 euros in Hacienda del Señorío de Cifuentes. There are also units for around 700,000 euros in Marbella Club Hills or in Alborada. From one million euros upwards the options increase significantly in urbanisations such as Las Colinas de Marbella, La Alqueria or Los Flamingos, among others. Prices and options increase successively, reaching levels of over twenty million euros in La Zagaleta.
And how much can it cost to rent a luxury holiday villa?
There are fewer luxury properties for rent on the Costa del Sol in inland areas than beachside, because there is less demand. Even so, the possibilities can range from 9,000 euros a week for a modern villa in La Quinta, with five bedrooms and five bathrooms; to 35,000 for a ten-bedroom, ten-bathroom super villa in Los Flamingos. For the exclusive La Zagaleta, please check directly with the agency for availability and prices.
How can we help you?
To buy a luxury property in Benahavis, within its exclusive urbanisations, ask our expert agents. Our team will guide you through the buying process, every step of the way. We are specialists in high-end properties and know the residential offer in Benahavis in depth, so do not hesitate to contact us.

Sten is part of the Pure Living Properties Sales Department. His appointment came to cover the strong influx of Dutch and Belgian clients, while strengthening the sales team with his work ethic and enthusiasm.
Spectacular Properties for sale in Benahavís