Marbella East
Luxury is an established standard in Marbella East, due to the high quality of life imparted by the tranquillity, leisure and extraordinary beauty of its landscape. It is a place for beach lovers who desire to enjoy infinite seascapes reaching all the way to Africa and for people who know how to deeply experience the green countryside, beautiful gardens and golf.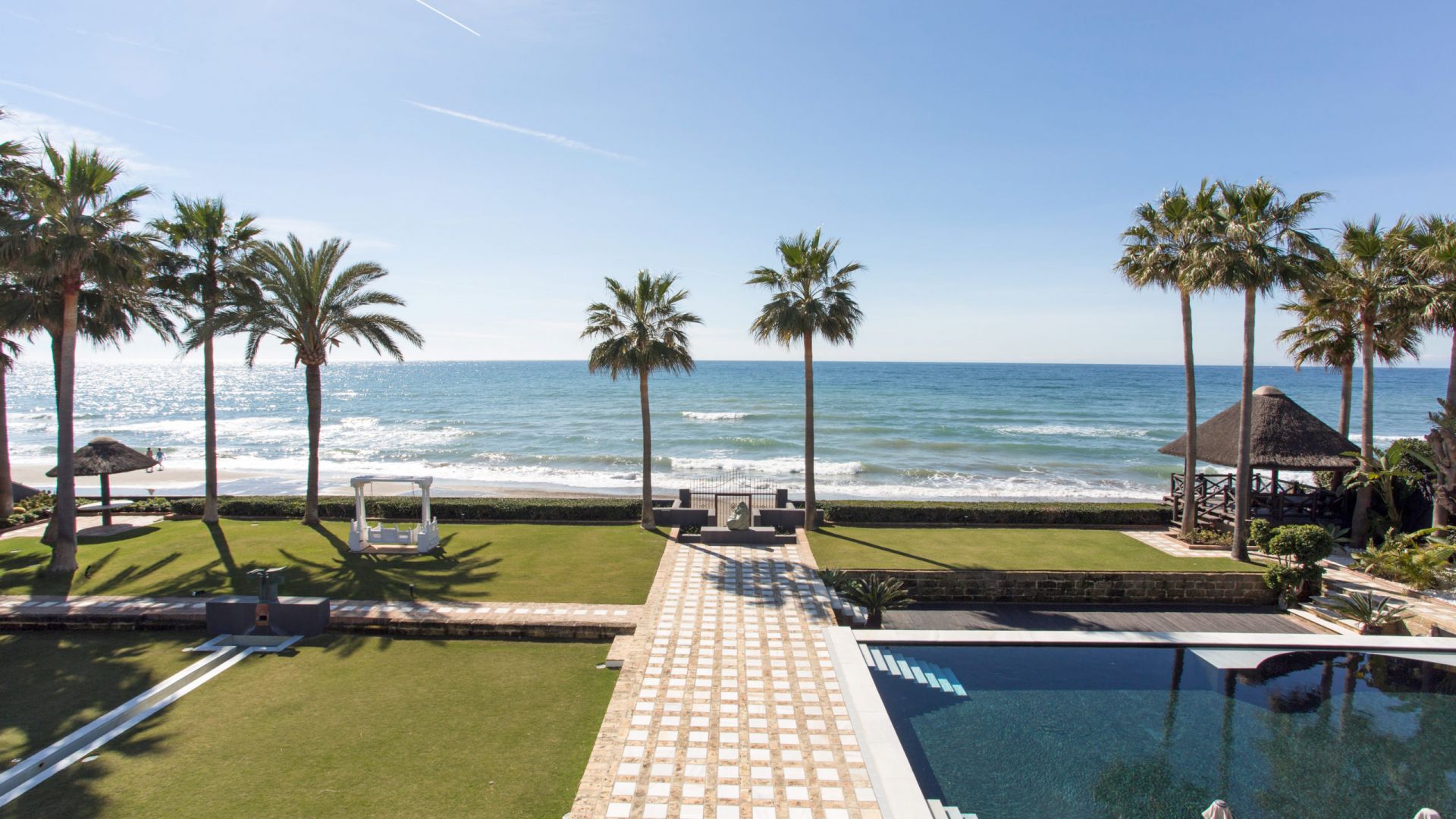 Amongst nature and wild beaches
Marbella East is the most natural and pristine area of the entire city of Marbella. The western part of the city enjoys greater global popularity because the Golden Mile (link) and Puerto Banus (link) are located there. Nevertheless, people who are familiar with the area know that Marbella East is a real paradise, just like Eden.
Where Exactly is Marbella East?
Marbella East is the first part of Marbella after leaving Mijas Costa. It extends just up to the Marbella Entrance Arch, where it becomes an urban area and Marbella Centro (link) begins. As soon as you see the "Welcome to Marbella" sign on the highway, you will be amazed by the lush greenery, spaced-out buildings and beautiful coastline.
Marbella East is the gateway to Marbella as one travels from Malaga towards Algeciras and it is a 12 kilometre-long strip of land. However, it is a very large area which is divided into two parts as far as real estate is concerned. On one side is the highway, a fringe stretch of the maritime area with the best beaches in Marbella; on the other side of the highway is a group of large mountain slopes with well-kept neighbourhoods.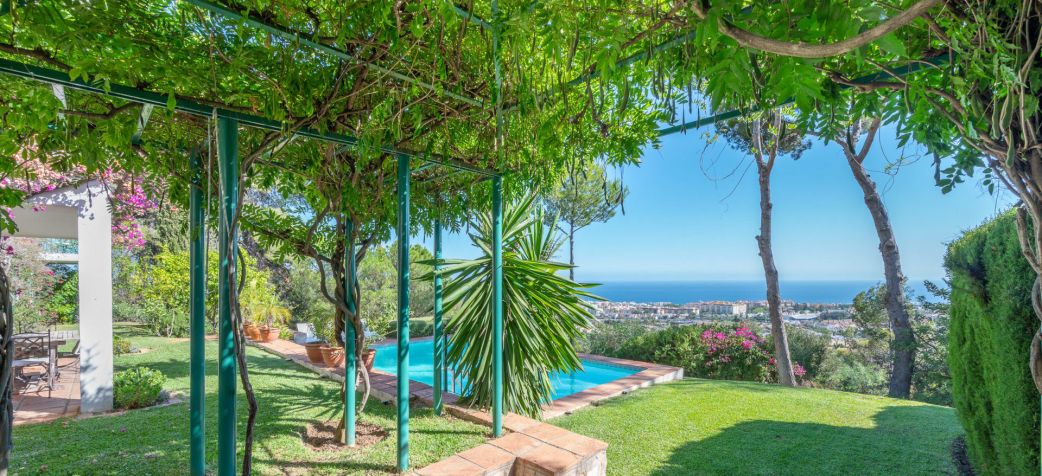 Why is Marbella East Better than Other Areas of Marbella?
Marbella East is a great place on many levels, but we will highlight its tranquillity and natural lifestyle. This is in addition to the fact that Marbella East itself is almost a microcosm, because it has everything needed for a really good life. Its environment is refined and international. Moreover, it boasts of easy access to other areas of Marbella or neighbouring areas such as Mijas or Fuengirola. Similarly, every accommodation in Marbella East is very attractive for those who need smooth access to the Airport of Malaga, which is only 25 minutes away by car.
Why Should You Choose to Live in Marbella East?
It is particularly suitable for family life because it is a safe area with great businesses, schools and a large array of sport activities. Of course, there are lots of options for healthy enjoyment of the sea and mountain throughout the year. Moreover, it has different well-maintained parks including the Elviria Park or the charming TataMiko Park in Río Real Golf. Its beautiful estates of apartment buildings and high-class villas have swimming pools, great views, guaranteed privacy and great surveillance systems. It is a happy and peaceful place to live in.
Why Should You Choose Marbella East for Holidays?
There are lots of recreational activities for the holidays, including those offered by the Amazonia Park or the Marbella Kite School. There are restaurants serving dishes from all over the world and beach restaurants with exquisite menus and enchanting sunsets. Some of the most beautiful, lively and exclusive Beach Clubs of Marbella are also located in Marbella East, including Nikki Beach, La Cabane, Bono, Opium or Nosso Summer Club. It goes without saying that Marbella East is a Paradise with the best beaches in Marbella, including a dog beach and a naturist beach.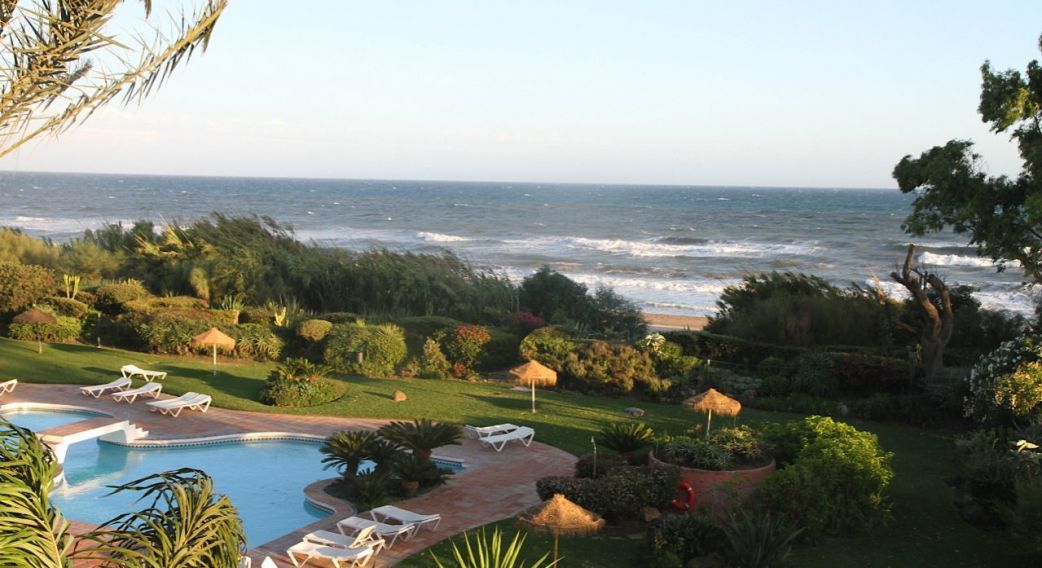 How Can I Participate in Sports such as Golf, Horse-Riding, Surfing, Hiking, etc.?
Golf players are well-catered to in Marbella East. Some of the more than twenty golf resorts in Marbella East include: Río Real, Santa María, Santa Clara and Cabopino. Each of them offers a high quality of play and excellent clubs for socializing with other golf enthusiasts.
Horse-riding enthusiasts are also in luck if they choose Marbella East. The area has the Centro Hípico El Repique, which usually gives classes and has an entertaining Pony Club. There is also the Hacienda Monte Marina Club Hípico, a vast property where one can learn horse riding and lodge one's horse. Lastly, the Centro Ecuestre Los Caireles offers horse-taming services and intensive classes.
If you love sailing, Marbella East has its own port, Cabopino, which has a sporty appearance and where it is possible to book temporary boat docking space. You can also enjoy Paddle Surfing or Windsurfing, among others, with personal or rented equipment.
Tennis and padel are also given pride of place. The area is full of high-end facilities like the Royal Tennis Club Marbella, Los Monteros Racket Club or the Don Carlos Tennis & Sport Club.
Complementing the offer are gymnasiums like Crossfit Elviria, or the Polideportivo Bello Horizonte where you can play basketball, handball, volleyball, football, and why not, there is a whole world of mountain and sea to be explored while you hike or ride a bicycle.
Are there Good Health Services in Marbella East?
It is important to know that the main hospital in Marbella, the Hospital Comarcal Costa del Sol, is located in Marbella East. It is a public-private partnership and its different medical specialities can therefore be accessed through many agreements with other countries or through private insurance companies. In this hospital, they are so accustomed to caring for persons from all over the world that not only do the medical professionals speak two or more languages, but there is also a volunteer service of translators and interpreters, "los traductores de batas blancas" (White Coat Translators), who help to facilitate comprehension between patients and healthcare providers.
Quirón Hospital and the Centro Médico Ochoa are very close by car, towards Marbella Centro. There are private practices in the area offering dental care, physiotherapy… and all kinds of healthcare professionals.
Are there good schools in Marbella East?
Marbella East has a great educational offer. Schools offering a British curriculum such as The English International College or Bilingual School Las Chapas have been in the area for many years. Other schools here include Ecos, Alborán, Platero and Pinolivo. There are pleasant childcare centres like Nuna Nursery for very young children. Moreover, there is the option of the prestigious German school, the Patronage of the German School Malaga.
Is It Easy to Go Shopping in Marbella East?
Within the vast territory where Marbella East is located, there are outlets of big supermarket chains like Lidl, Supercor and Mercadona, making it easy to fill up the refrigerator thanks to their long opening hours, private parking spaces and home delivery services. For emergencies, the petrol stations of the area have shops that are always open and they sell essential items.
Marbella East actually has a life of its own, because it has all types of services, except that they are spread out over its various neighbourhoods. These range from pharmacies to hardware shops; from animal shops to mobile phone and computer repair shops; from shops selling tyres, flowers and take-away foods to shops selling fish and wine as well as Scandinavian delicacies, such as those served by Norrlands Scandinavian Gourmet.
Elviria, like some other neighbourhoods, has its own commercial centre, except that it is of the open type. Here, you can buy virtually any household item. Moreover, a relaxed atmosphere pervades its facilities, with the mix of locals and "guiris" (which is what foreigners are fondly called in Malaga).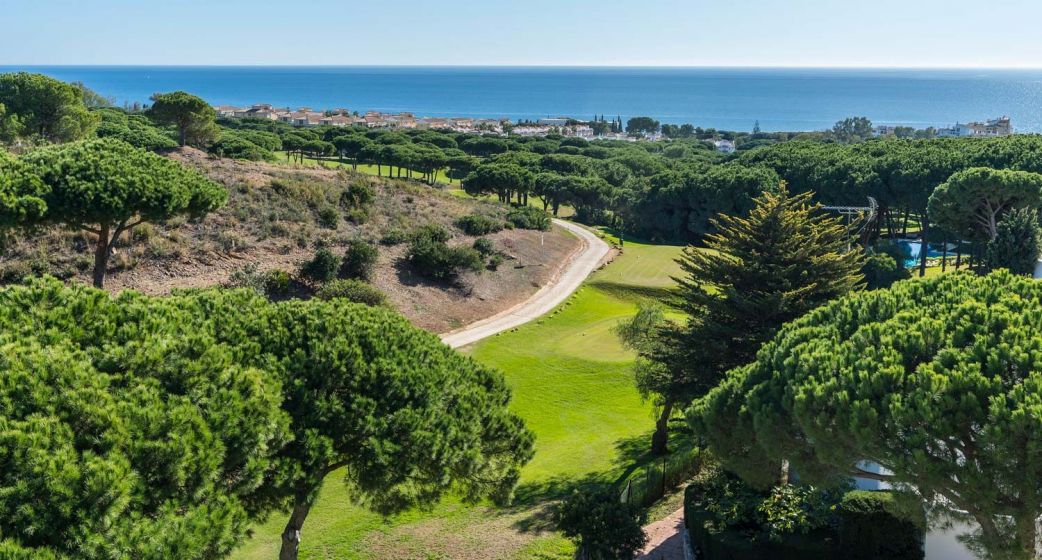 Great places for buying decorations include B&D Marbella Home Living, specialists in cookware and cupboards; Casasola Decor, G&G Italia Designer Furniture or the elegant Roche Bobois. If you wish to decorate the exterior of the property, there are businesses such as Garden Center Costa Bella or Viveros Guzmán.
The residents of this area are also in a great position to go shopping in the biggest commercial centres of the coastal region. They can go to the Centro Comercial La Cañada in Marbella or to the Centro Comercial Miramar in Fuengirola within only ten minutes. Both commercial centres have supermarkets, cinemas, a host of shops and restaurants as well as free parking spaces.
Where Can One Eat a Great Brunch in Marbella East?
Just like in the rest of Marbella, there are great meals all the time. With its decoration and menu, Mama´s Eat Drink & Chill is a great place to enjoy a hearty Brunch (Breakfast and Lunch). You also have the option of choosing from a great variety of bread types and they can prepare some eggs for you in many ways. You can also eat a very light snack with oats and fruits, for example.
If you are a fan of toast, sandwiches or pancakes, San Martino Caffé Bistro is where you need to go. For organic gourmet morning coffee, Lady Bug Coffee Rouster is the perfect place to be; and if what you desire is lovely organic bread for breakfast at home, it is best to go to the Das Brot bakery for German sliced bread. Lastly, to enjoy the typical ambience of Malaga, with hotcakes or "pitufo de jamón serrano", Café del Sol is the best place to visit.
Where Can One Have Lunch or Dinner in Marbella East?
Marbella East is also a top-rated gastronomic centre. For example, El Lago is a Michelin-starred restaurant located on the hills of Elviria. In the commercial area of the same neighbourhood, there are many Hindus, Mexicans and Argentineans, among others.
In summertime, or during very good weather, which is not hard to come by in Marbella, it is best to choose a good beach restaurant because the beaches are impressive and strolling on them is totally worth it! Noteworthy seaside restaurants include Trocadero Arena and The Beach House. A lot of these places have their own sunbed and umbrella area where customers can enjoy their relaxation.
In Puerto de Cabopino and surrounding areas, there are also many options. La Lonja de Cabopino has a greater Spanish profile, while the atmosphere at Andy Beachclub and Cocktail is more international.
If what you are looking for is skewered sardines or calamari at a great price, the La Barca de Pedro "marbellero" restaurant is the place to be. It is somewhat secluded and has no seascapes or glitzy appearance, but it is highly appreciated by the locals, which always guarantees a great meal.
Family-friendly places include the Italian Da Bruno, or La Veranda Royal together as well as the Club de Tenis de El Rosario which, in addition to the restaurant, has a swimming pool and is therefore ideal for holding parties.
¿What are the Best Areas in Marbella East?
This magnificent and sought-after area hosts low-density residential complexes, majority of which are top-quality apartment buildings. The sub-areas on its fringe include El Rosario, Los Monteros, Elviria, Las Chapas, Cabopino, Marbesa and Río Real.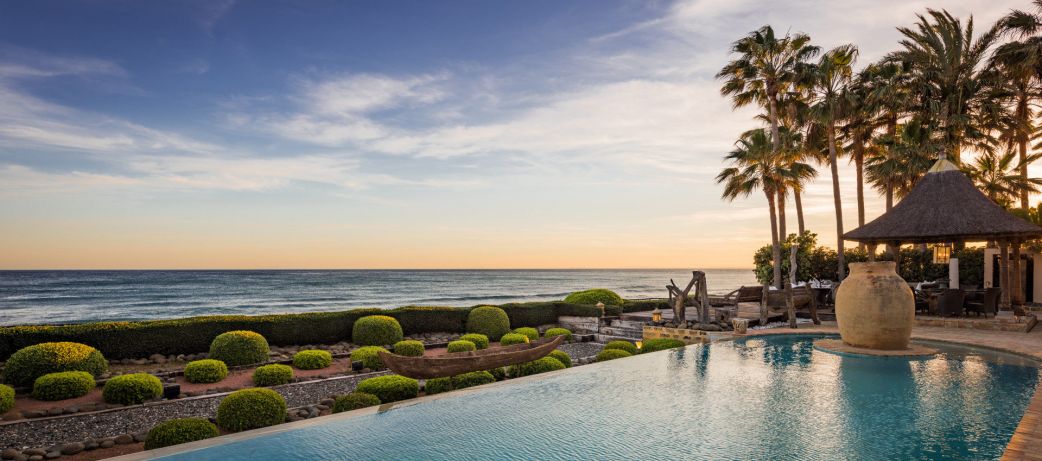 ¿What are the Best Luxurious Neighbourhoods in Marbella East?
Pure Living has an excellent selection of properties in Marbella East. We start by mentioning the neighbourhood of La Mairena because of the elegance of its residences and stunning views resulting from its location on the mountain slope.
To cite some examples, the dazzling Alicate Playa apartments are located on the beachfront and there are luxury villas on the beautiful Los Monteros beach. On the Golf beachfront, we have the Elviria Hills neighbourhood and detached villas close to Río Real Golf. There are lovely renovated villas in Marbesa and cosy family houses in El Rosario.
Lastly, we highlight the fantastic apartments of Los Altos de los Monteros or the modern villas on sale in Santa Clara.
What is the Cost of a Luxury Property in Marbella East?
In the low-price range of up-market properties, there are sparkling apartments from 350,000 euros in Cabopino, Elviria, Torre Real or Costabella. Starting from 500,000 euros and up to one million euros, the available options of apartments and villas increase. Neighbourhoods of interest in this range, apart from those that have already been mentioned, include Bahía de Marbella, Hacienda de las Chapas, Elviria Hill, Los Granados and Los Altos de los Monteros.
For prices higher than a million euros, there are options from Rosario to Cabopino, on the seafront and in the mountains; these are all stunning properties and some of them can be rented. It is good to know that many of them are not connected to the internet and you must contact our agents to obtain information about internet services, which are available through private providers.
How Can We Help You?
These are only some of the high-quality residential areas in Marbella East. Pure Living can help you find an ideal holiday property or suitable permanent home. Don't hesitate to contact us for more details on the luxury properties in Marbella East.

Sten is part of the Pure Living Properties Sales Department. His appointment came to cover the strong influx of Dutch and Belgian clients, while strengthening the sales team with his work ethic and enthusiasm.
Properties for sale in Marbella East