Sotogrande
Sotogrande, located in a privileged enclave on the border between the provinces of Cádiz and Málaga, has established itself as an exclusive destination that combines the natural beauty of the Mediterranean Sea with stunning views of Gibraltar and the northern coast of Morocco.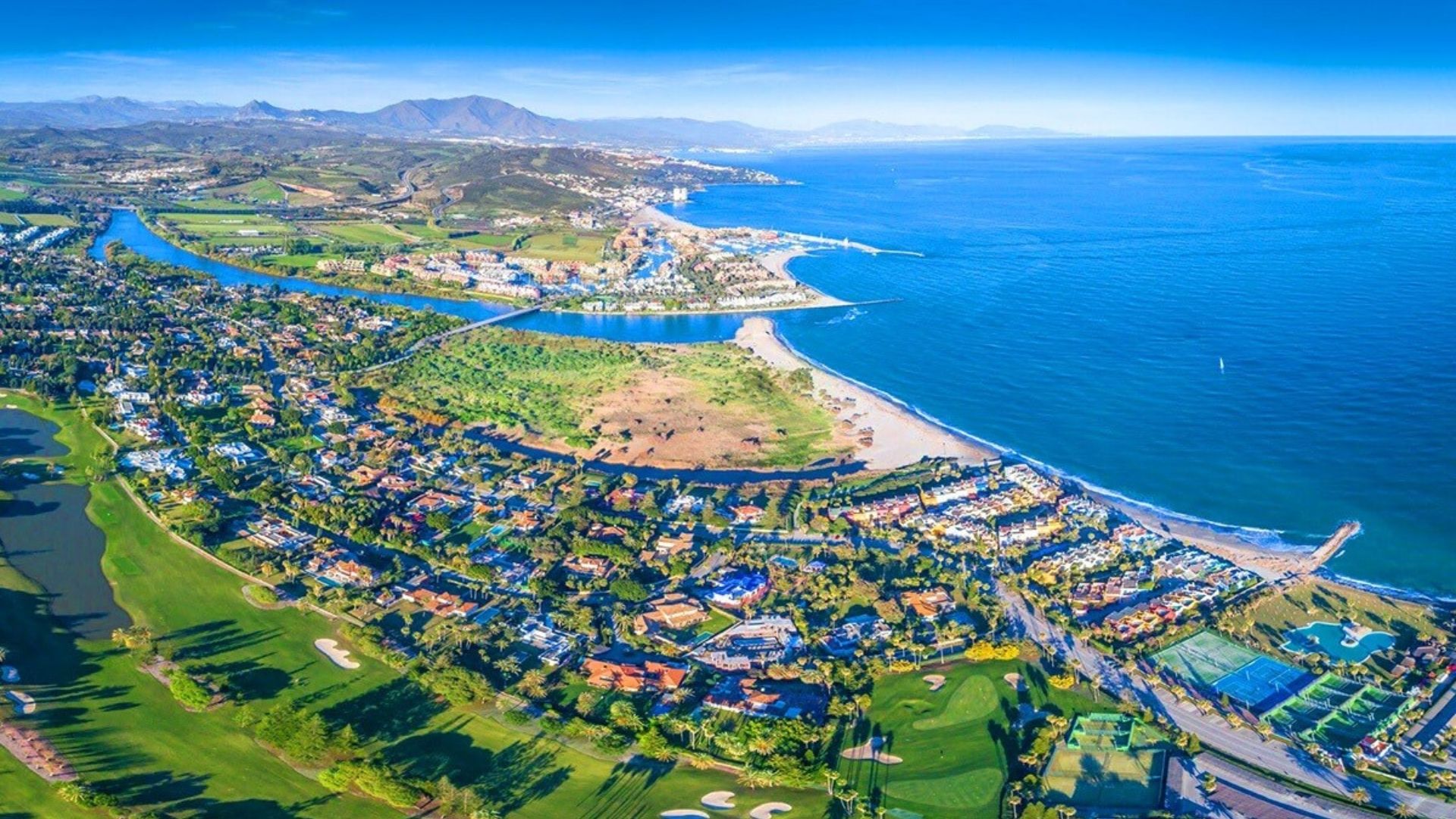 Sotogrande
Sotogrande: Exclusive destination of luxury, glamour and natural beauty
This coastal paradise has been designed to offer the ultimate luxury and glamour for those seeking discretion and privacy. Golf enthusiasts can enjoy numerous world-class golf courses, where major international tournaments are held. Polo is another of Sotogrande's highlights, with exclusive tournaments attracting lovers of this elite sport.
The Sotogrande marina is a reference point for lovers of the sea and luxury yachts. Its beauty and sophistication make it a breathtaking setting, where you can admire impressive vessels while enjoying a dinner overlooking the sea.
In addition to the impressive sporting and maritime offerings, Sotogrande boasts spectacular villas and dream residences. These properties, designed to the highest standards of quality and comfort, offer residents an exclusive lifestyle in a privileged setting.
To get around Sotogrande, The Jolly Mile offers a buggy hire service, with a fleet of 1980s Mini Mokes that have been restored and designed for Sotogrande's sophisticated public.
To complement this unique experience, Sotogrande has a variety of restaurants offering exquisite gastronomy, from local dishes to international culinary creations. Designer shops, art galleries and beach clubs add a touch of class and elegance to the area's entertainment and leisure offerings.
HISTORY: The origin of Sotogrande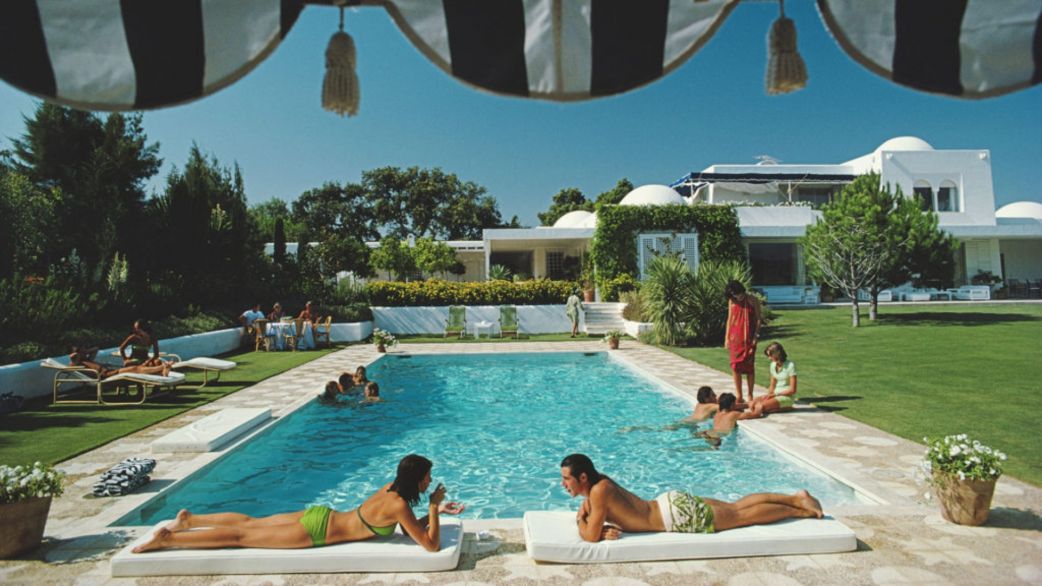 In 1962, Swiss Air decided to give flights to Spain to several executives, among them Joseph McMicking, the Filipino-American businessman and president of the Ayala Corporation in Manila. He took the opportunity to send his cousin Freddy Melian to explore potential areas on the Spanish coast, with the aim of building an exclusive community, Pebble Beach style in California.
On arriving on the coast of Cadiz, specifically in the municipality of San Roque, he found what McMicking was looking for, a natural paradise with several estates next to pristine beaches and the mouth of the Guadiaro River.
It should be noted that at that time, for a foreigner to buy land in Spain, he needed the express permission of the military. However, the authorities did not object, considering it a national centre for tourism.
After the acquisition, one of the first objectives was the creation of what is today the Sotogrande Royal Golf Club, later in 1965 the Polo field and with it the tournaments that attracted more and more visitors.
During the 70's Sotogrande was a destination for the aristocracy and it was not until the end of the 80's, with the opening of the Marina, that it began to attract the attention of the middle class.
In the years that followed, Sotogrande's urbanisation grew steadily, with a significant increase in the number of homes and the addition of several beach clubs. This development made Sotogrande an exclusive destination, both for those seeking a luxury holiday home and for those wishing to settle here permanently.
Sotogrande: A golfing paradise and the ideal climate to enjoy outdoor sports.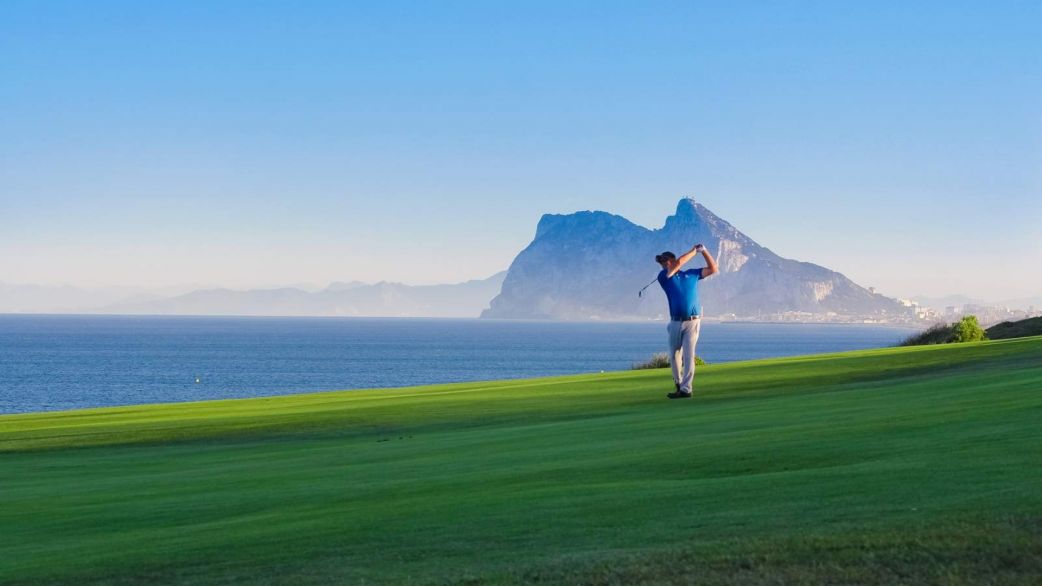 Situated in an area of 10 kilometres, Sotogrande is home to an impressive collection of 9 of the best golf courses in Europe. This captivating destination, bathed by the warm waters of the Mediterranean Sea and caressed by the breezes of the Levante, offers an incomparable climate and geography for outdoor activities all year round.
For golf lovers, Sotogrande is a true paradise. Its world-renowned golf courses are a delight for players of all levels. With their magnificent scenery, impeccable greens and challenging holes, these courses offer an unrivalled experience and attract golfers from all over the world.
Discover the golf courses in Sotogrande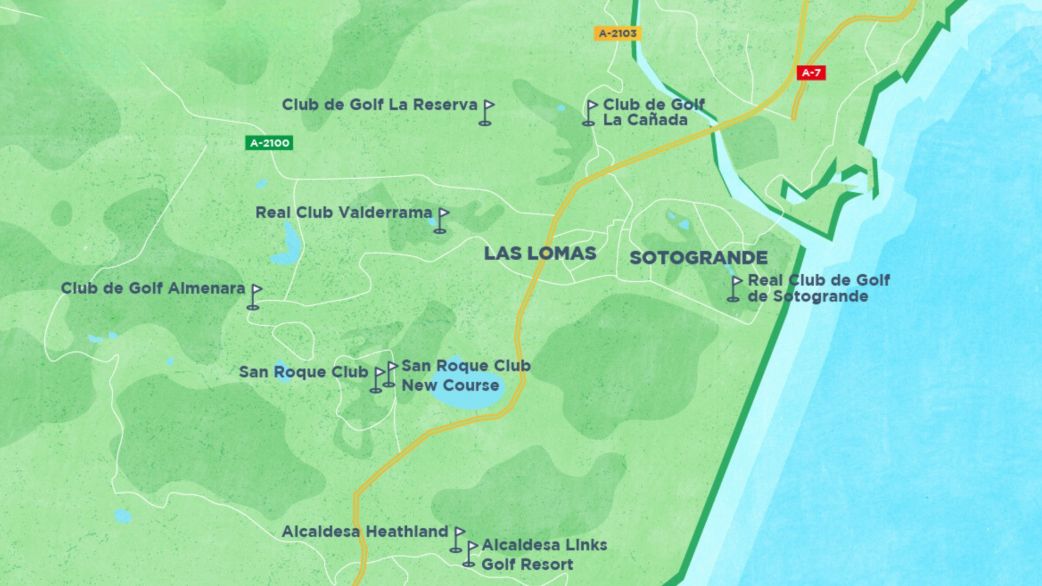 Almenara Golf Club
Almenara Golf Club, designed by former Ryder Cup player Dave Thomas, opened its doors in 2001 with a 27-hole course, consisting of 3 courses of 9 holes each. This spectacular course winds around large lakes, offering some of the most impressive trees in Europe. In addition, the club's restaurant, situated next to the course, has a terrace from where you can enjoy views over the front nine holes and the luxurious Sotogrande development towards the sea.
La Reserva Golf Club
Opened in 2003, La Reserva de Sotogrande is much more than an 18-hole golf course. Set in a stunning location in the upper reaches of the Sotogrande urbanisation, this magnificent course is surrounded by lush native vegetation, where Mediterranean pines, wild olive trees and cork oaks enhance its natural beauty.
But the club is not just about golf. In addition to its first-class golf course, La Reserva offers a wide range of sporting facilities to enjoy. These include four clay tennis courts and five glass-walled paddle tennis courts.
After an exciting game or an intense workout, players can head to the club's sports bar for a delicious breakfast or a refreshing snack. In addition, La Reserva has two restaurants offering a fusion of Andalusian cuisine with a contemporary twist, where diners can indulge in an exceptional dining experience.
La Cañada Golf
With a total of 5,841 metres, and 18 holes, La Cañada golf course stands out for its entertaining fairways and moderate length, accompanied by fast greens that challenge players.
La Cañada's tradition is closely linked to children's golf. The Municipal Golf School of La Cañada, with more than 300 students, is considered one of the most important in Spain. This school is dedicated to fostering a love of golf among young people, providing them with a quality education and the opportunity to develop their skills in an inspiring environment.
La Hacienda Alcaidesa Link Golf Resort
Nestled in a unique setting, La Hacienda stands out as the only link golf course in the whole of Andalucía. This magnificent 18-hole course offers an unrivalled experience with spectacular views of the imposing Rock of Gibraltar and the majestic mountains of northern Morocco.
The course at La Hacienda Alcaidesa Links presents a perfect combination of challenge and natural beauty. With strategically placed water hazards and the wind often coming into play, players face great difficulty in keeping the ball in the fairway, despite its width over the majority of the course.
La Hacienda Alcaidesa Heathland
La Hacienda's second course opened in 2007, Alcaidesa Heathland is an 18-hole golf course that captivates players with its natural beauty and strategic challenges. Located at the highest elevation in the area, it offers magnificent views of the surrounding landscape that provide a great welcome to the course.
The elevated part of Alcaidesa Heathland invites golfers to enjoy an attacking game. The design of the course promotes a general movement that encourages players to adopt a bold and risky strategy. Here, players will find the opportunity to showcase their skill and ability while delighting in breathtaking panoramic views.
However, it is in the valley that Alcaidesa Heathland's most spectacular holes are to be found. The course design has taken advantage of the existing streams and created several additional lakes with waterfalls, providing a visual and exciting experience. These water features add a touch of scenic beauty and strategic challenge to the holes, creating unforgettable moments during play.
San Roque Club
San Roque Club stands as one of the most outstanding golf courses in Europe. Its prestige has been backed up by renowned events, such as the Spanish Open Golf Championship in 2005 and its role as the venue for the final phase of the European Tour Qualifying School for several years.
The 18-hole San Roque Club course offers a unique and diverse experience. In the first half of the course, players are immersed in a lush grove of majestic cork oaks. The natural beauty and serenity of the surroundings make this part of the course a delight for the senses.
The second half of the San Roque Club layout presents an additional challenge in the form of numerous strategically placed water hazards. These water features add excitement and difficulty to the game, requiring a tactical approach and precision on every shot.
San Roque Club New Course
San Roque Club's second 18-hole course is noted for its technical excellence, meticulous design and impeccable landscaping. It is considered one of the best golf courses in Europe, just like its "big brother", the main San Roque Club course.
One of the distinguishing features of the New Course is its exclusive setting, free from nearby housing. Unlike other courses, there are no buildings to detract from or interfere with play. This allows players to fully immerse themselves in the natural beauty of the surroundings and concentrate fully on their game, enjoying the purity and serenity that the course offers.
The New Course has also left its mark on the world of golf by hosting the Spanish Open in 2006. This prestigious tournament is a testament to the quality and recognition that this course has gained over the years.
Real Club Valderrama
With its 18 holes, Real Club Valderrama has earned recognition as one of the most emblematic courses on the Costa del Golf. Its history is rich and full of outstanding achievements that have left an indelible mark on the world of golf.
In 1997, Real Club Valderrama made history by becoming the first Spanish course and the first outside the British Isles to host the prestigious Ryder Cup in Europe. This milestone marked a before and after for the club and cemented its reputation worldwide. Prior to the Ryder Cup, Valderrama had already hosted nine Volvo Masters, a tournament that continued to be played on this magnificent course. These events attracted the best players in the world and elevated Valderrama to the number-one ranking in Europe.
In addition to its prominent participation in the Ryder Cup and the Volvo Masters, Real Club Valderrama has also hosted two American Express World Championships. These renowned events have contributed to Valderrama's legendary history and have positioned it as one of the most prestigious destinations for golf lovers.
Real Club de Golf Sotogrande
The first golf course to open in the area, founded in 1964, the Real Club de Golf Sotogrande is an undisputed treasure for golf lovers. With its 18 holes of competition, this course has earned a prominent place among the top ten golf courses in Europe. Its distinction and reputation are the result of decades of dedication and the vision of renowned American designer Robert Trent Jones Senior.
Considered Jones' first creation on the European continent, Real Club de Golf Sotogrande has evolved to exquisite maturity. Each hole has been meticulously designed to offer a challenging and rewarding playing experience. The presence of water on six holes adds a strategic element that tests the skill and accuracy of golfers.
The majestically situated clubhouse offers privileged views of the 1st tee and 18th green. From there, players can immerse themselves in the authentic ambience and enjoy the excitement that only world-class golf can provide.
World-class polo and exclusivity in luxury events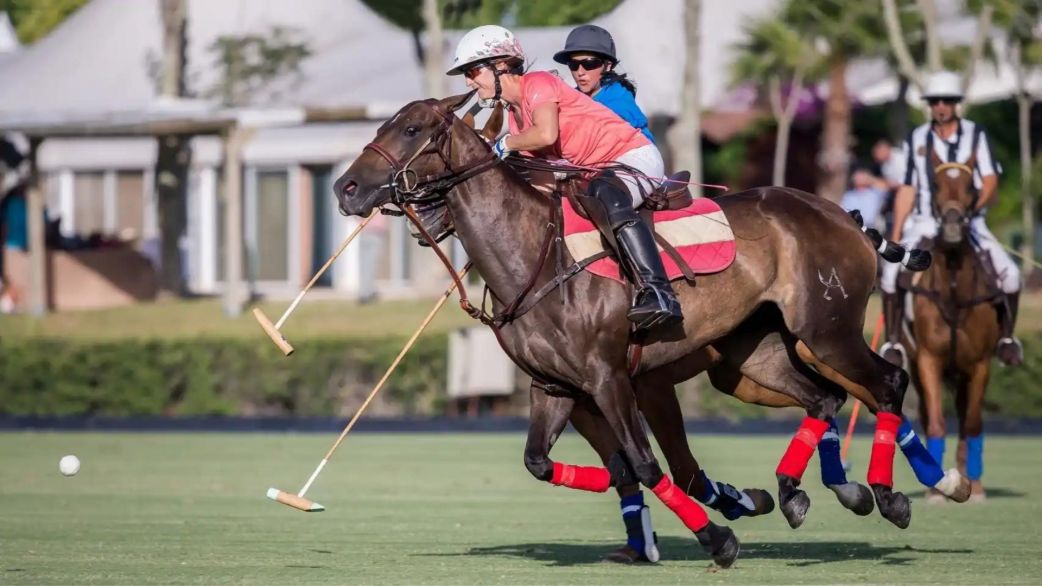 The prestigious Santa Maria Polo Club, a pioneer in the establishment of polo fields in Sotogrande, enjoys worldwide recognition for its distinguished excellence. Since its foundation in 1965, this esteemed club has been the epicentre of countless top-class tournaments, attracting the elite of the polo world.
The club offers nine world-class polo fields, and can accommodate thousands of spectators, providing a polo experience unparalleled on the international circuit.
In addition, the Santa Maria Polo Club presents an unrivalled location for hosting exclusive private and corporate events, providing all the luxury amenities and high-end services in a truly exceptional setting.
Another of Sotogrande's premier polo clubs is the Polo Valley Club.
Whether it's experienced polo players or those approaching the sport for the first time, the committed and passionate team at Polo Valley Sotogrande is focused on delivering an unforgettable experience.
Since its founding in 2015, Polo Valley Sotogrande has remained true to its original vision: to democratise access to polo and share its unique lifestyle with its visitors. So whether you want to learn the basics of the game, host horses, plan an event or simply enjoy new experiences, Polo Valley Sotogrande invites you to immerse yourself in its world.
Puerto Sotogrande: Exclusive destination for nautical tourism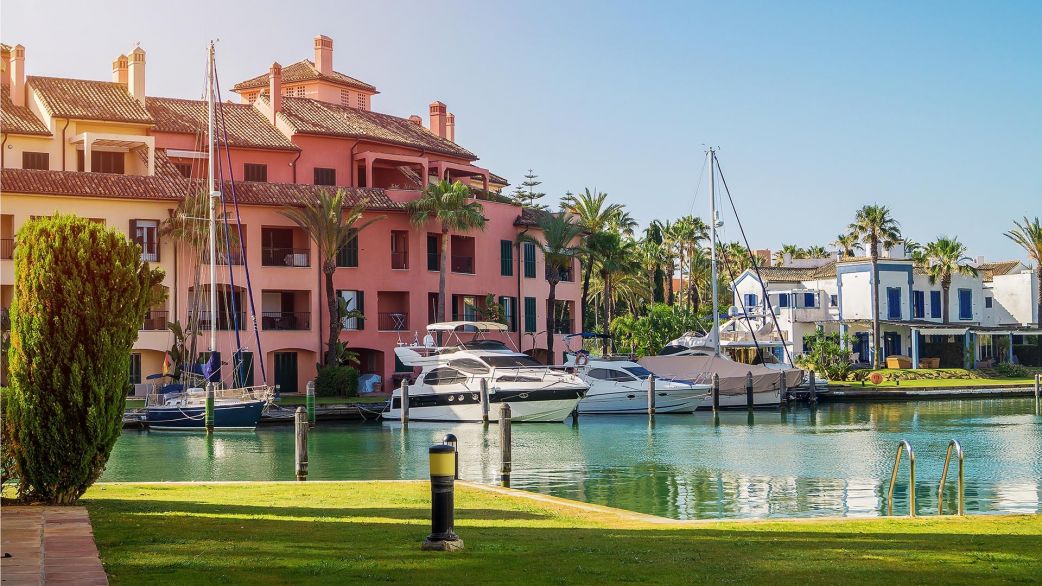 Puerto Sotogrande stands as the most distinguished destination for nautical sports tourism in southern Spain. With panoramic views of the Strait of Gibraltar, this port is a true crossroads of seas, countries and continents, housing a total of 1,382 exclusive moorings. This place is a true paradise for yachting enthusiasts and lovers of luxurious maritime life, who value immediate access to the wonders of the Mediterranean and the Atlantic.
This privileged port offers a variety of high-end services designed to satisfy all the needs of its distinguished visitors. In addition to essential facilities such as fuel supply and diver services, there is also a nautical shop, 24-hour security, laundry service and a modern gymnasium. As if that were not enough, the club has the honour of hosting numerous prestigious international sailing tournaments, confirming its position as one of the most exclusive sailing destinations in the region.
Beyond the port facilities, visitors can enjoy the unrivalled Costa del Sol and the nearby Costa de la Luz. In Puerto Sotogrande, guests have at their disposal the services of the Real Club Marítimo Sotogrande (RCMS), as well as the Sailing School and the Adapted Sailing School (EVA). Numerous official and professional regattas are held each year, and a wide variety of water sports are available, from windsurfing, kitesurfing, paddle surfing, wingfoil, wakefoil, foiling to traditional surfing, offering a wide range of activities for those seeking an active and luxurious lifestyle.
Sotogrande Restaurant Guide: Discover the exceptional gastronomy of Sotogrande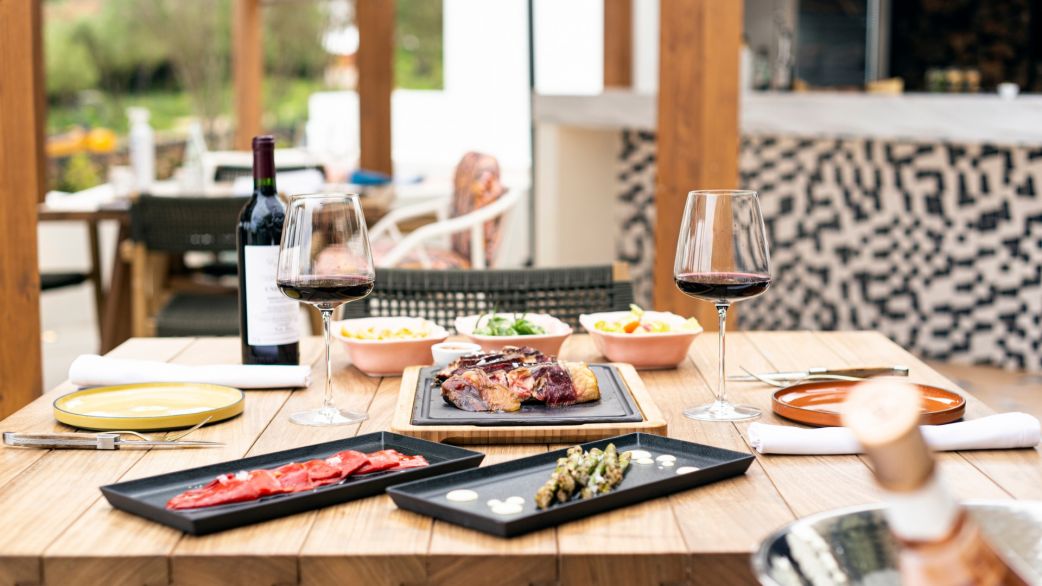 Sotogrande is known not only for its exclusive properties and privileged natural surroundings, but also for its exquisite gastronomic offer. With a wide variety of renowned restaurants.
From Mediterranean flavours to international cuisines, Sotogrande offers a unique dining experience to satisfy the most discerning palates. Whether enjoying elegant waterfront dining, sampling traditional Andalusian dishes or exploring innovative gourmet offerings, Sotogrande's restaurants offer a perfect combination of quality, impeccable service and charming ambience.
Trocadero
The prestigious Trocadero Group brings its exceptional culinary touch to Sotogrande, presenting a sophisticated space that houses two exclusive restaurants. The first pays homage to the rich Mediterranean gastronomic tradition, offering dishes that celebrate the region's diverse flavours. The second, during the summer months, offers an Asian culinary experience, where Thai and Japanese cuisine merge in perfect balance.
Enriching their offer, these gastronomic spaces operate from 13:00 to 23:00, allowing visitors to enjoy their proposals throughout the day. In addition to the varied gastronomic menu, additional services include an elegant cocktail service and a sushi bar, providing a complete and diverse culinary experience.
To round off the Trocadero experience in Sotogrande, visitors can enjoy a relaxing poolside lounge area with sun loungers, ideal for taking advantage of the sunny weather in the area. The venue also offers tailor-made solutions for group and private events, allowing guests to celebrate special occasions with unrivalled distinction. Furthermore, in order to ensure maximum convenience, the establishment provides free parking for its guests, underlining its commitment to a seamless and thoroughly enjoyable dining experience.
La Reserva Club Restaurant
La Reserva Club Restaurant stands out for its dedication to local and seasonal ingredients, from fresh fish to freshly picked wild mushrooms and vegetables. This elegant golf club restaurant serves everything from alfresco barbecue dinners to family brunches, refined afternoon tea and special event menus. With opening hours from 08:30 to 19:00, it is advisable to check the club's dress code, available on their website.
The Beach
The Beach offers a select variety of sushi and gourmet fusion food, prepared with the freshest and highest quality ingredients. The menu includes a wide range of options from sandwiches and salads to paella, fish, seafood, meats and exquisite desserts. Highlights include a variety of sashimi, nigiri, maki and tartare, prepared with the finest cuts of fresh fish and local produce. Among the unique proposals are inquiries with innovative combinations such as beef tataki with truffle or steak tartar with crispy rice.
Don Diego
Don Diego stands out for its exquisite Nikkei cuisine, an innovative fusion of Japanese and Peruvian culinary traditions.
This hybrid cuisine offers a spectrum of vibrant and distinctive flavours, from the exoticness of sushi rolls and the freshness of ceviche to the crispness of tempura. It also offers a selection of superb wines and desserts crafted to satisfy the most refined palates.
Located in the heart of Sotogrande, Don Diego offers exceptional panoramic views that make every meal a memorable event, whether it is a sunny lunch or dinner under the lunar glow. The restaurant also elevates the dining experience with themed nights (Japanese, Peruvian, and Thai, among others), giving diners the opportunity to discover new dishes and, on occasion, learn to cook sushi in its regular workshops.
Foodisiac
Foodisiac stands out as the ideal destination for a sophisticated brunch in Sotogrande. Reminiscent of the refined French-style breakfasts typical of the world's most exclusive hotels, this restaurant offers a morning selection of exquisite dishes. Each option, from the authentic French Croque Monsieur to the famed Eggs Benedict prepared by culinary experts, promises an unparalleled dining experience.
Coffee at Foodisiac becomes an experience in itself thanks to the skill of the on-site professional barista. Diners are invited to enquire about the different varieties of single-origin coffee available, preparing them for a passionate and informative conversation about this highly prized beverage.
In addition, the baked goods on offer, with delicacies such as freshly baked pure butter croissants, add a crisp and savoury delight to the dining experience. There is no shortage of traditional Andalusian-style toast, full of Mediterranean ingredients and enhanced with excellent Arbequina olive oil.
Midas
Restaurant Midas is an essential stop for the most demanding gastronomy enthusiasts. This establishment offers an exclusive menu based on Mediterranean and regional Spanish cuisine, adapted to every moment of the day. In addition to its cosy interior space, Midas has a terrace, a pleasant and cool space ideal for enjoying tapas at lunchtime or cocktails in the evening, all with views of the sea.
Here, exclusive use is made of the highest quality products, fusing traditional Andalusian cuisine with the most innovative trends in contemporary cuisine. Every day, the chef presents suggestions that will delight even the most demanding palates. To accompany the menu, Midas has an extensive selection of the best national wines, including those from the prestigious Marco de Jerez.
Sotogrande Beach Guide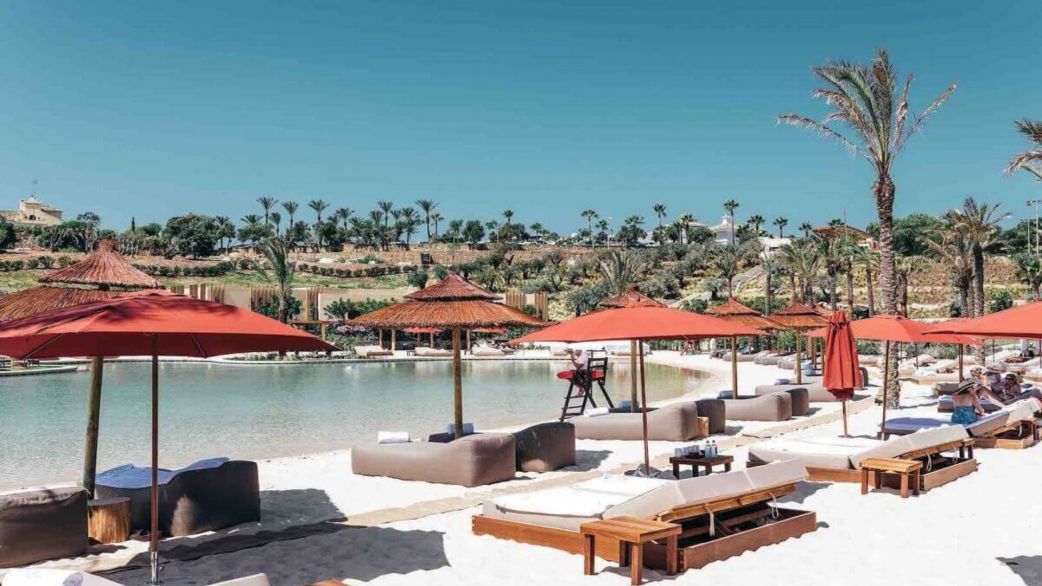 The Beach
The Beach, known as Spain's only private beach, has managed to capture the very essence of summer. Spanning over 2,800 square metres of sandy shores of Cadiz, lush Californian palm trees and a stunning lagoon for water sports, this paradise offers an ambience of glamour and sophistication. Located in La Reserva de Sotogrande, an enclave synonymous with privacy and distinction, The Beach provides a safe, family-friendly environment where visitors can relax, enjoy sporting activities and, above all, have the time of their lives.
Sotogrande Beach
Sotogrande Beach has a range of services to meet the needs of bathers. There are areas for renting sunbeds and umbrellas, as well as showers and public toilets for your convenience. Lifeguard and lifeguard services are also provided during the high season, guaranteeing the safety of bathers.
This beach is known as a meeting point for water sports enthusiasts, such as paddle surfing, kayaking and sailing. Fishing enthusiasts also enjoy the Sotogrande coast, as it is a popular spot for fishing.
In addition, the beach's location is privileged, as it is close to a variety of restaurants, bars and commercial establishments, allowing visitors to enjoy a wide range of gastronomic and entertainment options in the vicinity.
Torreguadiaro
Torreguadiaro Beach is slightly more than 1.3 kilometres long and is located in a fishermen's area, in close proximity to luxury flats and the Sotogrande marina.
This semi-urban beach is composed of dark sands with small crushed stones and has a promenade running along it. The occupancy level is high and the waves are considered moderate. It also offers a variety of services for the comfort of bathers, including walking access, toilets, bathing area, Red Cross presence, showers, rescue equipment, litter bins, danger signs, cleaning service, public telephone and surveillance.
It is important to mention that the beach has a dune system, although its condition has been affected to some extent due to the degree of urbanisation in the coastal area.
Cala Sardina Beach
Just a few minutes in the direction of Marbella, you will find a marvellous coastal jewel: Cala Sardina. This idyllic spot captivates with its crystal clear waters and natural surroundings, where the rocks boldly jut out into the sea.
Best of all, getting to Cala Sardina is very convenient, as it has a parking area for your convenience. You won't have to worry about where to leave your car and you can start enjoying this beautiful beach without delay.
In addition, the gastronomic offer in Cala Sardina is exceptional. Two local beach bars will welcome you with fresh and quality products. Here you can enjoy culinary delights while you relax in a serene and peaceful environment.
The exclusive hotels of Sotogrande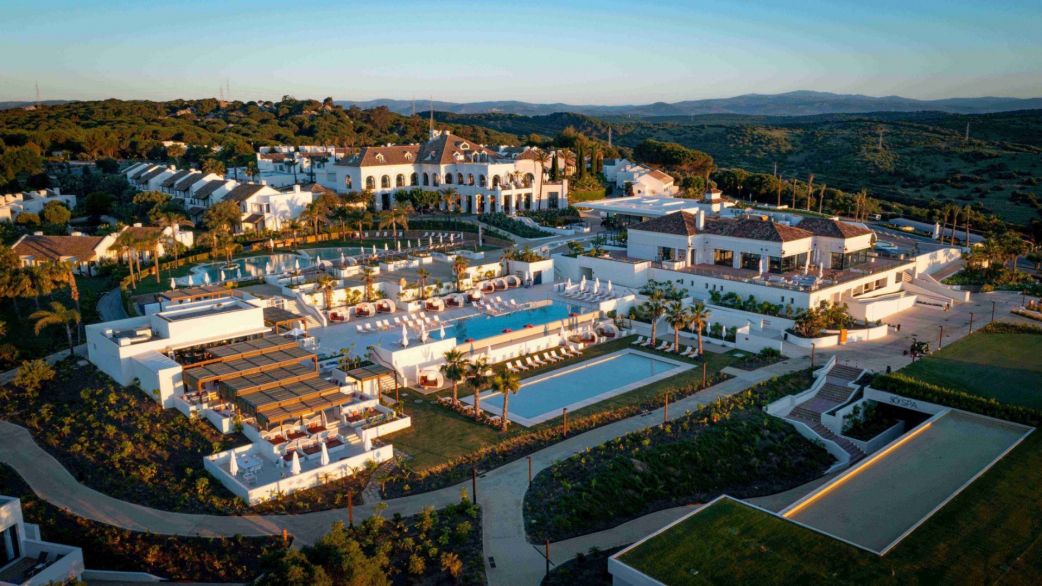 In Sotogrande, visitors are spoilt for choice with a wide range of accommodation options in superb hotels. From luxurious resorts located next to the golf courses, to cosy rooms with sea views in the marina, there are a variety of options to suit all tastes and preferences.
SO/
Excellence redefines luxury at this exclusive Sotogrande resort. As the most distinguished destination in the area, this 5-star hotel offers an unrivalled experience in rooms and suites that exude elegance and sophistication.
Immerse yourself in a world of wellness at the WellnessClub, where thermal pools, Turkish baths, sauna and a full gym combine to offer unparalleled moments of relaxation and rejuvenation.
If you are a golf enthusiast, this hotel is the perfect retreat, as the best golf courses in the region are less than a 15-minute drive away. You can check out the hotel's website to discover all the services and facilities on offer to make your experience truly unforgettable.
MIM Hotel
At the Hotel MIM Sotogrande, guests will find 43 contemporary, spacious and bright rooms and suites. Each has been carefully designed and decorated to offer an atmosphere of luxury and comfort. Many of the rooms offer sea views, providing a stunning visual experience.
The hotel features the FLY Bar, a cosy space where guests can enjoy a quiet drink in a relaxed atmosphere.
The MIDAS Restaurant, located in the hotel, boasts panoramic views of the marina, where diners can indulge in a delicious dinner or relax with a cocktail while enjoying the surroundings.
The hotel staff is committed to providing exceptional service and ensuring that every detail is attended to in order to guarantee a high-quality accommodation experience.
Hotel Encinar
The Hotel Encinar, formerly the NH Sotogrande Hotel, is renowned for its central location in Sotogrande, offering proximity to both the beach and golf courses in the area. Guests can enjoy a peaceful and relaxing environment thanks to the fantastic garden with a swimming pool, sun terrace and paddle tennis courts.
Inside the hotel, guests can enjoy modern amenities such as a contemporary bar and a restaurant offering a delicious variety of dishes. In addition, the hotel has several function rooms, ideal for meetings or celebrations.
The rooms at Hotel Encinar are spacious and comfortable, ensuring maximum comfort during guests' stay. Many of them offer panoramic views of the countryside and the La Cañada golf course, providing a picturesque and relaxing environment.
OKU Andalusia
In the summer of 2024, the prestigious OKU Hotels chain aims to open its second luxury resort in Spain and the third in the world, following the success of OKU Ibiza, which opened its doors in 2021. The new destination, called OKU Andalucía, will be located in the Hotel Aldiana, undergoing a major refurbishment that will transform it into an exclusive 5-star hotel.
During the transformation, the hotel will experience a decrease in the number of rooms in order to expand its size and offer a higher level of luxury and comfort to its guests.
In terms of facilities, the hotel will offer magnificent suites and penthouses with spacious terraces. Each suite has been carefully designed to reflect OKU's distinctive boho-chic and minimalist style. Every detail has been carefully selected to ensure that each guest feels immersed in a relaxed luxury experience throughout their stay, and even after their departure.
Additionally, the hotel will feature a private four-bedroom villa for those seeking the ultimate private getaway. Communal areas will include three infinity pools with terraces, as well as several restaurants, including OKU's signature Mediterranean To Kima, as well as Asian and internationally-inspired restaurants.
OKU Andalucía will feature a 2,000 sqm spa in an exceptional hillside location, offering an indoor pool, meditation garden, outdoor yoga room, gym, sauna and treatment rooms. In addition, there will be a dedicated adults-only area with a beach club, outdoor pool and all the amenities for an unforgettable experience.
In addition, there will be a kids' club and family pool, meaning a warm welcome for families.
Due to its opening in 2024, OKU Andalucía will become a new luxury destination in the region, offering guests a unique experience in a privileged setting.
Discover the boutiques and shopping centres of Sotogrande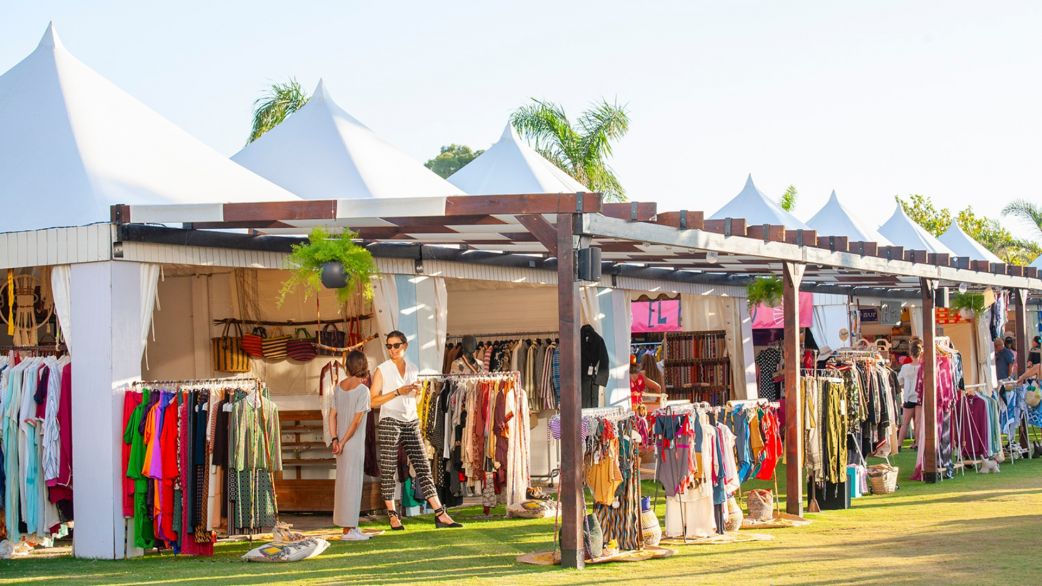 Atipika
Atipika is a multi-brand fashion shop for women and men, located in Sotogrande Port. It stands out for offering the best brands in the sector and its focus on sustainable fashion. The shop is open every day, offering quality products with an avant-garde design.
Atipika Sotogrande is inspired by the laid-back lifestyle of Europe, with subtle influences from fashion, travel and natural beauty. It aims to provide a unique shopping experience and meet the needs of those looking for quality and stylish clothing.
Itsomi
ITSOMI is one of the first multi-brand shops located in the port of Sotogrande. They are dedicated to sharing a passion for fashion and each season they strive to surprise their customers with the best national and international brands and designers. The shop is committed to quality and sustainable fashion. Their coats, shoes and boots are especially popular, and this season's jumpers are super cosy.
Balakata
At Balakata, you will find a wide range of items for the home in their "Balakata Base" collection. They offer everything from ceramics and glassware to table linen, cushions, lamps and more. Each item has been carefully selected to bring quality and style to your space. At Balakata, they are dedicated to creating a unique and welcoming atmosphere in your home, with products that reflect the attention to detail and dedication that characterises them.
Vinopolis
Vinopolis operates as a wine retailer and on-trade distributor, offering a wide range of Spanish, French, Italian and other international wines. It also offers famous brands of spirits from leading houses such as Diageo, Bacardi, Moet Hennessy, Pernod Ricard and Campari.
It also offers a free home delivery service within a 30-kilometre radius.
Overseas British Supermarket
Overseas is a supermarket that specialises in offering a wide variety of British products directly imported from the UK. With a diverse selection including food, beverages, personal care and household products, this shop has become a popular destination for foreign residents and visitors to the area. Its bilingual staff provides excellent customer service, helping customers find the products they want and providing information in several languages.
Mar y Sol Shopping Centre
The Mar y Sol Shopping Centre offers a selection of fashion and decoration shops, giving visitors the opportunity to discover unique and trendy items.
In addition, the shopping centre offers a variety of additional services, such as law firms and consultants, to meet the needs of customers.
Visitors can also enjoy a culinary experience at the mall's restaurant, which offers delicious dining options.
The mall features an electric vehicle charging station, reflecting its commitment to sustainability and the convenience of its visitors.
SotoMarket
SotoMarket, the largest shopping centre in the area, offers most of the services that can be found in any shopping centre, such as supermarkets, clothes shops, decoration, clinics and cafés. Strategically located next to the A7, it enjoys excellent accessibility for visitors and has a spacious car park for easy parking of vehicles. This added convenience allows customers to enjoy a carefree shopping experience, giving them the convenience of having a safe and accessible place to leave their cars while they explore all the options SotoMarket has to offer.
Levante Market
Every Sunday, from 10 a.m. to 2 p.m., a fantastic market is held with nearly 70 stalls offering a wide variety of handcrafted goods, alongside our great shops. This is a wonderful place to buy gifts, from toys to jewellery and antiques, many of them handmade locally for a unique gift.
Once you have done all your shopping, you can enjoy the excellent restaurants, bars and cafes that surround the marina and treat yourself to a coffee, a glass of wine, a light lunch or a delicious dinner. Sotogrande Marina offers a fabulous shopping experience in a stunning setting.
What events are there in Sotogrande?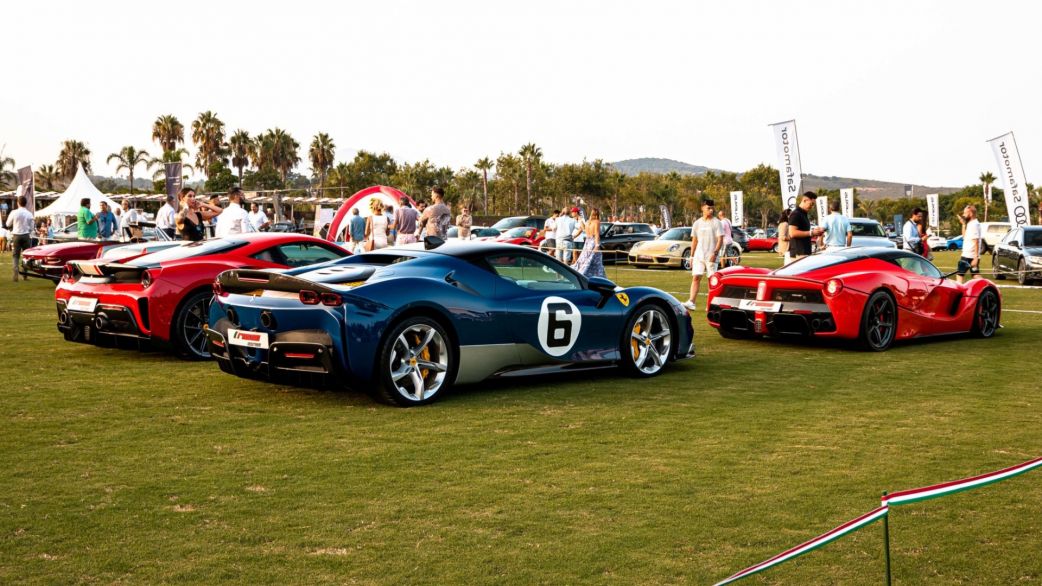 Sotogrande and San Roque host a number of exciting events throughout the year. Some of these include:
The International Polo Tournament
Sotogrande is recognised as a major polo destination and hosts several world-renowned tournaments. Lovers of the sport can not only witness thrilling matches but also surround themselves in elegance at a flea market of luxury goods or enjoy fine dining and cocktails.
Sotogrande Golf Cup
Since 2007, the Real Club de Golf Sotogrande Tournament has positioned itself as a must-attend event for leading amateur players from all over Europe. This prestigious event, which bears the club's name, has gained recognition as the fifth most important tournament in the amateur field, following the British Amateur, the European Individual and Team Championships, and the Copa del Rey de España. Year after year, the tournament attracts talented golfers who compete in a high-level environment and seek to establish themselves in this iconic setting.
Regattas
Throughout the year, the port of Sotogrande becomes the scene of exciting sailing regattas, in which sailors compete in different categories to achieve victory. One of them is the "Copa Sotogrande" organised by the Real Club Marítimo Sotogrande and the Andalusian Sailing Federation which is held during the month of August.
Autobello
Traditionally held in the warm month of August, it transcends the category of an elegance contest for car collectors where authentic jewels of automotive engineering can be appreciated, such as the imposing Ferrari 250 GT or the innovative McLaren Senna. Attendees enjoy exquisite treatment, premium Spanish wines, dazzling car displays, an open bar, a gourmet dinner, live music concerts and a party that goes on until midnight in a select atmosphere.
Sotogrande Music Festival
A renowned music event that brings together leading international artists in concerts and recitals at the Santa Maria Polo Club during the months of July and August.
What to do with children in Sotogrande?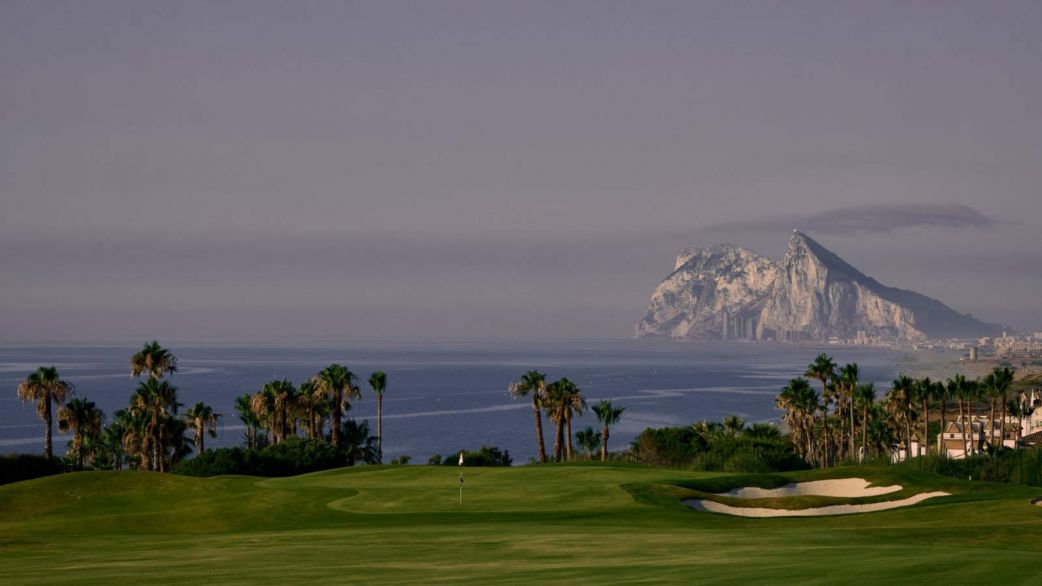 SO/ Kids
With a privileged and quiet location, SO/ KIDS provides a bright and safe space with direct access to the garden. Children will enjoy indoor and outdoor activities under the supervision of the dedicated SO/ KIDS Kids Club team. The club is available complimentary for hotel guests as well as restaurant and spa guests. Parents can book a wellness experience or indulge in fine dining while their children are cared for and looked after (for children aged 4 to 13 years). Opening dates and times are available on request.
The beach
Children from 4 to 7 years old can enjoy free access to the kids' club, where they will find a wide variety of activities throughout the day. The kids' club opens at 11:00 and closes at 18:45, offering exciting activities such as yoga classes, art activities, arts and crafts and games. Older children will find special excitement in the sports and activities at the sports lagoon. For them, a water sports camp including exciting SUP races, SUP Polo and fun water games is offered every day from 16:00 to 17:30.
Sailing School
The sailing school of the Real Club Marítimo offers theory classes to obtain various nautical-sports qualifications, from Basic Navigation Skipper (PNB) to Yacht Captain, in collaboration with Alavela Nautical Academy and Charter. In addition to practical sailing training, the club's objectives include the organisation of events related to sailing, maritime safety and maritime culture.
Equestrian Camp
The Santa María Polo Club, a renowned equestrian centre, is the venue for this camp, which is only 5 minutes away from the campus where the students live.
The camp offers students the opportunity to spend the summer practising sports and learning a new language. Camps are offered with the possibility of learning English or Spanish, depending on the nationality of the participants, and the teachers are native speakers of the respective language.
The Junior Camp is aimed at children from 10 to 13 years old, who will enjoy 15 hours of language classes and 15 hours of sports activities per week.
On the other hand, the Master Camp is designed for 14 to 17-year-olds, who will have 12 hours of sports activities and 14 hours of English or Spanish classes each week.
Schools in Sotogrande
Sotogrande International School
SIC offers a high-quality, personalised education in English from 8 months to 18 years of age. Since its establishment in 1978, the institution has constantly evolved and improved to provide the best learning experience for students.
Montessori International School
Montessori International School is located in the centre of Sotogrande and offers a unique bilingual education for children from 5 months to 12 years of age. In this beautiful and spacious environment, children have the opportunity to learn both Spanish and English, with the guidance of bilingual teachers.
Areas of Sotogrande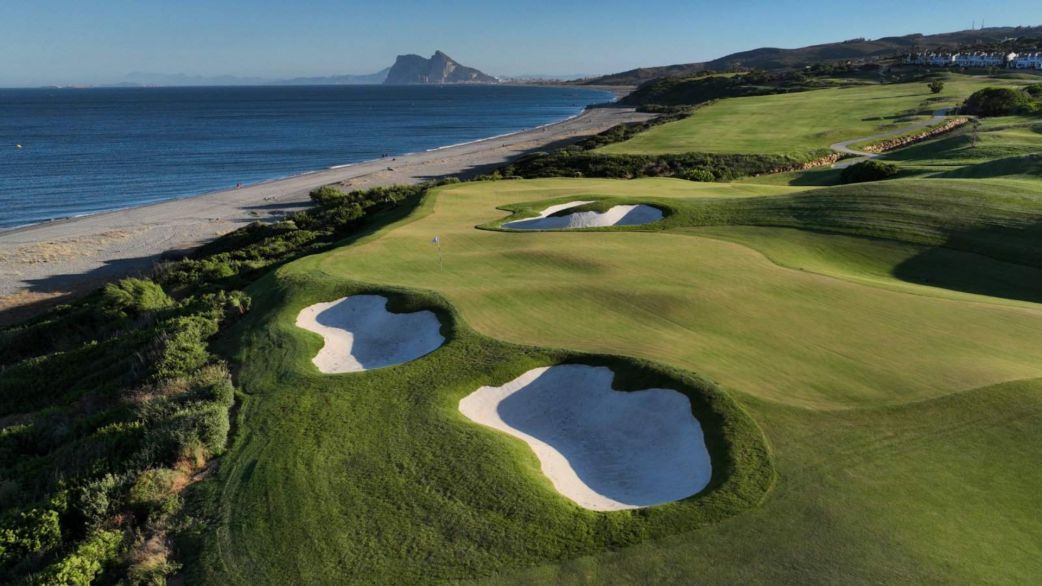 Sotogrande Marina
This waterside location is like a little Venice with its bridges spanning the canals. This area is the social centre of Sotogrande and has many luxury flats. It is also home to the Sotogrande Sunday Market. This waterside enclave is one of the most prestigious marinas in Spain and has an eclectic mix of restaurants and bars to suit all tastes. The marina has 1,382 berths, but mooring your yacht here won't be cheap, as it has some of the most expensive mooring fees in Europe.
Sotogrande Costa
This is one of the original parts of Sotogrande and is a spacious, tree-lined area with many beautiful villas lining the streets. Here you will find a tennis club and the Real Club de Golf Sotogrande. Properties in this area range from traditional Andalusian villas to contemporary multi-million euro mansions. Open most of the year and located directly on the shore, you'll find Bunker Beach Club. This beach bar is a great place to enjoy a cold drink, amazing Mediterranean cuisine and stunning views of Africa and the Rock of Gibraltar.
Sotogrande Alto
The area is located just across the main road (A7) and boasts a variety of property types, including townhouses, flats and high-end villas. It is also home to the Sotogrande Equestrian Centre, the NH Hotel, the Mar y Sol Shopping Centre, the Almenara Hotel & Spa and the Valderrama golf course.
La Reserva de Sotogrande
This is one of the newest developments in Sotogrande and is a gated residential community that extends over 400 hectares of land, surrounding the exclusive La Reserva Club. Here you will find high-end flats, townhouses and villas surrounded by beautiful nature. La Reserva offers its residents private access to an 18-hole golf course, a tennis centre and a luxurious indoor beach club with a stunning freshwater lagoon. Set on a hillside overlooking the Mediterranean Sea, this country-style family club is surrounded by breathtaking views of the Mediterranean Sea.
Private Communities in Sotogrande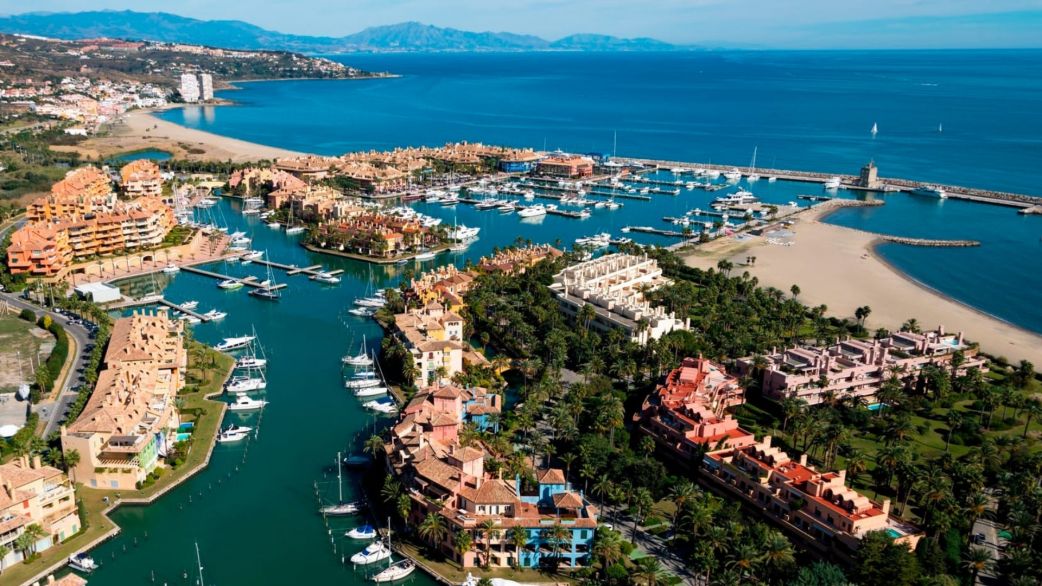 The Seven
Exclusive collection of properties offering an unparalleled level of privacy and set in stunning natural surroundings. Designed by renowned architect and landscape architect Jean Mus, these properties are set on ten hectares of lush green land.
Each of the seven properties occupies its own hectare of land and has been designed by a leading international architect. These unique designs have been conceived by Mus to blend harmoniously into the natural surroundings and ensure maximum privacy for their residents.
The spacious family homes offer all the comforts and amenities you could need. Each property has been carefully designed to provide generous and functional spaces, with meticulous attention to detail and the quality of the materials used.
From these exclusive properties, you can enjoy unparalleled views of the Mediterranean Sea and the Andalusian hills. The natural beauty of the surroundings is complemented by Jean Mus's carefully designed landscaping, which further enhances the experience of living at Las Siete.
If you are looking for privacy, luxury and an intimate connection with nature, Las Siete is an exceptional choice. Each property represents the perfect fusion of internationally renowned architectural design and the natural beauty of Andalucía, providing you with a truly exclusive and unique environment to call home.
The 15
The 15 is a private, gated development located in La Gran Reserva. Each property sits on approximately half a hectare of land and has been designed with a unique architectural approach called "cliffside", which highlights its natural surroundings.
At The 15, residents can enjoy a luxurious and relaxed lifestyle. Each property features spacious indoor and outdoor living spaces, designed to take full advantage of the panoramic views and beauty of the surroundings.
In addition, properties at The 15 offer the option of access to concierge and maintenance services. This provides residents with convenience and peace of mind, as they can count on professional assistance to meet their needs and ensure their properties are properly maintained.
Prices for plots at The 15 start from €2,700,000. This investment guarantees the acquisition of an exclusive property in a privileged location, with all the amenities and services necessary to enjoy a luxury lifestyle.
If you are looking for privacy, impressive architectural design and high quality services, The 15 is an outstanding choice. This gated development offers an exceptional living experience, where natural beauty combines with comfort and attention to detail to create a truly exclusive living environment.
Lagoon Villas
Lagoon Villas is a residential community that offers its residents wonderful properties in a setting inspired by the Californian coast and its surfing atmosphere. This community has a beautifully landscaped park that reflects the essence of the coast, and residents have access to the exceptional sports and leisure facilities of La Reserva Club.
The properties at Lagoon Villas are on plots ranging from 1,300 to 3,700 square metres. These plots have been carefully integrated with the surroundings, and the architecture of the villas achieves a perfect harmony between the interiors and the surrounding landscape.
Each plot at Lagoon Villas offers breathtaking panoramic views of the lagoon and the Clubhouse. Residents can enjoy these views from their own properties, adding exceptional value to the experience of living in this privileged environment.
In addition to the views and quality architectural design, residents of Lagoon Villas have access to the first-class facilities of La Reserva Club. These include sports and leisure options such as golf courses, tennis courts, spa, restaurants and much more. Residents will find a wide range of activities to enjoy and relax in this exclusive environment.
El Mirador
El Mirador is an exclusive private development comprising six villas located in a privileged position above La Reserva Club, on the front line of the golf course. These villas have been designed by leading Andalusian architects and offer unparalleled panoramic views of the Mediterranean Sea.
Each of these exquisite modern villas has been carefully designed to make the most of the views of the golf course and the sea. Their pavilion style is characterised by clean, contemporary lines, and their large windows allow plenty of natural light to flood in, creating bright and welcoming spaces.
In addition to their elegant design, these villas feature luxurious facilities that guarantee maximum comfort. The splendid tiered terraces offer outdoor lounging and entertaining areas, while the relaxing infinity pool invites you to enjoy a refreshing dip with breathtaking views.
The outdoor spaces of the villas also offer ample nooks and crannies to enjoy the panoramic sea views. You can relax and contemplate the beauty of the surroundings from the comfort of your own villa.
La Finca
La Finca is a unique residential development that combines exclusivity, design and a privileged setting to capture the essence of Sotogrande. Designed by renowned architect Rafael de La-Hoz, this residential project offers a luxurious habitat that takes advantage of its elevated position to offer sea views without losing sight of the spectacular surrounding golf course.
The architectural design of La Finca reflects a sophisticated and contemporary style, with meticulous attention to detail and integration with the natural environment. Each residence has been carefully designed to offer spacious, light-filled living spaces, with high quality finishes that enhance elegance and comfort.
La Finca's elevated location allows residents to enjoy panoramic sea views, creating a serene and relaxing environment. In addition, the surrounding golf course adds an extra touch of beauty and offers golf lovers the opportunity to enjoy their passion just a few steps away from their home.
Exclusivity is another of La Finca's distinguishing features. The development is designed to offer privacy and tranquillity to its residents, creating an exclusive and select environment.
Village Verde
Village Verde Sotogrande is a residential project offering contemporary homes with state-of-the-art amenities, creating a unique community of its kind. Inspired by village life, this proposal brings that experience into the 21st century, providing everything you need to relax and make the most of your free time without having to travel.
The development comprises 121 flats set within 6 hectares of parkland, ensuring a natural and tranquil environment for residents. These flats have been designed with a contemporary approach, incorporating the latest trends in design and amenities to provide a high-quality living experience.
One of the highlights of Village Verde Sotogrande is its focus on communal spaces. Unique communal areas have been created that feature state-of-the-art amenities, providing residents with a wide range of options to enjoy their leisure time. These facilities include recreational areas, swimming pools, sports areas, children's play areas and spaces for social events, encouraging interaction and a sense of community amongst residents.
FAQS
Are there private and residential clubs in Sotogrande?

Yes, there are private and residential clubs in Sotogrande that offer exclusivity and a wide range of services and amenities. One of the highlights is La Reserva Club, a state-of-the-art country club that is surrounded by private communities overlooking the Mediterranean and breathtaking scenery. At this club, members can enjoy a variety of sporting and leisure activities, including golf, tennis, paddle tennis, private beach access, dining experiences, sports academies and much more. These clubs and residences offer an exclusive lifestyle and provide members with a wide range of options to enjoy all that Sotogrande has to offer.
What is the high-end gastronomic offer in Sotogrande?

The high-end gastronomic offer in Sotogrande stands out for the quality and variety of its restaurants. Although it does not currently have a leading national gastronomic figure who has opened a restaurant directed or advised by him, the area has establishments that are highly valued for their culinary excellence.

Notable restaurants include:

1. Trocadero: Renowned for its elegant ambience and beachfront location, Trocadero offers a sophisticated dining experience with a fusion of Mediterranean and contemporary cuisine.

2. La Reserva Restaurant: Located in the exclusive setting of La Reserva Club, this restaurant offers a high-quality culinary proposal combining fresh ingredients and innovative flavours. Its refined ambience and panoramic views make it an ideal place to enjoy a memorable meal.

3. Don Diego: With a privileged location in the port of Sotogrande, Don Diego offers a wide selection of Mediterranean cuisine and fresh seafood. Its elegant décor and impeccable service make this restaurant a popular choice for food lovers.

4. Midas: This restaurant stands out for its modern ambience and creative gastronomic proposal. With a menu that fuses international influences and local flavours, Midas offers a unique and sophisticated dining experience.

These are just a few examples of the high-end restaurants in Sotogrande, where diners can enjoy excellent gastronomy in an exclusive setting.
What are the main social and cultural events in Sotogrande?

Sotogrande hosts a variety of social and cultural events throughout the year. Some of the most important ones are:

1. Mercadillo de Levante: This market takes place during the summer and is a meeting place to enjoy stalls of crafts, fashion, decoration and local gastronomy.

2. Polo Tournaments: Sotogrande is renowned for its prestigious polo tournaments, such as the International Polo Tournament and the Spanish Open, which attract the best players and fans of the sport.

3. Golf Tournaments: Golf is another important element in Sotogrande, and throughout the year numerous tournaments are organised at the prestigious golf courses in the area, attracting both professional and amateur golfers.

4. Nautical Tournaments: For lovers of nautical sports, national regatta tournaments are held in which boats of different categories take part, offering a spectacle full of excitement on the sea.

5. Events at La Reserva: La Reserva is a country club that organises various social and cultural events exclusively for its members, such as themed dinners, art presentations and live music.

6. Sotogrande Music Festival: August sees the Sotogrande Music Festival, an event that brings together renowned national artists in a festive atmosphere. Singers such as Pablo Lopez, Pastora Soler and Manuel Carrasco have participated in this festival.

These are just a few examples of the social and cultural highlights in Sotogrande, which offers a wide variety of activities to enjoy throughout the year.
What is the level of security and privacy in Sotogrande?

Security and privacy are of the utmost importance in Sotogrande. The Security Department of E.U.C. Parques de Sotogrande, in collaboration with the State Security Forces and Prosegur, is responsible for providing private security services in the area, with the aim of guaranteeing the protection of people, property and the proper functioning of the development. This is a fundamental part of its management and commitment to the residents.

From the moment you enter Sotogrande, you notice the focus on security. Owners and visitors must pass through security checkpoints located at the entrances, where surveillance is provided 24 hours a day, 365 days a year. This focus on security and privacy has been a key feature of Sotogrande since its inception, with strict and precise measures in place to ensure not only security but also the peace of mind and privacy of residents.
What is the price of a house in Sotogrande?

Property prices in Sotogrande vary depending on a number of factors, such as location, type of property (villa or flat) and features. In general, prices can range from 200,000 euros to 10,000,000 euros, offering a wide range of options for those looking to buy a home in this exclusive area.
You can consult our properties in Sotogrande on this link.
What luxury properties are available in Sotogrande?

In Sotogrande, you can find a variety of luxury properties, with the area of La Reserva being one of the outstanding locations for exclusive villas. La Reserva is home to a wide selection of luxury villas with high-end finishes and amenities. These properties offer spacious residences with panoramic views, manicured gardens, private swimming pools, and access to world-class services and amenities. In addition to La Reserva, there are also other areas of Sotogrande with luxury properties, providing diversified options for discerning buyers, see PureLiving's properties in Sotogrande.
Discover luxury properties in Sotogrande
Villa La Reserva
A masterpiece by renowned architect Manuel Ruiz Moriche, Villa La Reserva seamlessly combines the purity and clarity of the Mediterranean nature in La Reserva de Sotogrande. This exclusive villa offers the finest panoramic views of Sotogrande, Gibraltar, Africa, and the Mediterranean Sea, designed to provide an exceptional year-round living experience.
This unique property stands out for its modern sophistication and the use of the highest-quality natural materials. The landscape becomes an essential part of the villa, dynamically interacting with the gardens and allowing nature to express itself freely with native species from southern Andalusia.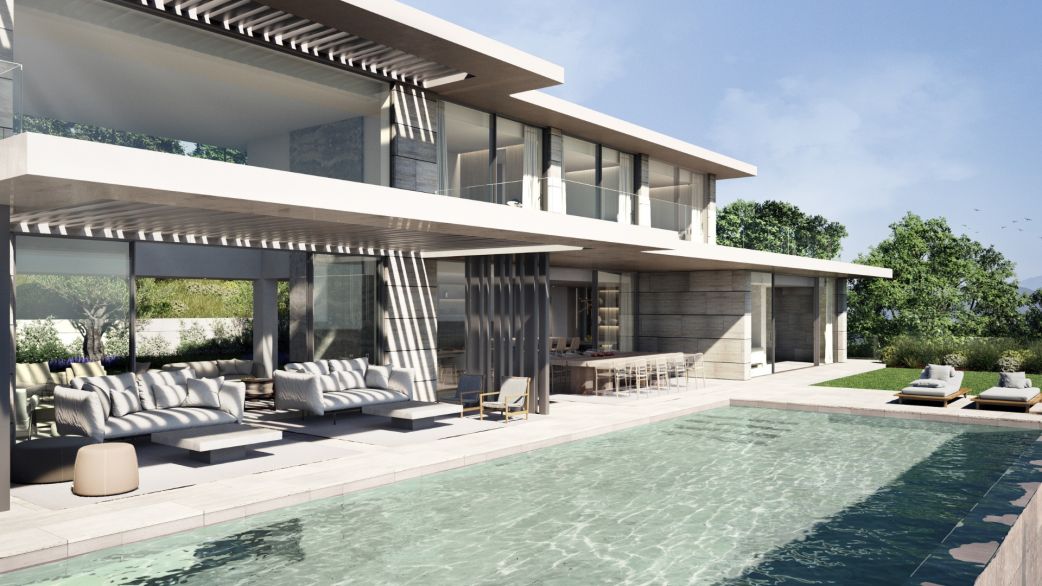 Villa Sotogrande Alto
An impressive modern architecture villa with a unique design and 360º panoramic views of the sea and golf course in Sotogrande. It is situated on a spacious plot of 2,872m2 and has been built to the highest quality standards.
Located in a highly sought-after area, the villa is within walking distance of the SO Sotogrande Hotel, which offers six restaurants and a luxurious SPA. It is also just a short walk from the San Roque golf course, La Reserva Country Club, and the beach. There are also several polo clubs and an international school nearby.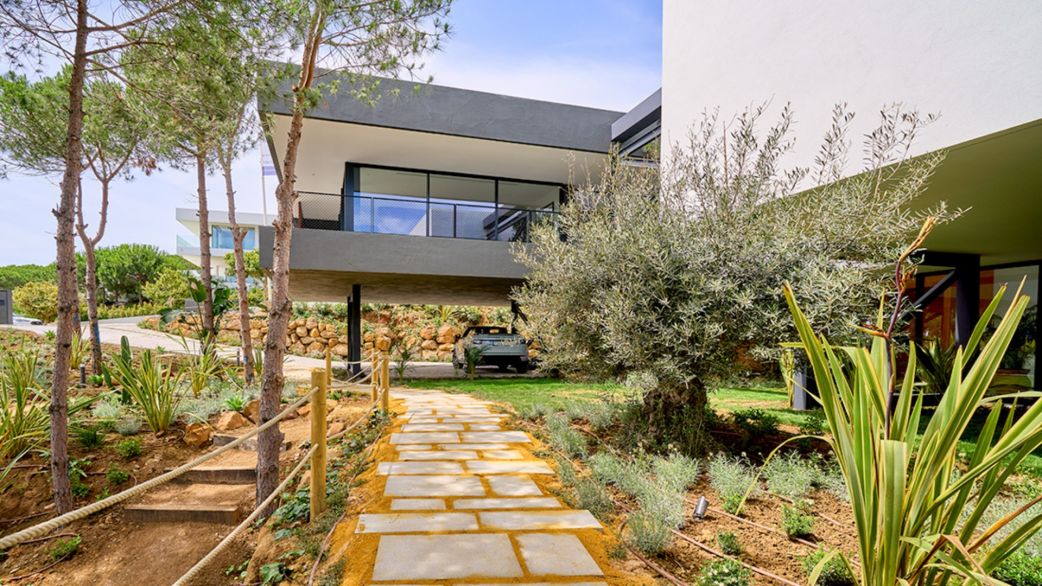 At Pure Living, we are dedicated to finding the most exceptional accommodation options for our clients. If you are interested in learning more about the available accommodations in the area, please do not hesitate to contact us or explore our website.


Javier is the founder and CEO of Pure Living Properties. Born and raised in Marbella in an entrepreneurial family who settled on the Costa del Sol in the 1960s, when Marbella's real estate and tourism industry was just a fledgling market, Javier is an expert connoisseur of Puente Romano, which he calls home, and the Golden Mile, but also of the best areas, projects and companies, as their owners and developers have been among his inner circle since childhood.
Eats & Drink

Health & Wellness

NightClub

Shopping

Services

Hotel

Culture

Education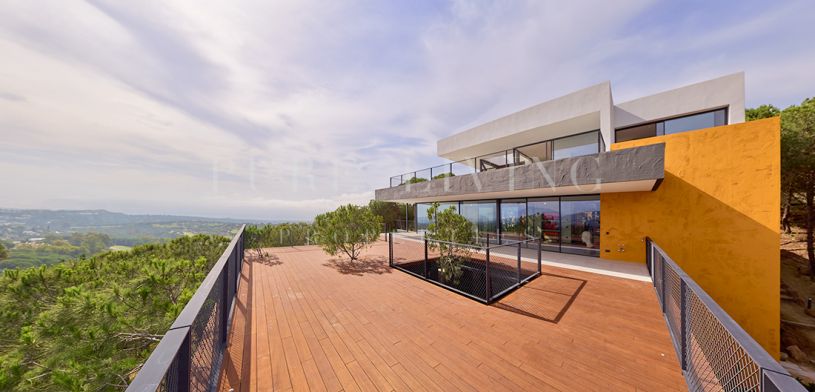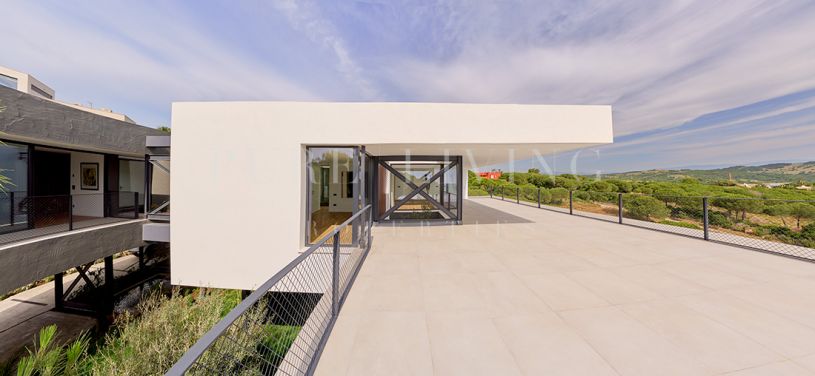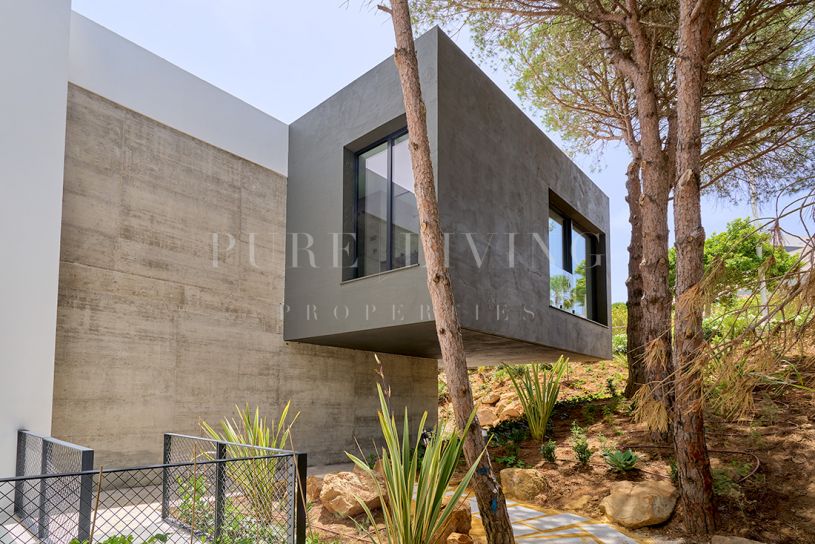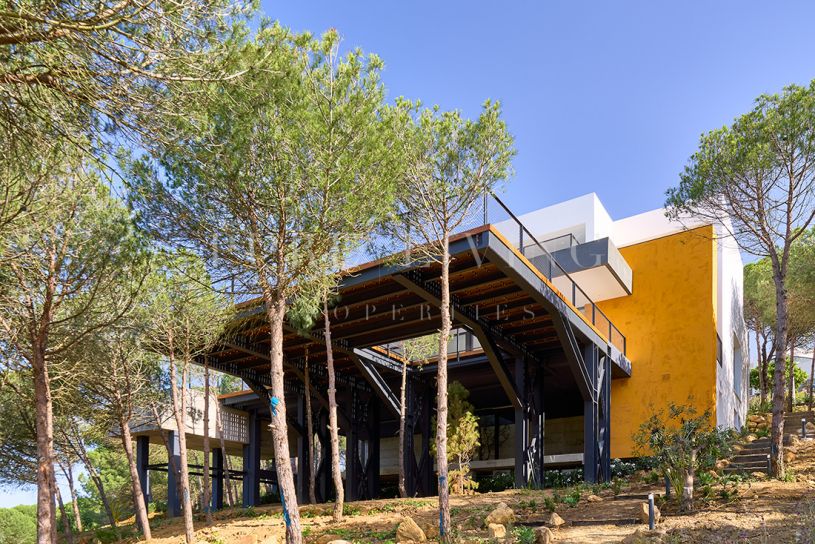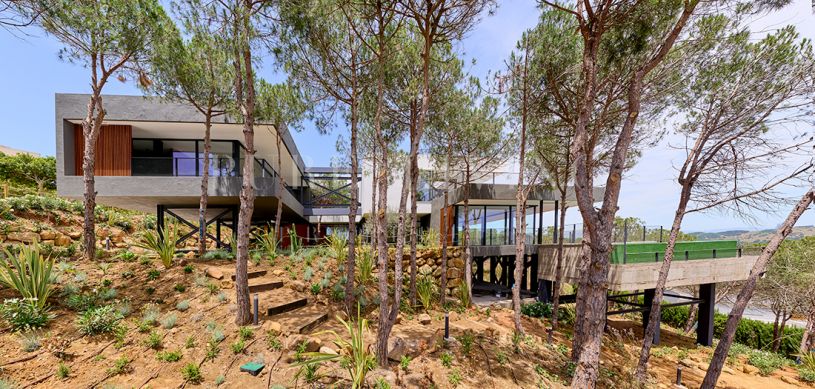 Sotogrande Alto
PLP04404
5 Beds
5 Baths
2.872 m² Plot
4.000.000 €