Gran Marbella
If you love urban life, with its services and chic stores, but also want a property with a sense of tranquility. If you are looking for a high quality property or apartment on the beachfront. If what you want is a property that has everything close at hand, in the center of Marbella, but without the hustle and bustle of tourism… Gran Marbella is your place.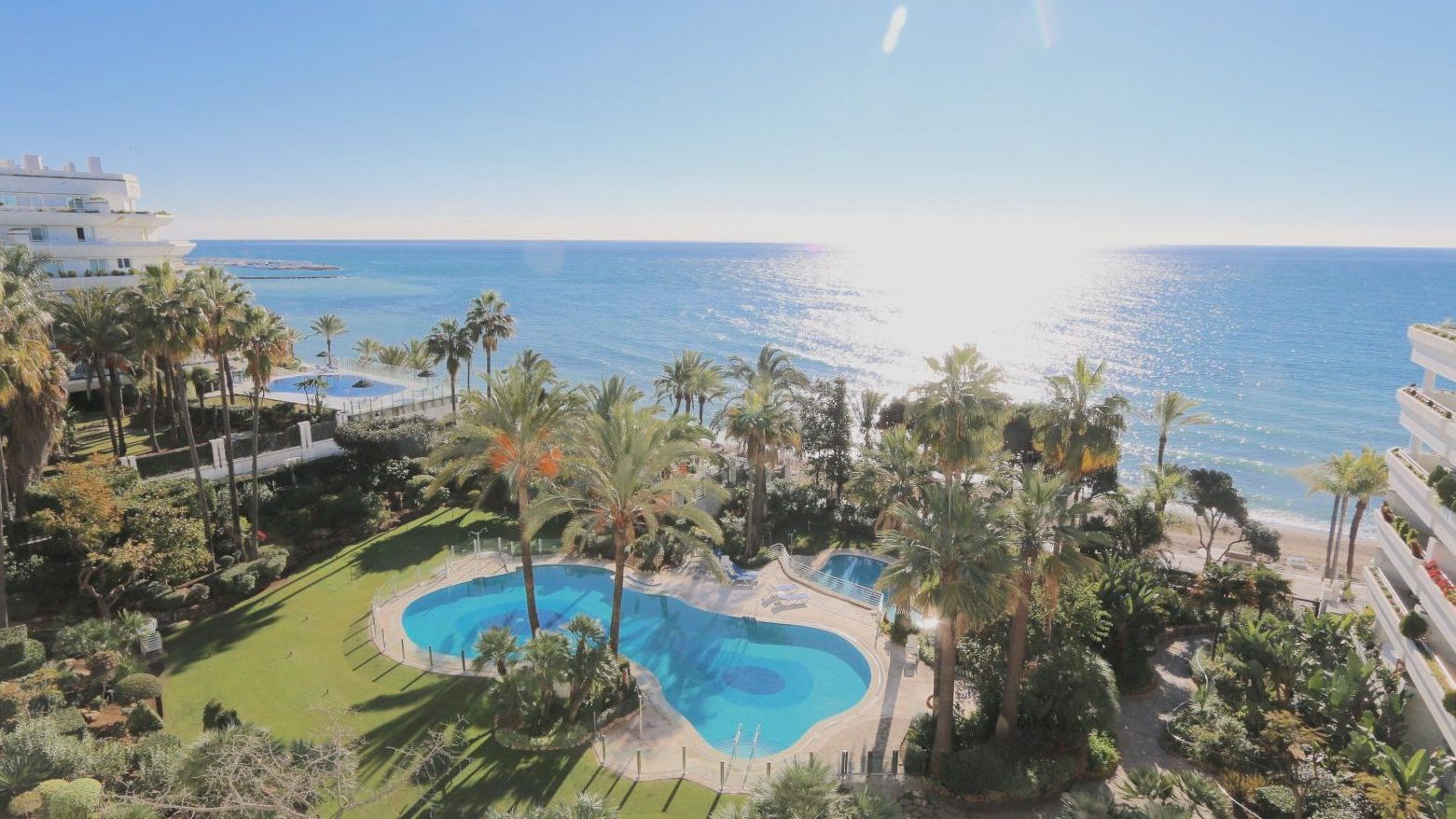 Urban living in the luxury of the Golden Mile
Marbella is much more than a luxury market of luxury villas and high end quality apartment complexes. Marbella Centro offers urban living with a mixture of Andalusian, cosmopolitan and international flavor.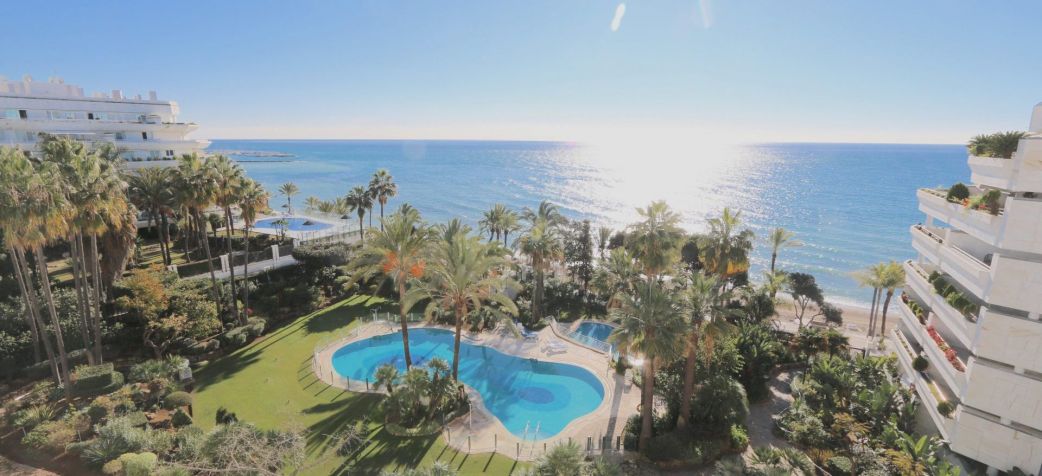 Is it possible to combine tradition and tranquility… into an intense city life?
Is it possible to enjoy an urban life in Marbella… but in front of the beach?
And have sun and beach, quality of life, stores and restaurants at hand… without taking the car?
The answer is yes and it is, clearly, Gran Marbella.
Where is Gran Marbella?
The properties and apartments of Gran Marbella are located in the center of Marbella, specifically in the area surrounding the Palacio de Congresos of the city. In addition, they are on the beachfront and all its properties enjoy wide avenues overlooking the sea. Their location is privileged and for this reason they are high demand properties.
Gran Marbella is the western end of the urban center of Marbella, thus enjoying greater tranquility. It does not have the hustle and bustle of the tourist and historical center, but it is close enough to visit it on foot. Gran Marbella is also the urban beginning of Marbella's Golden Mile. This gives it a high quality of life and a secure real estate investment value.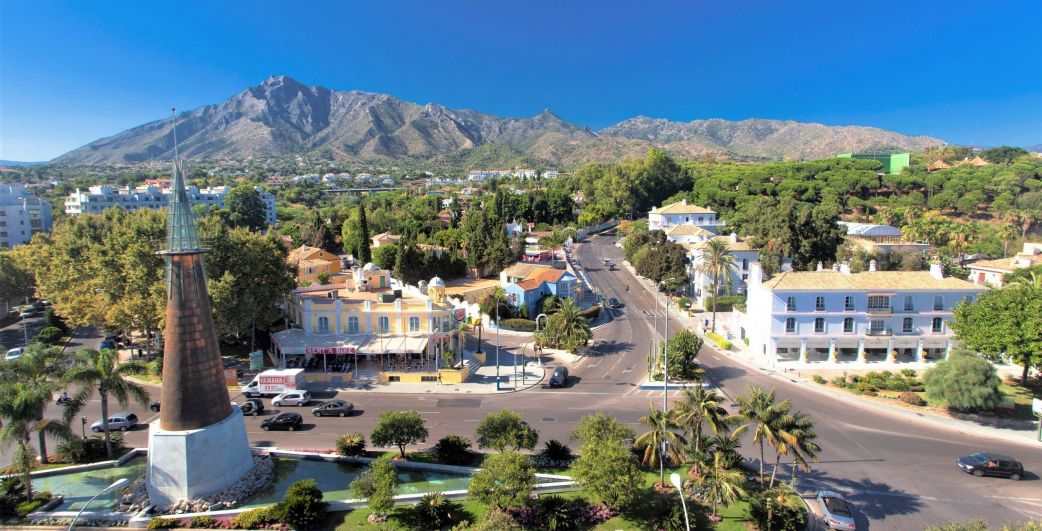 Is Cipreses del Mar the same area as Gran Marbella?
The area of Gran Marbella is also known as Cipreses del Mar because one of the most emblematic and popular buildings in the area is itself called "Gran Marbella", and has ended up renaming the area. But Gran Marbella is more than just one of its buildings. It is a collection of properties and apartments in the heart of Marbella, on the outskirts of the Golden Mile, an area full of charm and sophistication.
Does Gran Marbella have direct access to the beach?
The streets that host the properties of Gran Marbella all lead to the Mediterranean sea. Specifically in the central and beautiful beach of La Fontanilla, right in the central strip of Marbella's promenade. You can walk to the beach from any property. It is easy to enjoy sunbathing, swimming in the sea, playing sports on the promenade, relaxing in the beach bars or eating in the wide variety of restaurants in the area. In Gran Marbella the access to the beach is direct, or just a couple of minutes walk.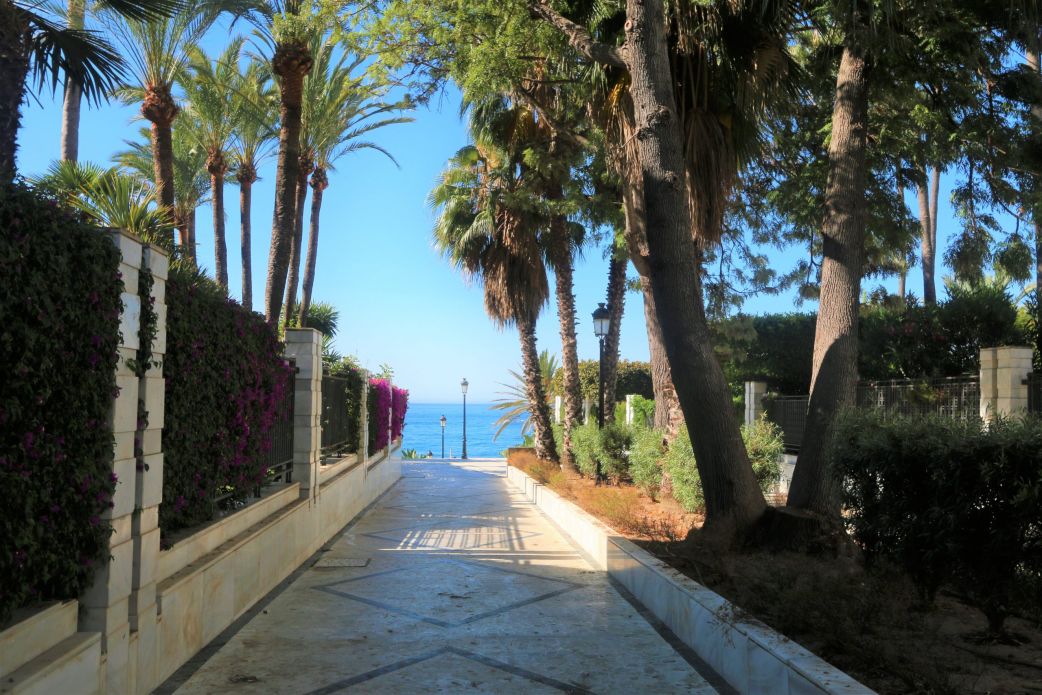 What buildings make up Gran Marbella?
Gran Marbella is composed of a series of properties that have in common a high constructive quality and a life focused on the sea. They stand out:
Gran Marbella. This is the best known building in the Gran Marbella area and the one that currently gives its name to the whole complex. Its apartments are of Premium quality, and there is a waiting list to acquire them. Like many of the blocks in this area, Gran Marbella is distinguished by its white profile and marble-finished exteriors. It has more gardens than any other building in the area and almost all the apartments have sea views.
Don Gonzalo. This very exclusive and prestigious residential complex is located behind the Gran Marbella building and next to the Sultan Hotel. Its apartments are extremely spacious, bright and with high quality construction. The communal gardens have a beautiful air of "La Alhambra" of Granada.
MareNostrum. These apartments are frotline beach. Built in the mid-nineties, like many of the apartments in this area. Offering its residents communal gardens, swimming pool and solarium, as well as concierge and 24hr security. Among the locals in town it is known as "the washing machine". If you look for the northern part of the block you will see the large round design for which it has received its nickname.
Nereida, Poseidon, Naiad and Los Cipreses. These are a group of white buildings known as Cipreses del Mar. They are on the first or second line of the beach, depending on the block. They have five floors plus penthouse and share gardens and spacious private areas. A unique eight-shaped swimming pool stands out in the community. Thanks to the care taken by their owners, we can observe in the profile of these buildings a great harmony in their terraces. Each of them has a landscaped strip with small round cypress trees.
Atrium. It is one of the eastern most buildings in the area of Gran Marbella. It is second line beach and is located behind Hapimag Resort Marbella. For a better location it is easy to find by looking for the famous Casa Santi wine shop. The cut of the building is more rectangular, is trellised around its perimeter and has unique lamposts surrounding it.
Marbella House. It belongs to the buildings in the area of Gran Marbella that are second line beach. It has peculiar community pools and some of its apartments also enjoy private plunge pools, totally private. In its architectural design, it stands out for its pointed finishes that stand out from the penthouses and give it an elegant profile.
Marina Mariola. Gated secure frontline beach development, offering 24-hour security gym, jacuzzi, well maintained landscaped gardens with cypress and palm trees aswell as communal swimmingpool.
Alhambra del Mar. It is a residential complex built in three phases, the frontline beach block is closest to Hotel Don Pepe Gran Meliá. An urbanization with naroww streets and gardens open to visitors but with total privacy for residences. It is quant andalucian village. It is also a tribute to the Alhambra with its own "Fuente de los Leones".
Which are the buildings with direct sea views in Gran Marbella?
The apartments with sea views in particular are: Gran Marbella, Mare Nostrum, Marbella House Marina Mariola and the first phase of Alhambra de Mar. In Gran Marbella there are a large number of apartments with views of the Mediterranean. Other properties enjoy views of the beautiful La Concha mountain. Some properties even have both panoramic views: to the sea and to nature. What all the properties do have in common is walking access to the beach.
What are the apartments in Gran Marbella like?
The most important aspect of the Gran Marbella properties is that they have impressive terraces. Their approach to living is one of al fresco enjoyment, with sea breezes at home. They are apartments with an international yet Mediterranean lifestyle on the Costa del Sol.

Likewise, all the properties in Gran Marblla are spacious and bright, from one-bedroom to five-bedroom apartments. The bathrooms, if not renovated, are usually finished in marble, but many already enjoy renovated, modern bathrooms. Kitchens are fully equipped with top quality appliances. In general, the level of construction is premium or of high standards.
Do I need a car for everyday life in Gran Marbella/Cipreses del Mar?
The great advantage of the Gran Marbella/Cipreses del Mar area is that everything is close at hand. It is so centrally located that you do not need a car to go to the historical and tourist area of Marbella. Nor to go to the beach, because all the streets of Gran Marbella are oriented to the sea. In addition, as it is full of businesses of all kinds, it is a neighborhood where any daily or occasional shopping can be done on foot. Gran Marbella is also full of avenues with little traffic and properties with private parking for their owners.
Is the area of Gran Marbella safe?
Gran Marbella is designed with urbanizations and properties that have 24 hour surveillance. They have cameras, surveillance services and private gated communities. At the same time, the wide avenues and tree-lined streets, as well as the squares, gardens and their orientation to the sea, give the owners a feeling of freedom and a relaxed atmosphere. Gran Marbella has a perfect combination of security and living the city freely. It is also in one of the safest districts in Marbella in terms of public life, the city center.

What type of owners buy in Gran Marbella?
The profiles of Gran Marbella are varied, but all have in common: the love the sea and the city and have a profile of high purchasing power.  The national owner predominates, but it is becoming very popular lately among foreign owners as well. In both cases they are owners who appreciate the unbeatable location of these urbanisations.
The owners of Gran Marbella are therefore looking for "central location with beach", while at the same time they want a wide variety of high quality services in their neighborhood. They are demanding owners in terms of construction qualities and with renovations that have been carried out with taste and a modern vision in terms of interior design. They are looking for very well located properties, centrally located and on the Golden Mile. They also want a safe investment value, both to live in and to rent or sell.
Is the Gran Marbella / Cipreses del Mar area discreet?
Gran Marbella is very discreet and quiet for its residents. Firstly because it has buildings with high security gates and its own subway parking lots. Secondly because it is a downtown area in Marbella, but not the historical-touristic center of the city, so the flow of non-residents is less and more pleasant, and thirdly because the type of businesses in the area are thought to make a select clientele. They are therefore residential areas conceived with a lot of privacy.
Where to do sports in Gran Marbella?
If there is an area in Marbella with a high concentration of sports facilities, spas, tennis courts, basketball, skating, pilates, etc …, its Gran Marbella.  Centro Wellness Plaza del Mar has a fabulous gymnasium and you can go to the public Paco Cantos multi-sport complex, not to mention the 27 kilometers of promenade within walking distance of your home to train. There really are many options in Gran Marbella to stay in shape. If you are a lover of sports and outdoor activities, discover the options the area has to offer by reading our guide to sports in Gran Marbella.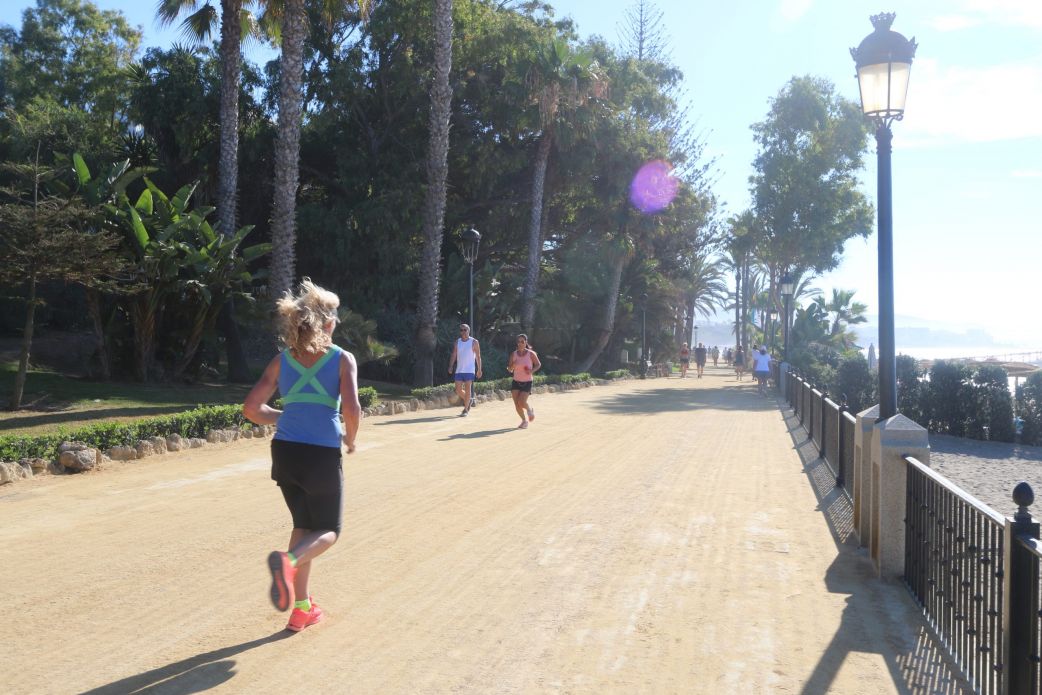 Where to eat and dine in Gran Marbella / Cipreses del Mar?
Gran Marbella is a refined and abundant dining area. In its premises we find international, national and local flavours. In addition, always with the option to go and return from your reservation without using the car. From the best Japanese restaurants in Marbella, to the exotic fusion of a menu between Mexican and Middle East. There is also the traditional Andalusian "pescaito" or the summer beach bar…. Gran Marbella is rich in gastronomic offerings. To know more about restaurants or cafes, sweet or savory, meat or fish, wine or cocktails… you can continue reading in our guide of gastronomy in Gran Marbella.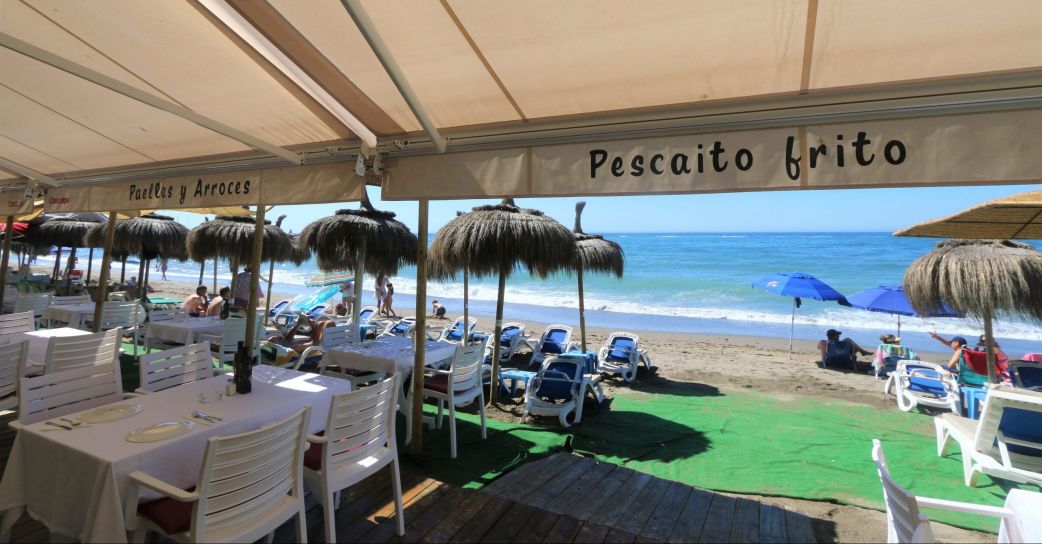 Where to pamper and relax in Gran Marbella?
In the Gran Marbella area there are numerous beauty, health and relaxation centers. There are hairdressers, nail and eyelash specialists, masseurs, dieticians and personal trainers. Also with pharmacies, dentists, clinics and specialists in facial and body surgery, or centers with the latest aesthetic and health treatments on the market. Highlights in Gran Marbella include the Milk&Roses Hair & Beauty center, the Senzia SPA at the Senator Hotel and the Monarque center at the Sultan Hotel. To learn more about pampering and relaxation read our guide to beauty, relaxation and health.

Where to go shopping in Gran Marbella?
In addition to El Corte Inglés "El Capricho" and its Supercor superstore there are other renowned supermarkets in Gran Marbella, such as Mercadona, Lidl or Supersol. If you are passionate about the guarantee "organic" there is Biomarket, but there are also many websites which offer home delivery in Marbella. For lovers of local produce, the Marbella Municipal Market, a five-minute drive away and with its own parking area, is a spectacle. Read here for other options for "shopping" in Greater Marbella.
What schools and kindergartens are there in the area of Gran Marbella / Cipreses del Mar?
For "family shoppers" the area of Gran Marbella / Cipreses del Mar is also an option to value for its variety in international and national education, as well as for its leisure possibilities for the little ones of the house. For example, for English education,  Gran Marbella has Swans International School. Also in the area, the trilingual school, but with French system, Efim. A few minutes walk or drive, Gran Marbella has bilingual nurseries such as La Latina, Tiny's or Moonlighting and prestigious language academies such as Kids&Us. In the Parque de la Constitución, the most beautiful park in Gran Marbella, you will find the Municipal Dance Center, as well as the Elementary Conservatory of Music.
Is there a high demand for apartments and properties in Gran Marbella?
As it is a central area on the Golden Mile, the demand is very high. In fact, for some buildings there is already a waiting list. However, our agency has a selection of properties, many of them exclusive, whose owners have put their trust in us. If you are interested in this wonderful urban-maritime area, do not hesitate to contact us.
What is the average price of an apartment in Gran Marbella?
Gran Marbella apartments vary in price depending on their characteristics. For example, they have between one and five bedrooms. They can be first or second line beach. They can have frontal sea view, or lateral sea view, or mountain view, or  both. They can be completely renovated or have the original construction design. Specifications such as fireplace or private pool, or enjoy a community of owners with different options for enjoyment … Therefore, determining a price depends on many factors, but the apartments range from half a million euros, to two million or more.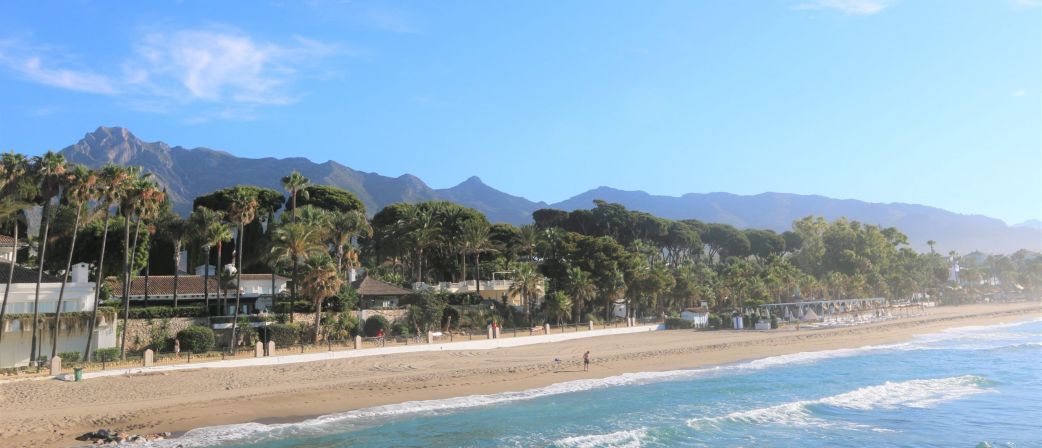 What other areas of Marbella offer a similar lifestyle?
Gran Marbella is a very unique area because of its mix of urban flavor and beachfront location, as well as its chic Golden Mile style ambiance. The most similar area, in terms of elegance, type of services, stores, proximity to the sea and even types of apartments would be Puerto Banus. Other very interesting options to consider could be some areas of Nueva Andalucía and the Golden Mile itself.
What is left for sale in Gran Marbella / Cipreses del Mar?
The area of Gran Marbella is always moving properties for sale, but with little supply. It is important to understand that Gran Marbella does not harbor the possibility of new construction properties because there are no available plots to build. They are all, therefore, re-sale properties with owners who know the high market value of their apartments.
To find out what is currently for sale in Gran Marbella do not hesitate to contact us. In the meantime, we offer you our in website a selection of properties in Gran Marbella.
How can I find out what new properties are coming up for sale in Gran Marbella?
Through our website and our Pure Living Properties agents you can find out what new properties are being added to the real estate market. Gran Marbella is an area of low supply and high demand, also its owners are very discreet vendors, so it is very important to have a trustworthy agency that guarantees to have a real, updated and interesting listing and that knows the owners well.
The best way to buy in Gran Marbella is to contact real estate agents specialised in the area. Our agents Begoña Gonzalez and Tim Waller will be happy to guide you through the buying process. While you can see here a selection of some of the properties we have available in Gran Marbella today. But be aware that many owners do not want their property to appear in online advertising and contract Pure Living Properties exclusively. In our database there will always be more apartments available which we can offer you.
What should I know before buying in Gran Marbella?
It is important to know, before starting the buying process in Gran Marbella, that there will be little supply. On the one hand, the high quality of life offered by the properties and the great neighborhood has led many buyers to choose this area as a permanent residence or holiday home. On the other hand, there is the high demand in the City Center / Golden Mile, which means that there are few properties on the market and they sell quickly.
They are also properties whose owners know that they are very rentable due to their central location on the beachfront, so they tend to take a long time to decide to sell. And finally, the apartments in the area are really for buyers with high purchasing power.
How can we help you?
Pure Living has been helping national and international clients for over eleven years to find their ideal property in Marbella and, specifically, to settle in Gran Marbella. Our consultants are experts in the history of the area as well as its current real estate offer. Our agents will guide you through the process of buying or renting in a professional and efficient manner.
Do not hesitate to contact us, we will be pleased to help you.

Tim is the most senior member of the Pure Living Properties Sales Department. He has always understood business in an ethical and honest manner, for which he is renowned amongst professional colleagues. Born in the UK, but having grown up in Belgium, Tim represents the best of British assertiveness and Central European multiculturalism – something that is undoubtedly reflected in each of his sales and is much appreciated by our clients.