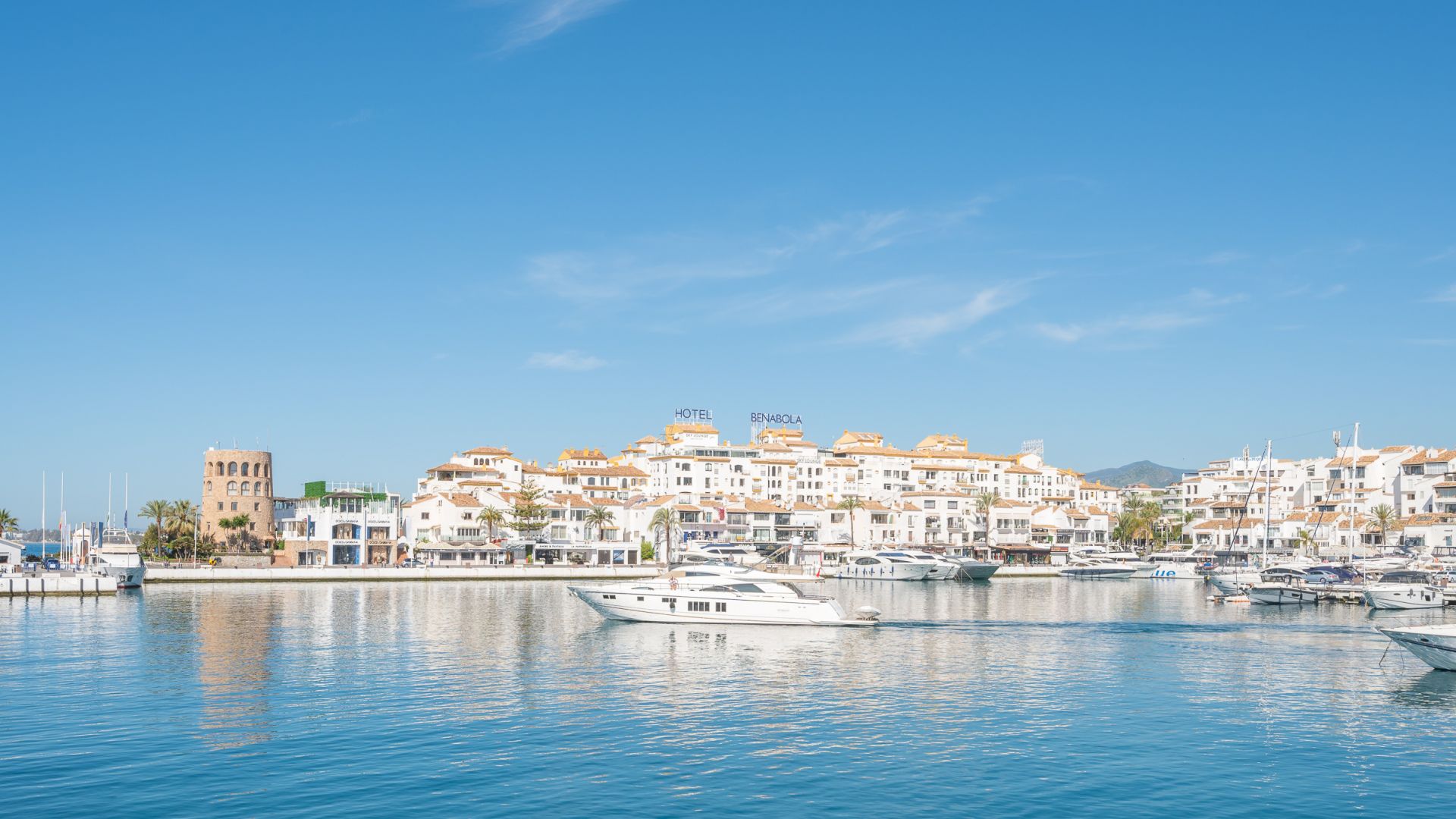 The great Influencer
World War II left Marbella as a small town of just 900 inhabitants, but the Marquis of Ivanrey, Ricardo Soriano, and his nephew Prince Alfonso de Hohenlohe-Langenburg acquired two estates in the area, one of which became the famous Marbella Club Hotel in 1954, frequented by international movie stars and members of aristocratic European families.
Great families of the aristocracy were looking for a safe place to go unnoticed and the direct contact to Marbella was through Hohenlohe. The arrival of Prince Alfonso de Hohenlohe to Marbella in 1946 made it the destination of aristocrats and rich people in search of sun and good quality of life.
Alfonso de Hohenlohe (prominent social figure) together with José Banús (developer), Noldi Schreck (architect of Beverly Hills), Marcos Sainz (architect of Marbella Club) and Antonio Lamela design hand in hand, the great and well known luxury port: Puerto Banús.
The skyscrapers of Puerto Banús
Initially it was to be a modern port of six 16-storey skyscrapers, but Schreck recommended a design based on Andalusian white villages and the Marbella Club. Antonio Lema claims to have been inspired by Casares, curiously very similar to the great Hollywood mansions.  José Banús approved his designs, the port facilities, and the apartments and service areas were officially inaugurated in May 1970.
"We find ourselves before a white architecture, with straight lines, Arabic tile roofs and openings of variable size, playing on planes of depth, by means of a lowered arch or a simple straight lintel. The scene transports us powerfully towards a regionalist spirit of constructions bathed in a dazzling light, of edges drawn with exhaustive and indiscriminate rigor against the passive sky blue. This spirit seems to have been inherited from another time, distant in its sequence, but close to us, in a place where a collective unconscious resides, owner of a popular feeling".
The main factors of influence were undoubtedly the close ties of Hohenlohe with the greats of the cinema company of Rainier of Monaco and the Aga Khan IV as well as the close circle of José Banús with Monaco.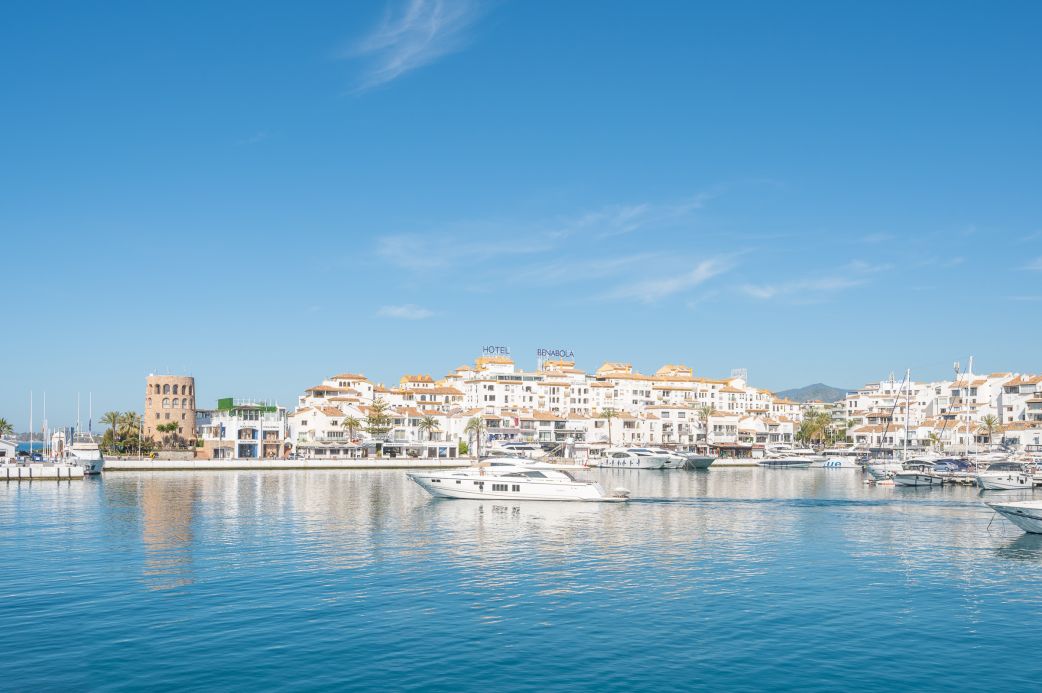 The Cherry on top of the Cake
August 1970, The opening celebration of Puerto Banús lasted more than a week. The icing on the cake was a dinner for 1,000 people. Great legends such as Hugh Hefner, Roman Polanski, Rainier and Grace Kelly attended. That night Julio Iglesias performed and the Princess of Monaco danced with the great promoter of Puerto Banús: José Banús Masdeu.
Marbella and Puerto Banús began to shine among great destinations such as Monaco, Cannes, Saint Tropez or Puerto Cervo (Sardinia). In a short time the marina became an integral part of Marbella, and to this day Puerto Banús remains a glamorous place where celebrities and the rich and famous like to visit. Upscale restaurants, cafes, nightclubs, boutiques and glamorous establishments have been added to form today's Puerto Banús.
Investments in Puerto Banus
The best apartments in Puerto Banus are located in urbanizations such as Grey d'Albion, Playas del Duque, Ventura del Mar, Los Granados, Medina Garden, Andalucia del Mar, Las Gaviotas, El Embrujo Playa, El Embrujo Banus, Mimosas Beach Gardens, Casa Nuova Puerto Banus and Malibu.
Pure Living Properties will be pleased to tell you more about Puerto Banús as well as inform you about all the properties we have for sale. We have the knowledge to professionally communicate to you which of them are good investments for purchase as well as rental management investments. We are at your disposal.

Javier is the founder and CEO of Pure Living Properties. Born and raised in Marbella in an entrepreneurial family who settled on the Costa del Sol in the 1960s, when Marbella's real estate and tourism industry was just a fledgling market, Javier is an expert connoisseur of Puente Romano, which he calls home, and the Golden Mile, but also of the best areas, projects and companies, as their owners and developers have been among his inner circle since childhood.