Guadalmina Baja
In the villas of Guadalmina Baja live and rest families with high level power, and even great celebrities. They all seek discretion and security, while having the glamour of Marbella just a stone's throw away. Guadalmina Baja is, so to speak, a "neighbourhood of the important".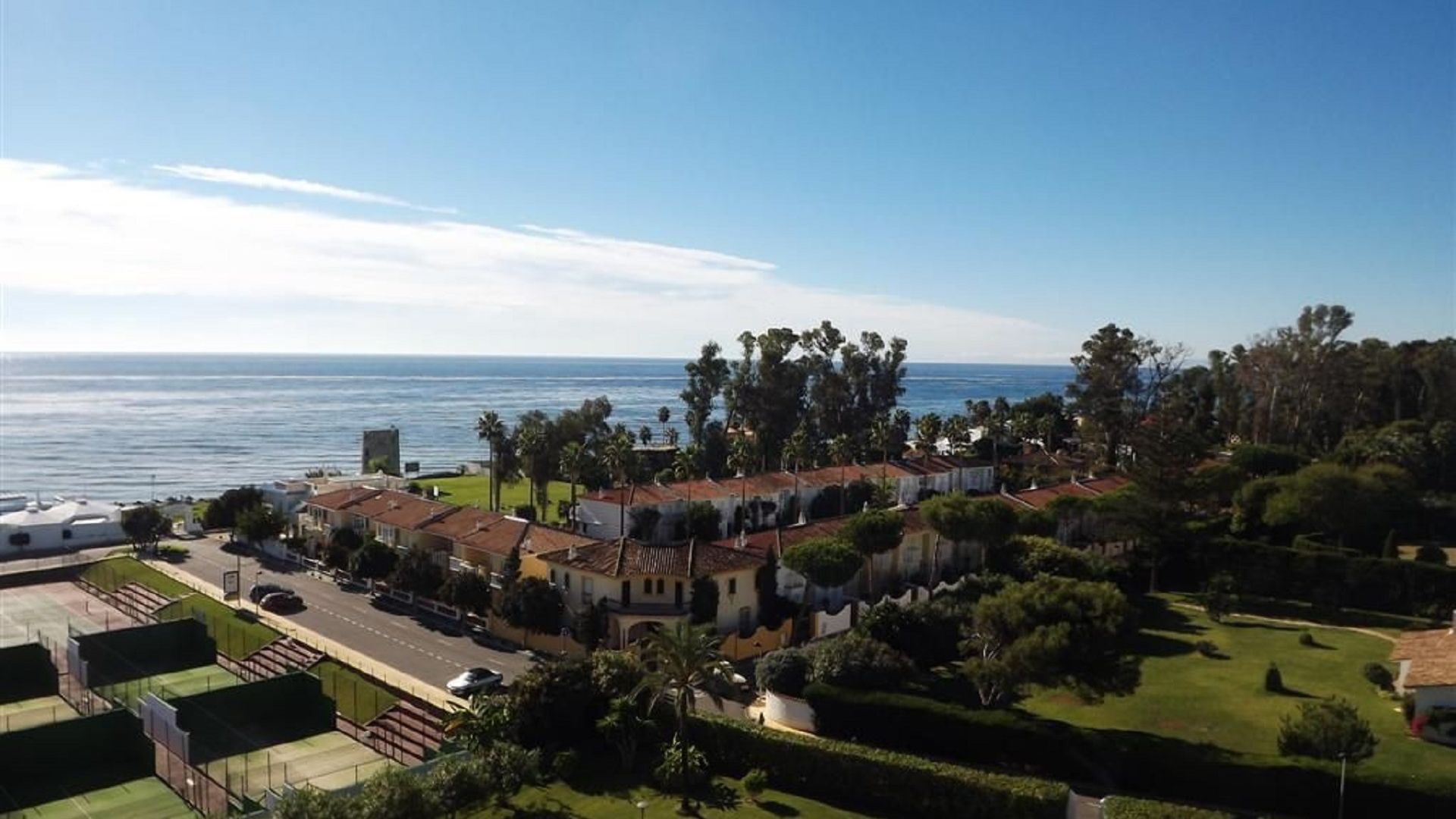 A tranquil beachside location
Guadalmina Baja is a very exclusive area of the Marbella coast, situated on the outskirts of San Pedro de Alcantara. It has a low building density and beautiful scenery. It is surrounded by top quality golf courses and has a beautiful beach which gives it its name.
Where exactly is Guadalmina Baja?
The location of this residential area is given by the Guadalmina Beach, which is the last beach in the west of the municipality of Marbella. This stretch of coastline is one and a half kilometres long. It is located in the last stretch of San Pedro de Alcantara and therefore also borders the neighbouring municipality of Estepona.
What is the difference between Guadalmina Baja and Alta?
In reality, the Guadalmina at property level comprises of two areas: Guadalmina Alta and Guadalmina Baja. The lower one close to the sea, is considered to be the best and most luxurious by far. In addition to its views of the Mediterranean and, of course, its more maritime lifestyle, the type of construction in this part of Guadalmina is very special. These are beautiful, spacious, landscaped villas, with very high security on the grounds and in the streets, and yet extreme tranquillity.
The apartments and penthouses in Guadalmina Alta are also interesting as an investment, but they do not have the character of Guadalmina Baja as an area of high real estate privilege. They are great properties, but they are not so luxurious.
Is Guadalmina well communicated?
The A7 motorway divides the two Guadalminas. Both are well communicated with this road. This gives both sub-areas easy access to Puerto Banus, Nueva Andalucia, the Golden Mile, Marbella Centre or even Malaga airport, if heading east. They also communicate well with Estepona, Manilva or the port of Sotogrande, and its famous Polo Club, if driving west.
What is Guadalmina beach and its leisure facilities like?
Guadalmina beach has been awarded the blue flag for cleanliness and good conditions on numerous occasions. It offers natural beauty, fine golden sand, hygienic guarantees and pleasant beach bars.
Highlights include Dantonelas Beach Club and the nearby El Ancla restaurant with its own swimming pool.
Although it is a public beach, it is never overcrowded, even in summer. Partly because it is so wide, and partly because it is less popular than other beaches in Marbella. In addition to bathing and sunbathing, there is also the possibility of doing sports such as windsurfing and water skiing with the company The Hawaiians Club Center.
A special feature is that at one end of the beach the Guadalmina River flows into the sea, and at the other, the Roman baths of Las Bovedas are still standing and can still be visited, as well as a watchtower from the 16th century. Part of the beach is also embraced by the only golf course in Marbella that overlooks the sea. It is a really special beach.
Is it just a residential area or can I go shopping and eat out with the family in Guadalmina Baja?
Although Guadalmina Baja is a quiet and peaceful residential area, there is plenty to do. Just on the other side of the dual carriageway that divides the beach area from the more urban area is the Guadalmina Shopping Centre. It has a collection of elegant cafes, a large supermarket, beauty salons, banks, tobacconists, boutique shops and restaurants.
Of the latter, the most notable are Asador Guadalmina, El Pescador and La Rosa, all of which are Spanish in style. But there are also Mexican, Japanese, Thai and Italian flavours. It is certainly a pleasant and lively place, perfect for enjoying tapas on a sunny day, or a lively family dinner in the evening.
Is Guadalmina Baja close to Marbella town centre?
Guadalmina Baja is in Marbella, but on the outskirts. It is only a twenty minute drive from the centre, easy and convenient to get to. It is also very close to Puerto Banus, with its exclusive beach clubs, lively nightlife and international boutiques. Of course, just fifteen minutes away are Puente Romano and the Golden Mile, the must-see areas for experiencing Marbella at its most elegant and chic.
But what Guadalmina Baja is closest to, in terms of urban concentration, is San Pedro de Alcantara. In fact, this beach area belongs to this district. The main street of San Pedro, Avenida Marqués del Duero, is a ten minute drive and a half hour walk away. San Pedro has all the basic services you could possibly need, plus a touch of a very intimate lifestyle, very southern Andalusian.
What type of homeowner is Guadalmina Baja for?
This is a place for wealthy people looking to invest in very beautiful luxury properties with a lot of security, because the environment is highly guarded. You have to take into account that in its grounds there are houses of former government presidents, aristocrats or very famous families from the national or international social scene, who want to be undisturbed at all times.
Guadalmina Baja offers the perfect setting for those looking for a very peaceful location, without being too far away from the hustle and bustle of city life. Its select properties always offer very spacious green and landscaped areas and, at the same time, it is a very sea-facing area, designed to fully enjoy the Mediterranean.
Guadamina Baj is a very relaxing area, with no noise, no pollution, not too much traffic or pedestrians beyond the neighbours themselves. It is, in a way, somewhat isolated, which is an advantage for a very discreet way of life on a day-to-day basis. With the added bonus, of course, of having nearby areas with more movement for shopping, children's schools, sport or entertainment.
Can I play golf or other sports in Guadalmina?
The greenery of Guadalmina is also provided, in addition to its trees and gardens, by its wonderful golf courses. The main one is the Real Club de Golf de Guadalmina, which is very special for its course next to the river and for having part of its facilities right on the beach. But there are also in the area, or close to it, El Coto Golf Club, Atalaya Golf & Country Club, El Campanario Golf & Country Club or El Paraiso Golf.
Of course, Guadalmina is within easy driving distance of all the "Golf Valley" courses, which include those located in Nueva Andalucía and Benahavis, and is only a few minutes away from any of the more than twenty courses in Marbella.
For the more racket-minded there is the Alhambra Paddle Club and the Guadalmina Racquet Club. Tennis fans have the best courts at the Puente Romano Tennis Club, just a fifteen minute drive away. Other disciplines are covered by centres such as the Guadalmina Boutique Gym, the Authentic Pilates Studio or We are Fit among others.
What are the properties in Guadalmina Baja like?
The residential offer is made up of luxury villas, apartments and  penthouses most of which are built around the Guadalmina Spa & Golf Resort Hotel. This four-star hotel complex gives a differential value to the area.  It has an eighteen-hole golf course, a nine-hole driving range and three restaurants. There is also an elegant beach club where you can relax on sun loungers or take a refreshing dip in the huge swimming pool.
In addition to luxury villas, Guadalmina Baja also has a varied range of high quality apartments to choose from. For example, there are three-bedroom beachfront properties, with spectacular sea views from every room, situated in beautiful urbanisations with several swimming pools, children's play area, garage… and direct access to the beach.
How much does it cost to a villa or apartment in Guadalmina Baja?
Firstly, it should be said that the supply of properties for sale in Guadalmina Baja is not very wide because not many properties come on the market very often, and because demand is high. Having said that, in terms of villas, you can buy a plot of land to build one from one million euros, for example. If we are talking about already built villas, there are a number ranging from one and a half to four and a half million euros; and of course, there are mansions of twelve million euros or more. We are talking about plots ranging from 300 square metres to 3,000 square metres, and houses ranging from three to eight bedrooms.
As for apartments, the starting price is approximately 450,000€ for 140 square metres, but without sea views. For those overlooking the sea, prices go up to 800,000€ or more.
For more information on this exclusive area please do not hesitate to contact us. We have agents specialising in the Guadalmina Baja area and our database is always up to date. We will help you find your ideal property. Don't forget that we specialise in luxury properties.

Tim is the most senior member of the Pure Living Properties Sales Department. He has always understood business in an ethical and honest manner, for which he is renowned amongst professional colleagues. Born in the UK, but having grown up in Belgium, Tim represents the best of British assertiveness and Central European multiculturalism – something that is undoubtedly reflected in each of his sales and is much appreciated by our clients.