Marbella Luxury Real Estate Trends with villas priced up to 36 million.
Javier Nieto - Sep 7, 2023 - Pure Living News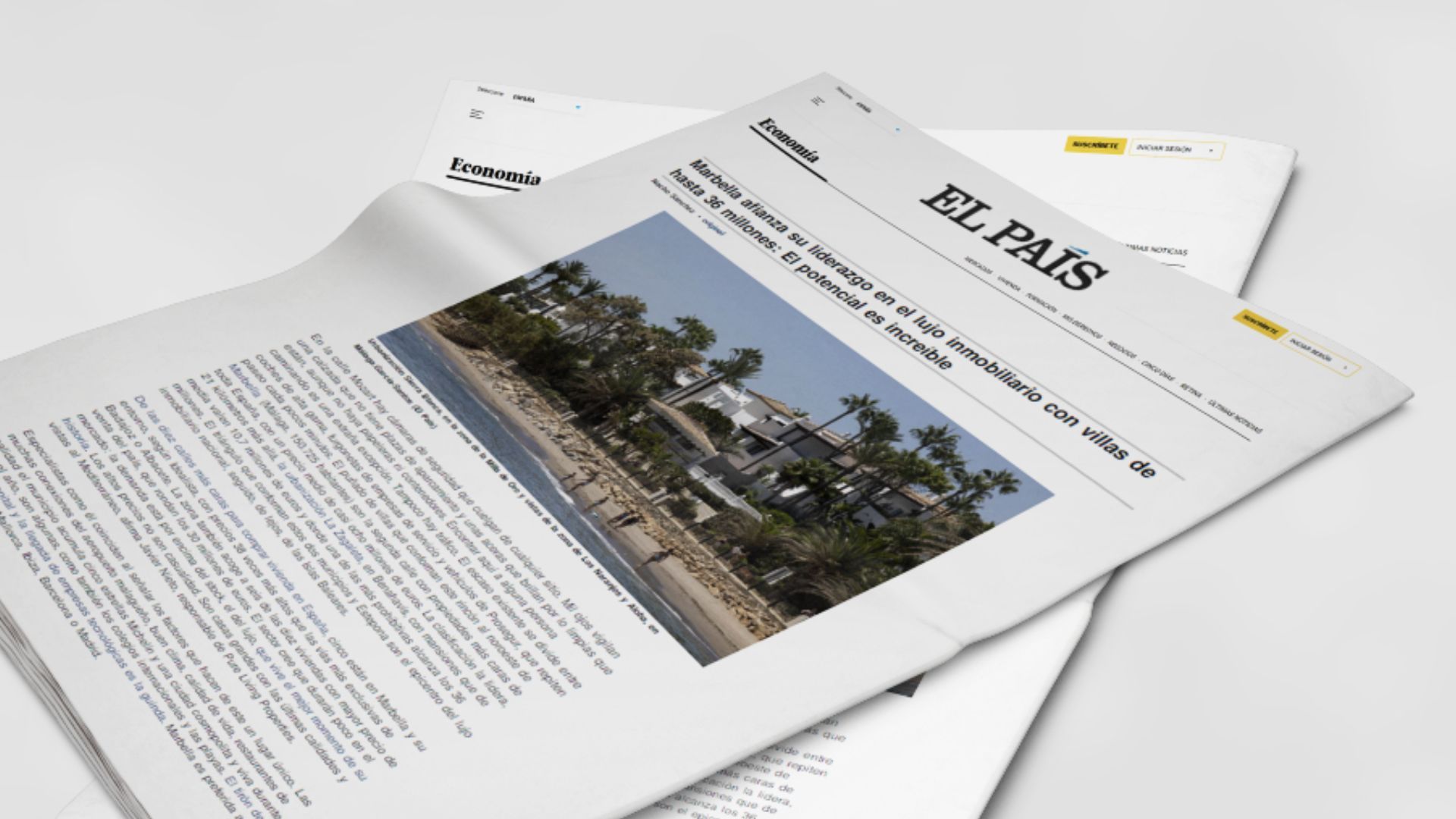 In a recent article from El País regarding Marbella's luxury real estate trends, Marbella and its surroundings on Spain's Costa del Sol are highlighted as the epicenter of the country's luxury real estate market. Northwest Marbella boasts some of the most expensive streets in the country, with properties averaging around eight million euros.
The allure of the region is credited to its climate, lifestyle, international schools, beaches, and the influence of the capital, Málaga. While traditionally targeting older buyers, Marbella's real estate market is now drawing younger international buyers, especially from countries like Poland, Czech Republic, and the Netherlands. Recent trends indicate a shift towards permanent residences rather than holiday homes. The luxury trend extends beyond Marbella, with renowned brands like Lamborghini and Dolce & Gabbana investing in real estate projects in the Costa del Sol region.
Marbella strengthens its leadership in luxury real estate with villas up to 36 million: "The potential is incredible"
On Mozart Street, security cameras hang from every corner. A thousand eyes watch over a road devoid of parking spaces and sidewalks sparkling clean, even without any trash bins or containers. Spotting someone walking here is a rare sight. Traffic is also sparse. The little that exists consists of high-end cars, service company vans, and Prosegur vehicles, which pass by every few minutes. The handful of villas in this northwest corner of Marbella (Málaga, 150,725 inhabitants) rank as the second most expensive properties in all of Spain, with an average price of nearly eight million euros. Leading the list, 21 kilometers further, is the La Zagaleta urbanization in Benahavís, where mansions average 10.7 million euros, and one of the priciest reaches 36 million. The triangle formed by these two municipalities and Estepona is the epicenter of national luxury real estate, followed distantly by the Balearic Islands.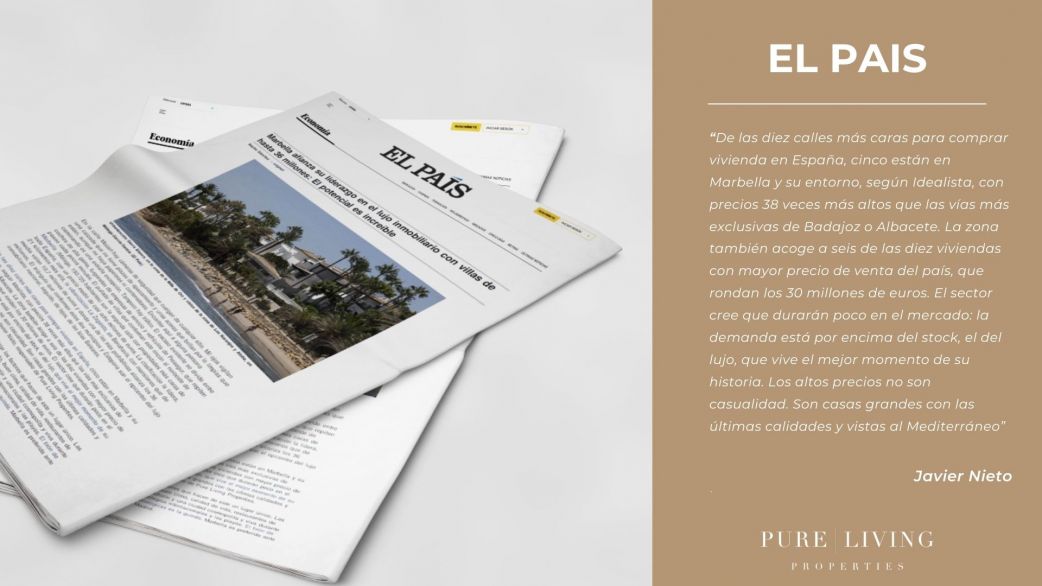 Of the ten most expensive streets to buy property in Spain, five are in Marbella and its surroundings, according to Idealista, with prices 38 times higher than the most exclusive avenues in Badajoz or Albacete. The area also hosts six of the ten highest-priced homes in the country, hovering around 30 million euros. Industry experts believe these will be snapped up quickly: demand exceeds supply, especially in the luxury segment, which is experiencing its historical peak. The steep prices are no accident. "They are large houses with the latest amenities and views of the Mediterranean," says Javier Nieto, head of Pure Living Properties.
Experts like him point to the unique factors that make this area stand out. The many connections from the Malaga airport, pleasant climate, quality of life, top-tier restaurants (the town boasts five Michelin stars), and its cosmopolitan vibe year-round are just a few. Furthermore, the draw of Málaga's capital and the influx of tech companies is the icing on the cake. Marbella is favored over places like Mallorca, Ibiza, Barcelona, or Madrid.
A walk down some of the priciest streets helps explain the high prices. On Mozart Street and throughout the Sierra Blanca urbanization, where tennis player Novak Djokovic resides, private security prevents street photography. "Armed guards on duty," warns a sign. There are also visitor instructions: "To enter, report to the security booth. Guards will guide you on how to access our urbanization," reads another sign. Public access is permitted, but any unknown pedestrian or vehicle is treated with suspicion here.
Dozens of palm trees tower over the high protective walls that encircle each estate. Inside are swimming pools, mini forests, statues, fountains, tennis courts. Everything is silent from the outside, except during summer nights, where the Starlite Festival's music echoes, located just a short distance away. On the continuous asphalt line, only vehicles with company logos are visible – construction, landscaping, water treatment, architecture, painting, internet, and other services. About thirty of these companies are part of the Association of Business Owners for High-Quality Housing, which in 2022 invoiced 1,000 million euros. They created 2,000 direct jobs and 4,500 indirect jobs.
Three workers are refurbishing an eight million euro home. In front of a site that has stripped a building down completely, one worker notes that in this area, there's no such thing as a "normal" house: "These are mansions that have everything. But when you go inside, you realize that the residents only use a couple of rooms even if they have ten." When residents do come out, they avoid conversation. "No one here answers any questions. They're so wealthy they prefer to keep to themselves and forget the rest," another worker comments.
A short distance away, workers from La Fábrica de Hielo, a Marbella antique shop specializing in exclusive items and decorations, are moving a massive gold-framed mirror into another property. Beside them, several tinted-window vans enter a spacious garage. Further on, a Grecian-inspired home with a grand entrance flanked by four Corinthian columns catches the eye. In this area, houses don't go for less than ten million.
However, these developments have drawbacks. According to police sources, the security and anonymity make them perfect hideouts for drug lords. Environmentalists point out that there are hardly any natural spaces left by the sea, and some homes encroach on the foothills or even destroy hilltops, causing significant environmental damage. This is also true for the municipality's over 10,000 swimming pools. They also argue that these residents contribute little to the local economy, and the gated communities exacerbate conflicts between public and private spaces. Some of these communities restrict access to non-residents, yet basic services like sanitation or paving are paid for by municipal funds.
Younger Buyers
Buyers are usually foreigners. With the Russian market disappearing after the invasion of Ukraine, Poland, Czech Republic, Netherlands, or the United States are some of their countries of origin. Traditionally targeting older buyers, the Marbella market is now drawing in younger ones, as they have discovered the many attractions of this enclave. "They come here attracted by the lifestyle, and now they're staying longer, many even making this their permanent residence," says Javier Nieto. The trend towards more permanent living arrangements rather than holiday homes is being confirmed by various sources.
Brands like Lamborghini and Dolce & Gabbana are capitalizing on this trend. They are investing in luxury villas and apartment projects, designed by prestigious architects, targeting a young audience with lots of money. Their branding carries weight and attracts even more attention to the Costa del Sol region.

Javier is the founder and CEO of Pure Living Properties. Born and raised in Marbella in an entrepreneurial family who settled on the Costa del Sol in the 1960s, when Marbella's real estate and tourism industry was just a fledgling market, Javier is an expert connoisseur of Puente Romano, which he calls home, and the Golden Mile, but also of the best areas, projects and companies, as their owners and developers have been among his inner circle since childhood.