What can different budgets get you in Marbella?
Julie Cavro Dupont - Aug 7, 2023 - Pure Living News
What Different Budgets Can Buy You in Marbella's Real Estate Market?
Uncover what each budget tier – from €500,000 to €1,000,000, to over €5,000,000 – can afford you in Marbella's diverse real estate offerings. From villas to townhouses, penthouses, and apartments, find your dream property in the sought-after areas of Marbella East, Cabopino, Nueva Andalucia, and Golden Mile among others.
Learn about exclusive complexes like Imara, Puente Romano, and Marbella Club, and explore high-end properties in gated urbanizations like La Zagaleta. Whether you're considering off-plan, newly developed properties, or luxury properties at a higher price point, our guide provides an in-depth look at the potential your investment could bring.
Do you want to get a look at our extensive 2023 report where we talk about all the relevant topics that trigger decisions on both parties, real estate realtors and property buyers? Get it here.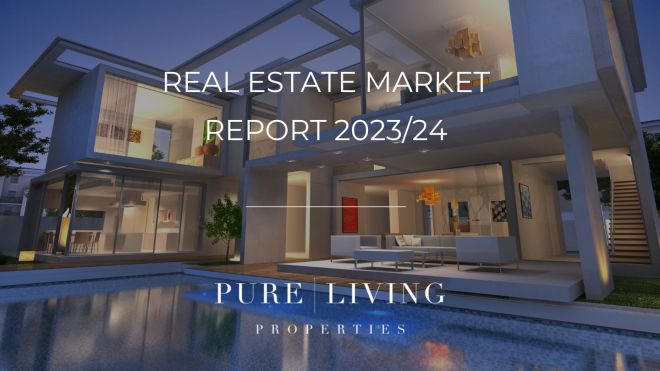 Full Market Report 2023
Unlock the secrets of Marbella and the Golden Mile's lucrative real estate market with our in-depth report. From exclusive insights to industry trends, our detailed analysis is a must-have for any serious buyer or investor. Don't miss out on this golden opportunity. Download now to make informed decisions and elevate your investment strategy.
– Properties Around €500,000 in Marbella
Discover a variety of options from villas in Elviria and Rio Real to townhouses in La Mairena and penthouses in Puerto Banus. Uncover the gems of Marbella's real estate within this budget. View Properties
– Marbella's Luxury Real Estate Around €1,000,000
Explore the luxury Marbella real estate offerings within a €1,000,000 budget. From exquisite villas in La Virginia and Altos de Aloha to high-end penthouses in Imara and apartments in Cabopino Harbour, discover how far your budget can stretch in Marbella.View Properties
– Marbella's Most Luxurious Properties Over €5,000,000
Step into Marbella's top-tier real estate market with a budget over €5,000,000. Experience the epitome of luxury with exceptional villas and mansions in locations like Puente Romano and La Zagaleta or premium apartments in renowned complexes like Casa Nova and Ventura del Mar.View Properties
In conclusion, your journey into the Marbella real estate market, whether you are a buyer or an investor, should be navigated with utmost care and professional guidance. Remember, every property within this market is not just a home, but a luxurious product and a business venture in itself. As such, it deserves a well-crafted strategy to effectively reach the right audience.
Therefore, we at Pure Living Properties strongly recommend that you consult with seasoned professionals who are not only familiar with the unique intricacies of Marbella's luxury market, but also well-versed in market fluctuation trends. With our years of expertise in this market, we can ensure your property, irrespective of its price range, is presented accurately and strategically as a lucrative investment.
So, take that crucial first step towards your investment journey in Marbella by seeking expert advice. As the saying goes, 'Knowledge is power.' Equip yourself with the right information and professional guidance to make the most of your investment.

Julie Cavro is the Marketing Director at Pure Living Properties. She is responsible for all multi-channel marketing actions in constant coordination with the other departments of the company with the sole objective of obtaining the best results for our clients.