Architecture on the Costa del Sol: Merging Tradition and Modernity
Julie Cavro Dupont - May 3, 2023 - Pure Living News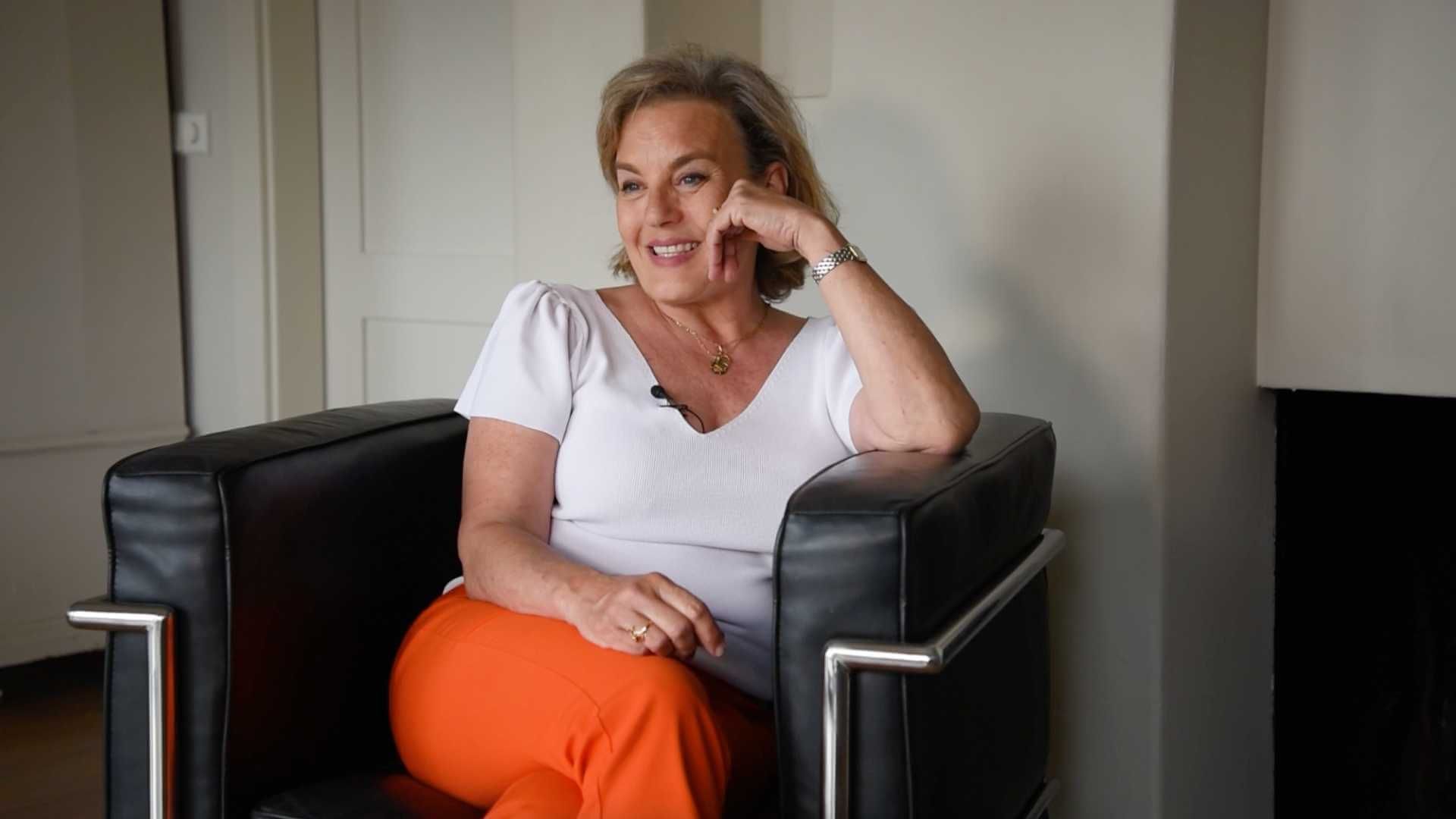 Recently, we had the opportunity to interview Isabel Oliver to learn more about the evolution of architecture on the Costa del Sol.
This exclusive interview allowed us to understand the ideas and processes that drive her success in creating unique and memorable spaces.
Isabel, tell us about your background and how architecture became an essential part of your life and your family's life.
My name is Isabel Oliver, I am an architect, daughter of an architect, with an architect brother, architect husband, and architect daughter; architecture is in my life.
I was born in Madrid, and after university, I worked with my father. Then, the opportunity arose to move to the Costa del Sol with our architect friend Ernesto Palanco, with whom we started working and eventually became independent.
What was the predominant architecture on the Costa del Sol when you began your career, and how has it evolved over the years?
We started living in this wonderful climate we have here in Marbella. When we arrived, most of the clients were English, French, and German, many Germans.
They were interested in typical Andalusian architecture of those who went to the Americas and returned, building stately homes, somewhat inherited from the houses in Jerez, Seville, and Cadiz with pillars, pediments, cornices, and the rooster's beak on the roofs, sloping tile roofs.
Andalusian architecture that was a bit of a legacy of classical architecture but reinterpreted by Andalusia.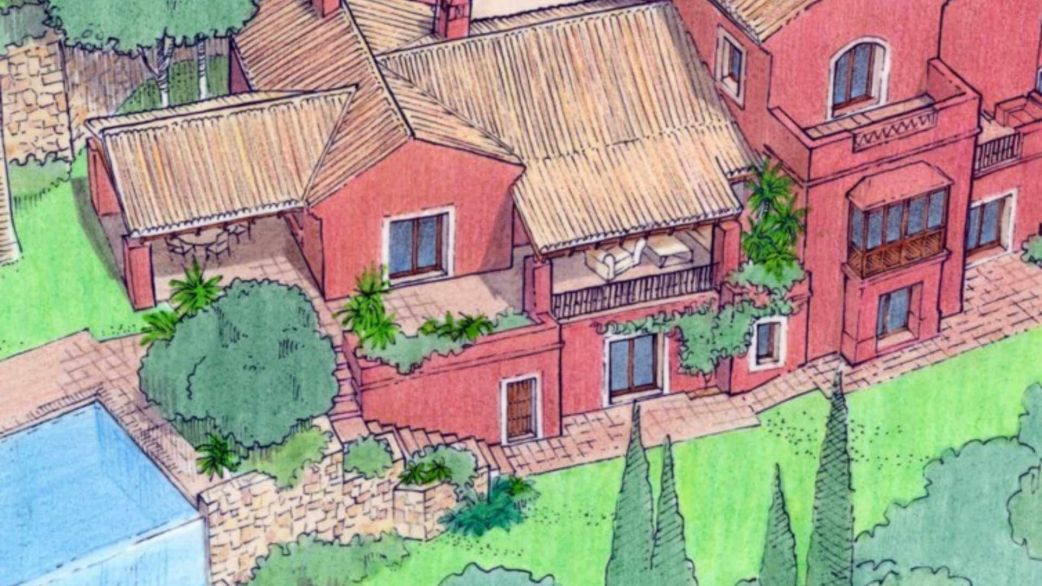 Tell us about the architecture of the Gatepac group and how it influenced your work.
We kept the same style for many years, and it took a lot for more contemporary architecture to start coming in.
So we studied the Catalan architecture of the Gatepac group, which consists of the architecture found in Ibiza of white cubes with flat roofs.
Around 2000/2005, the architecture of sloping roofs was combined with cubes, and this has evolved into an architecture of large volumes, very spacious, with very large windows, lots of light, and lots of openness, a more modern architecture but retaining the Andalusian character.
What are the current trends in architecture on the Costa del Sol, and how do you integrate them into your projects?
Well, right now, there are new trends like Japandi, modern cube architecture in the style of Le Corbusier,
architecture somewhat inherited from Frank Lloyd Wright with slightly sloping but quite flat roofs
to create the shadows of the porches, there are several trends.
Tell us about the influence of the white cube architecture of Ibiza and how it has been applied in Marbella
In 1974, my father organised Villa Cana. When we were young; I was six or seven years old, we went to Ibiza, but to Ibiza in the 70s, when the hippies were there.
It was an architecture of little white cubes, not as developed as Ibiza is now, which has undergone a radical change, but that architecture of white cubes, of small openings of overlapping cubes, of roofs that protrude, that architecture is what my father did in Villa Cana and at the same time, Melvin, well, there's an argument about whether Melvin did it first, was doing the same thing in Puente Romano, so the architecture of cubes with some sloping roofs,
The architecture of Puente Romano, which is what everyone comes to Marbella for and says, "how beautiful Puente Romano is", it's beautiful because it has small volumes, human scale, with lots of vegetation, many courtyards, and natural surroundings.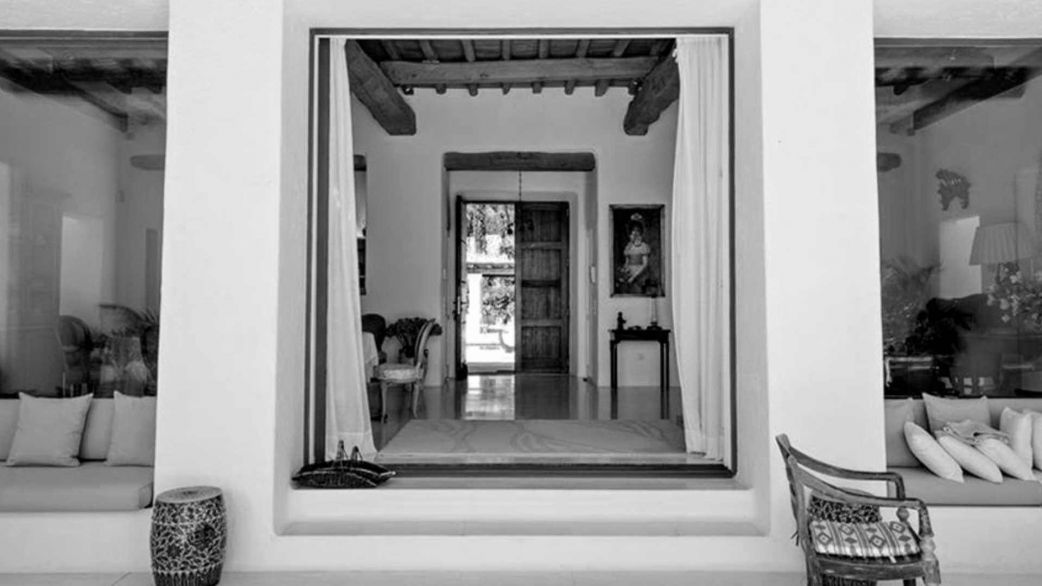 How do you address the specific challenges of the Andalusian climate and the expectations of Nordic clients in your designs?
The current client, the Nordic client, is accustomed to having large windows, without curtains or any protection from the outside, and in Andalusia, there is a lot of sun and heat. So, my struggle with the client is often about needing to protect people from that sun.
It's not a bad thing to have a fantastic view, but you need a porch to cover you, to allow you to be in the shade, to allow you to be protected, a fountain, water, vegetation, to give you freshness.
That's what I try to combine.
Sometimes you need a large window, but other times the typical elongated, stretched, narrow Andalusian window is more optimal because you have to control the entrance of light into the house because it is excessive.
How has the pandemic changed the way people perceive and value their homes, and how has it influenced your approach to architecture?
The client has changed; the client has evolved. Before, they wanted luxury to mean rich materials, lots of shine, lots of gold, lots of colours.
Now, we are in a more eco-friendly and natural architecture, with wooden floors, white walls, more neutral colours because they like a more natural space and a more Japandi-style architecture. The Japanese know very well how to live in small, cosy spaces.
Indie-like things related to yoga, meditation, and contemplative life because we are also here to enjoy life.
It's not so much about showing off luxury as something ostentatious but rather as something pleasurable and calm.
You ask me about the pandemic; of course, it has been a radical change, like a war. We Westerners, Europeans, had not experienced a war.
Well, unfortunately, the Ukrainian war is happening right now, but it has forced you to lock yourself at home, and people have started to value family and being at home.
You need to spend your time on pleasant things; you also work from home, so you have to work in a pleasant and comfortable environment.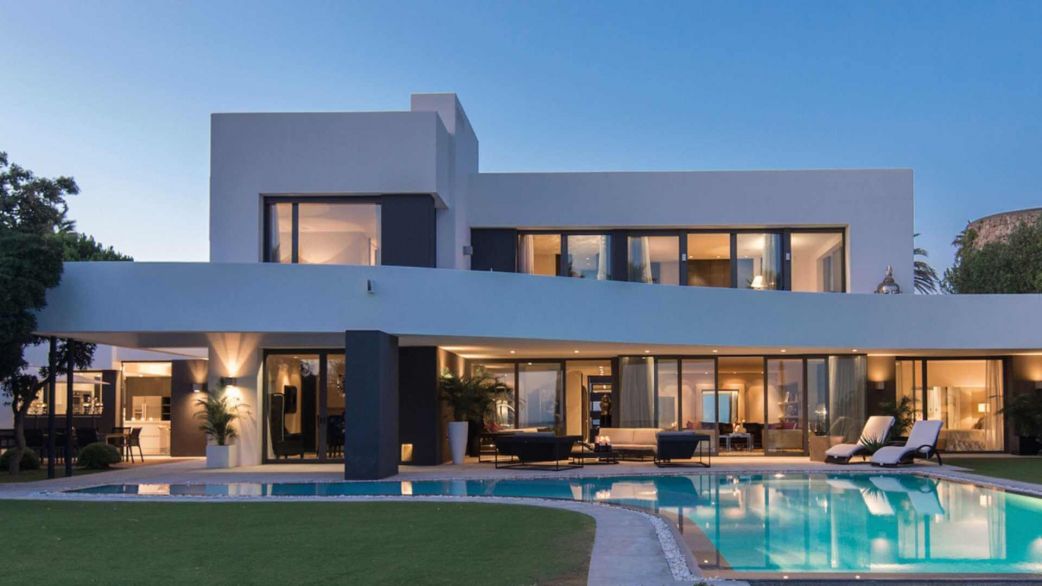 What technological and ecological advances have you implemented in your projects to adapt to climate change and improve energy efficiency?
Of course, there have been enormous advances, especially in Spain. We have always had the sun, and before, we did not use it at all.
Now, however, we install photovoltaic panels, capture the sun's heat, and use it in winter for heating, hot water, and underfloor heating. We are using the technology we have with modern, natural materials, and often with new or old materials that have been used all our lives, to make energy-efficient houses.
Above all, making people feel comfortable, who say, "I don't know why, but I feel comfortable here", because it has the right temperature, the right shade, or the right sun, and has a pleasant environment.
We must bear in mind that there are things from Mediterranean architecture that need to be respected and continued to be used, like cross ventilation, water, and greenery.
For me, the best Palace in the world is the Alhambra of Granada because, at the Alhambra, you are in a spectacular landscape, seeing the water from the channels that make a pleasant noise, with lush vegetation, and architecture that is not related to the architecture being done now, but has to do with how the spaces are and how the closed spaces are joined to the open spaces, interiors to exteriors. I find it a point of inspiration.
We must use many aspects of traditional architecture but with modern language, modern technology, efficient carpentry, underfloor heating, and the technology we have today.
What have been the biggest challenges you have faced throughout your career, and how have you overcome them?
You ask me what challenges I have had throughout my career; well, I have to tell you that each client is a challenge because each client is a different person with their circumstances, economic capacity, family, and the plot or house to be renovated is different for each other.
When you buy a house, it's because you've fallen in love with that house; when you buy a plot, it's because you've fallen in love with that view.
So, each project is different; we are architects who have never copied a project because each client has different needs.
It's not the same building in Marbella, where the east and west winds are cool, as in Estepona, where the west wind is very hot, and the east wind is cool; the climate is not exactly the same, even though we are all in a Mediterranean climate.
Each project is a challenge; they are all different.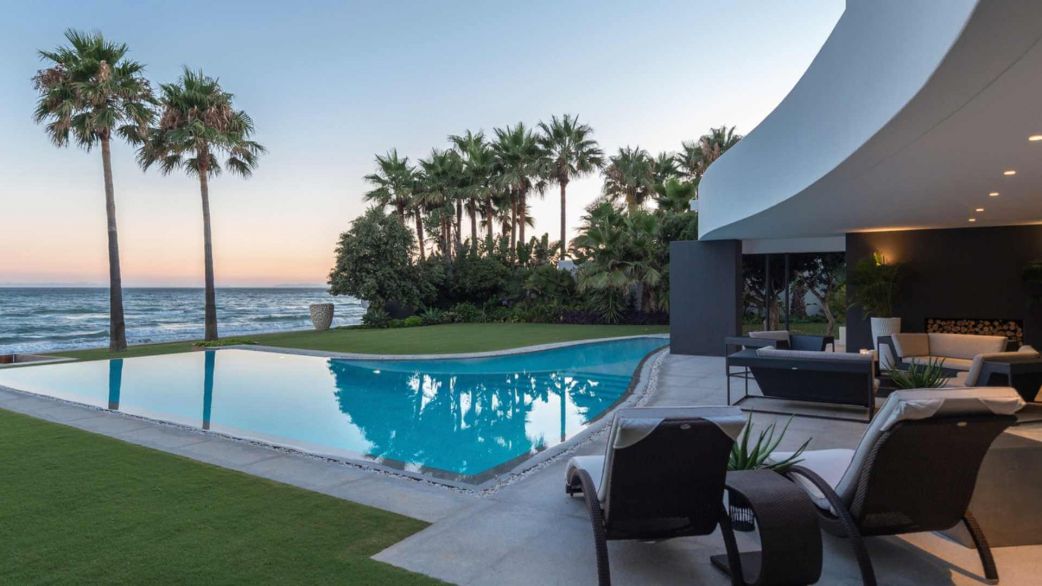 Tell us about a renovation project that you find particularly memorable and how you addressed the challenges it presented.
I have a lot of affection for this house because it is a house from the 70s, for example, the living room's space was half of what it is now, and we carried out a complete renovation, achieving what that client wanted.
It was a family client who had to live with her children, enjoy the garden and pool, and also be able to work, for example, during the pandemic, she worked from home.
We had many challenges because it was a house where the main bedroom was tiny, the bathrooms were very outdated, and the kitchen had no light. So, we opened up spaces, enlarged the living room, opened up a porch here on the south side because you have a sea view, you have the shade of a palm tree, the fireplace was completely closed because the hall was closed, so we made an open hall to the living room that we closed a bit with the fireplace but it doesn't reach the ceiling, so we are opening it up to the general space.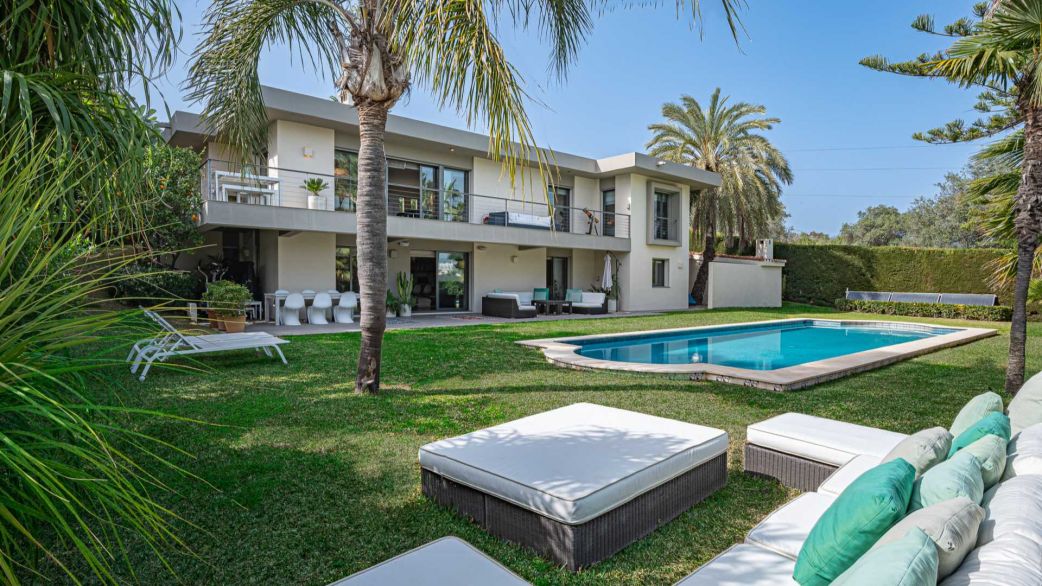 What advice would you give someone looking to buy or build a property on the Costa del Sol?
As an architect, the advice I would give to a client who is going to buy a property here on the Costa del Sol is that the location must captivate them.
It is essential to consider the orientation. In Marbella, the southeast orientation is optimal for the climate because it is more pleasant and cooler.
The southwest orientation is optimal because you have the wonderful view of the Strait of Gibraltar.
As for the location, the closer to the centre you are, the better. However, it is true that Marbella is a place where people like to be calm, so there are many developments that allow you to be more or less close to the centre but in a green and private environment.
Another important point is, of course, the budget; you must adapt to the budget, but all budgets can have good architecture.
"You don't need an exaggerated budget to have good architecture; you need a good architect to have good architecture."
Lastly, the architect-client relationship is crucial; that trust is about getting to know each other because, in the end, your client is your friend, as you have understood how they live, and you are putting them in a box, a human being. So you are putting a living, organic being into an inert thing like a house, and you need to combine that organic aspect with the inertness of homes and make them one.
How has architecture changed in response to regulations and environmental concerns in recent years?
Now, architecture, with the requirements of official bodies, is different; we used to build houses without geotechnical studies. The technology we have now allows us to fight against climate change, or better yet, ally ourselves with this change and adapt to it because it is humans who must adapt to nature.
With the technology we have and the ecological regulations we are implementing, we can make homes more natural and in line with the climate change that concerns us all, of course.
Thank you, Isabel, for the interview.
Thank you for wanting to do this interview; I am delighted to show you our point of view, how we understand architecture here on the Costa del Sol, and also thank my entire team, who are not here, but are who make all these projects possible, and allow us to create houses like this one where you can feel life in Andalusia.
Thank you for everything!

Julie Cavro is the Marketing Director at Pure Living Properties. She is responsible for all multi-channel marketing actions in constant coordination with the other departments of the company with the sole objective of obtaining the best results for our clients.