The Pirulí, Marbella´s iconic 'Cooper Tower'
Javier Nieto - Jun 27, 2017 - Marbella Lifestyle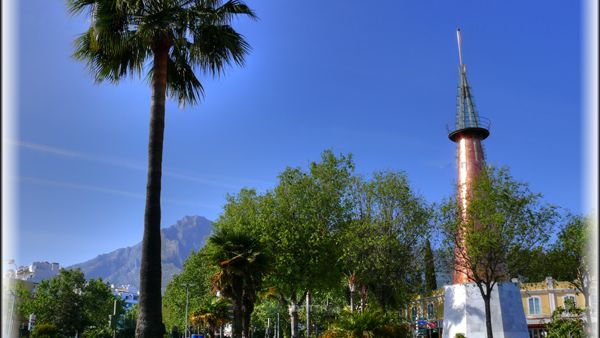 Those of us who live in or visit Marbella frequently will pass it on a regular basis, yet few people know much at all about the pretty copper tower that marks the point where the famous Golden Mile becomes Avenida Ricardo Soriano – Marbella's main downtown avenue.
Officially it is located in Plaza de Monseñor Rodrigo Bocanegra, but most people familiar with the area will place it just past the Palacio de Congresos conference centre and at the entrance to Marbella town. If it seems like this unusual beacon separates the Golden Mile from Ricardo Soriano – and with it the exclusive palm-fringed millionaire's row from the lively downtown area – then this is an accurate observation, as it was exactly the reason behind the tower's creation in the early 1990s.
Barrios & Cepedano were chosen to design Marbella's foremost icon. Two leading local architects also responsible for the design of some of the most iconic luxury apartment complexes in the nearby 'hanging gardens' area of Marbella. These include an exclusive beachside apartment urbanisation south-east of the Pirulí that is commonly known as 'La Lavadora', or 'The Washing Machine'.
A beacon in Marbella
The inspired design they created contains a touch of Art Deco otherworldliness thanks to its use of copper and mechanic, almost antique futuristic look. Clearly intended to be eclectic, the Copper Tower has since become a true Marbella landmark at the meeting point of the Golden Mile and Ricardo Soriano, and a beacon of architectural style in a city of elegance.
The fact that the tower is also sometimes called 'The Lantern' is due to the lighthouse style glass construction at its top, and indeed, it is very much like a beacon that guides in this case not ships but cars around a large traffic island, demarcating different zones of Marbella in the process and adding to the collection of iconic landmarks that help to define the charm and character of Marbella.
If you would like to know more about living in Marbella, please contact Pure Living Properties – a leading expert in luxury homes on the Golden Mile.
Image credit: hostalenriqueta.com

Javier is the founder and CEO of Pure Living Properties. Born and raised in Marbella in an entrepreneurial family who settled on the Costa del Sol in the 1960s, when Marbella's real estate and tourism industry was just a fledgling market, Javier is an expert connoisseur of Puente Romano, which he calls home, and the Golden Mile, but also of the best areas, projects and companies, as their owners and developers have been among his inner circle since childhood.