Aloha Golf Club
Welcome to Aloha Golf, one of the most prestigious and established golf clubs on the Costa del Sol. A private members club with one of the most beautiful and well-kept golf courses in Spain.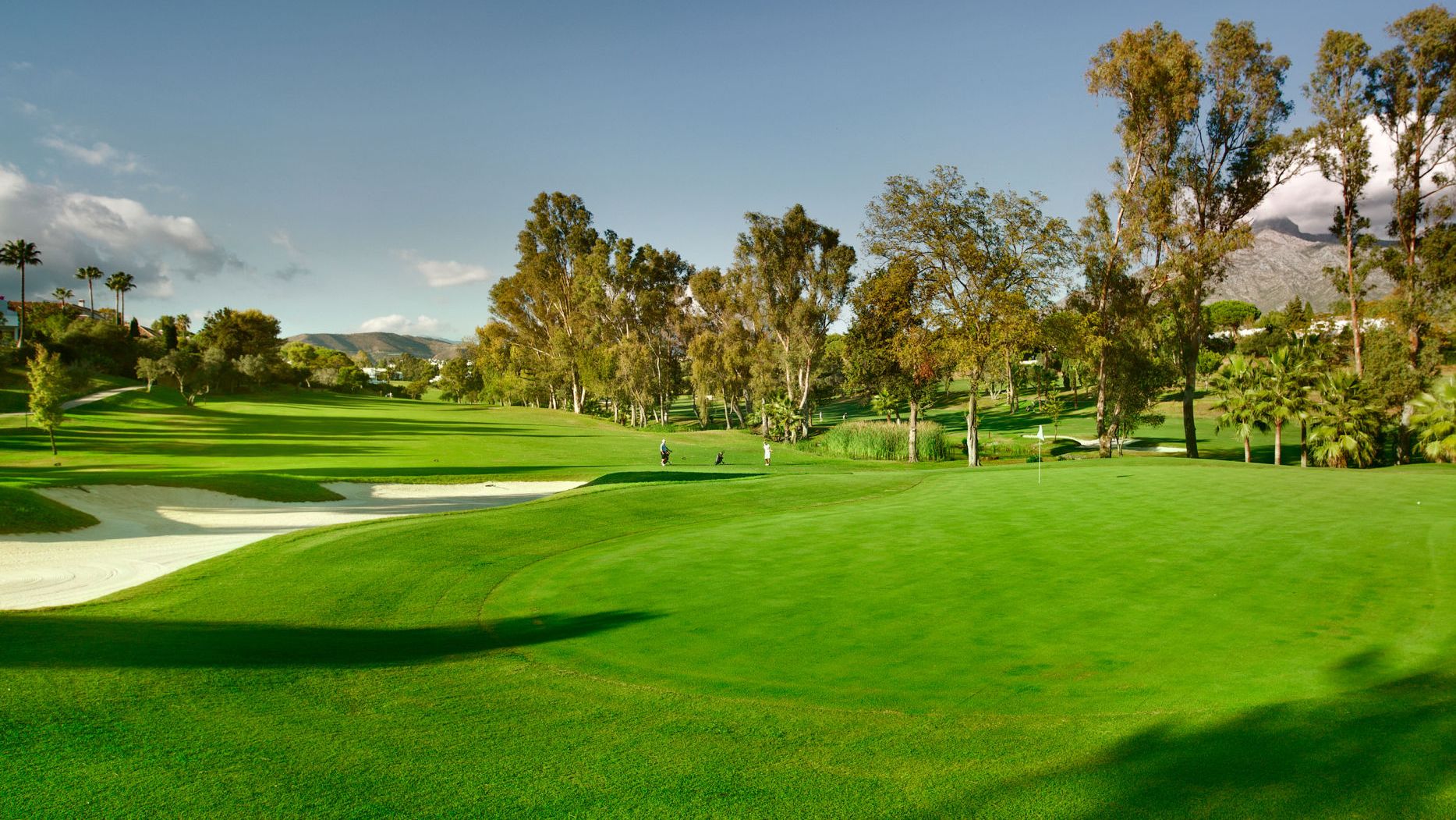 Where is Aloha Golf Club?
Welcome to one of the most prestigious and established golf clubs on the Costa del Sol. Situated in Golf Valley, Marbella, Aloha is a private members club with one of the most beautiful and well-maintained golf courses in Spain.
A Par 72 parkland course is laid out in the traditional way with 4 par 5's, 10 par 4's and 4 par 3's equally divided between the two nines. At 6,293m, from the white markers, the course requires precision from the tee.
The course requires accuracy off the tee and a good touch around the greens.
Aloha became a 'members only' club and has developed a friendly atmosphere that makes many of our members see the Club as a second home. Throughout its history, the Club has been honoured by the presence of personalities such as HM Mr. John of Bourbon, Prince Klaus of Holland, Prince Edward of England and the King of Malaysia.
Who designed aloha golf club?
Aloha Golf Club is located near Marbella on the Costa del Sol. It is one of the finest clubs in the Golf Valley, which has one of the highest concentrations of the best golf courses in Europe.
The course was created by the renowned Spanish designer, Javier Arana, who also designed El Saler and El Prat. Aloha was his final design; he died in 1975, just as the course was being completed. In the early years of the club, Enrique Canales added the par three course. Honorary members were Mr. Canales and Mr. Richard Katz, former President of the Club, as are currently José Luis Mangas and golf professionals Mr. Diego Borrego and Mr. Miguel Ángel Jiménez.
Aloha Golf Club was originally managed by the Banco de Bilbao. In January 1986 the first General Meeting of Shareholders was held to elect the first President of the Club, Mr. José María Ibarrondo. The current President, Mr. Rafael Fontán Zubizarreta, was elected on 16th February 2010.
What tournaments are there in 2022?
The National Pitch & Putt Ranking 2022
What other tournaments have been played?
Aloha has hosted many prestigious tournaments:
In 1978 it hosted the Spanish Amateur Championship.
In 1989 it hosted the II International Professional Mixed Golf Tournament.
In 1993 it hosted the Match Amateur Spain V.
In 2007 it hosted the Andalusian Open.
In 2008, after the success of the previous year, Aloha hosted the tournament again.
In 2012 the Open de Andalucía (PGA European Tour) returned to Aloha once again.
In 2016 Aloha hosted a major European Tour event, the Spanish Ladies Open.
Services near Aloha Golf
Restaurants and shopping
You will find a wide variety of restaurants in the Aloha Golf Club area, including family restaurants such as El Banco , Nuevo Portón and Links , located in the heart of Aloha Pueblo. On the large Avenida del Prado we find Asian restaurants such as Maa Indian, Tuk Tuk and Bollywood Indian and Mediterranean restaurants such as El Jardin, Studio 68, Roberto's Pizzeria and Italian Corner. Close to Rio Verde are Sisters, DIVOT and Bellini.
If you are looking to buy golf accessories, Aloha has its own shop, Pro shop, which offers golfers articles from the best brands in the sector. But if you are planning other types of purchases, you can go to WiGoGo for a good wine or if you need an electronic device at IN4FIX. Nearby you can find supermarkets such as Mercadona and others such as El Ángel and Al Ándalus supermarkets.
Education and schools
Near Aloha, there are several education centres such as Aloha College Marbella, Colegio Diocesano Francisco Echamendi and Fundación Diocesana De Enseñanza Santa María De La Victoria. As well as other types of education such as Escuela de Joyería Art & Design Yolanda R. Morillo.
Nightlife
Aloha has its own Club House and there is also a place nearby to enjoy yourself, the Living Room Bar.
Sports at Aloha Golf
In addition to golf, you can find a variety of ways to exercise. Playing other sports, at Manolo Santana Racquets Club Tennis, Padel & Fitness , Tennis Brothers , Aloha Tennis Club or Costa Bike Club . You can also do other types of activities at Max Pilates Marbella, Radiant Yoga Marbella, Iyengar Yoga Marbella Nueva Andalucia and Wings of Wellness Yoga studio. Or if you prefer something more in contact with nature, you can walk the beautiful Puerta Verde de Marbella route.
Green areas 
Close to Aloha is the Lago de Las Tortugas, a place to enjoy nature and a swim. There is also the Embalse de la Concepción reservoir.
Exclusive properties near Aloha Golf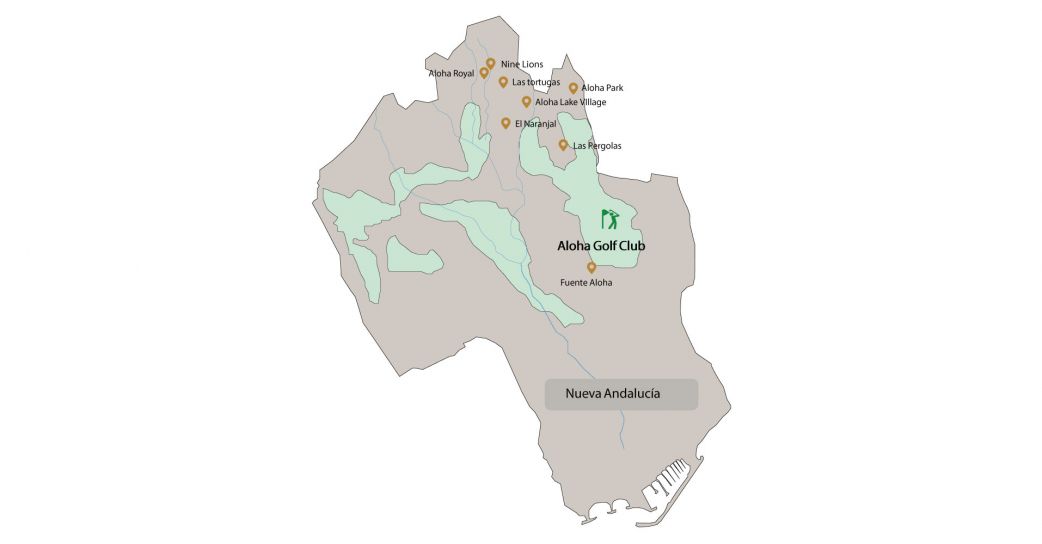 ALOHA GARDENS
A modern complex consisting of 9 blocks with 1, 2 and 3 bedroom flats, duplexes, penthouses and townhouses. The development has 3 large swimming pool areas and magnificent gardens.
ALOHA HILL CLUB
A beautifully built urbanisation situated in the heart of the. The development consists of 140 homes and offers 2 and 3 bedroom flats, as well as 2 and 3 bedroom duplex penthouses, duplexes and penthouses.
ALOHA LAKE VILLAGE
A stunning gated development, close to Aloha College and within walking distance of the beautiful and peaceful Turtle Lake. This charming development includes homes of various colours and sizes that create a cosy atmosphere with communal swimming pools.
ALOHA PARK
An exclusive development with style. The complex consists of 9 blocks, each comprising 54 flats surrounded by beautifully landscaped gardens and a wide range of facilities, including an indoor heated swimming pool, sauna, gymnasium and two outdoor swimming pools, 24-hour security and a concierge area.
ALOHA PUEBLO
A charming urbanisation, which has the design of a typical Andalusian village that is developed on several levels around a central square. In the village there are both flats and townhouses, as well as several cafés, bars and restaurants.
ALOHA ROYAL
An attractive residential complex nestled in the hills and offers stunning views as well as a tranquil atmosphere. The complex has easy access to all amenities, with bars, restaurants, supermarkets and schools.
ALOHA SOURCE
This complex has 76 flats and penthouses. The flats have a large terrace overlooking the gardens and two communal swimming pools surrounded by lush gardens, as well as an indoor swimming pool. In addition, the development has 24-hour security, underground parking and storage rooms.
EL NARANJAL
Traditional Andalusian style townhouses that oozes charm from the very entrance and combines that authentic southern ambience with a rural lifestyle thanks to its cobbled streets, fountains and impressive orange trees. It also has a magnificent communal swimming pool.
LAS PERGOLAS
A development of 18 attractive and charming townhouses in an unrivalled frontline golf location. These magnificent townhouses overlook the beautiful Aloha golf course and the stunning surrounding countryside.
LAS TORTUGAS
A quiet and private urbanisation in the heart of the Golf Valley, surrounded by golf courses and close to the picturesque Tortugas Lake. It is a perfect place for a leisurely stroll or for those who enjoy outdoor activities.
9 LIONS RESIDENCES
Exclusive complex with more than 50 flats and penthouses distributed in nine villas. The complex offers very modern and superbly designed properties. It is situated on a slightly elevated position and offers spectacular views of the Golf Valley and the Mediterranean Sea.