Aloha Golf Club
Welcome to Aloha Golf, one of the most prestigious and established golf clubs on the Costa del Sol. A private members club with one of the most beautiful and well-kept golf courses in Spain.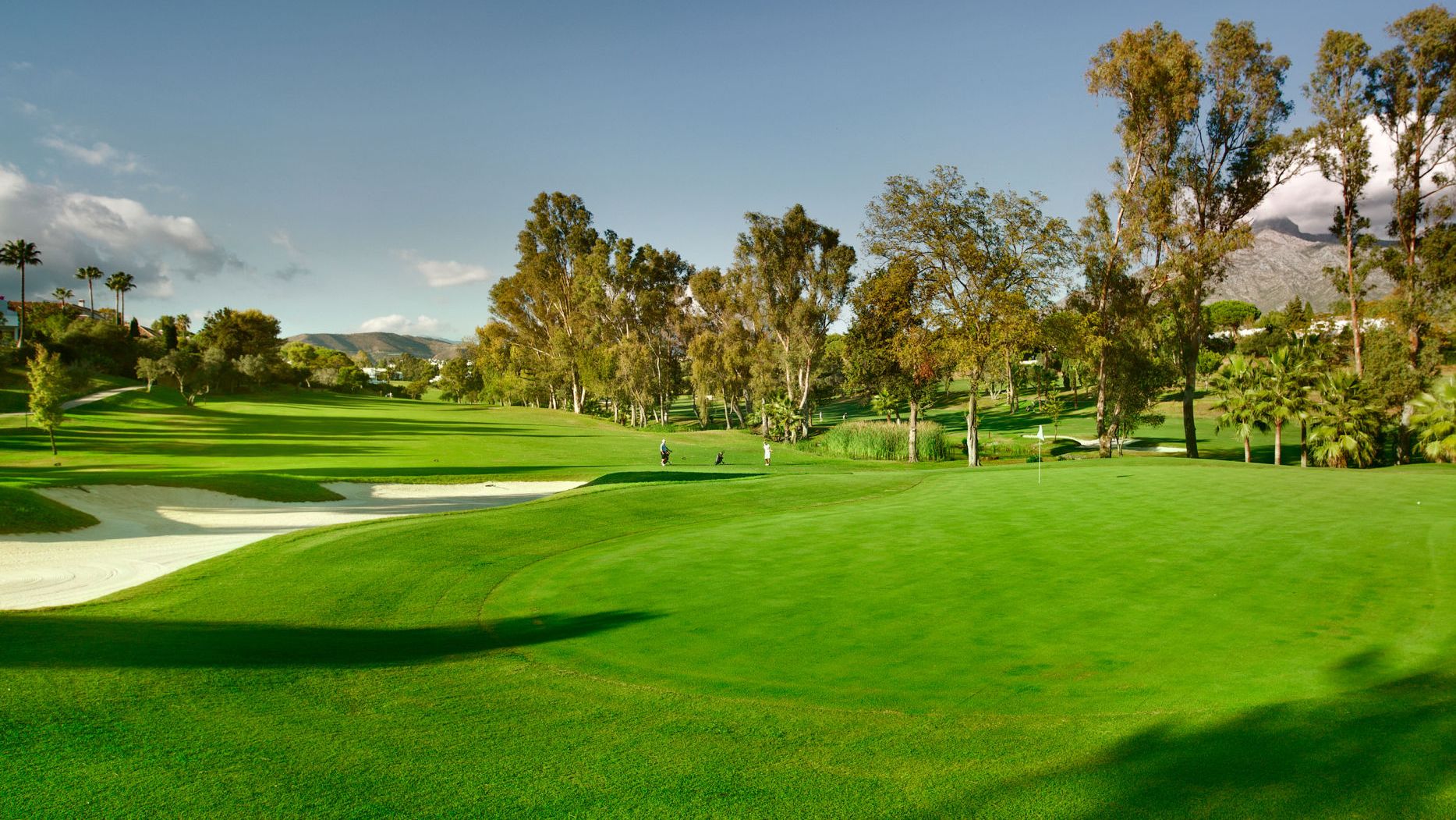 Welcome to Aloha Golf, one of the most prestigious and established golf clubs on the Costa del Sol. A private members club with one of the most beautiful and well-kept golf courses in Spain.
Come and discover one of the quietest and most charming areas of Marbella. Aloha Golf Club.
WHAT IS ALOHA GOLF CLUB?
Aloha Golf Club started out as just one of the most exclusive golf courses. With one of the most prestigious social clubs in the area and perfectly manicured green courses, it has become one of the most renowned courses in Marbella.
With its convenient location in the Golf Valley and its dedication to providing a first-class golfing experience, Aloha Golf Club is the perfect place for any golf lover. Whether you wish to join a social club or simply enjoy a round of golf in one of the most picturesque settings, Aloha Golf Club is the ideal place.
Aloha became a 'members only' club and has developed a friendly atmosphere that makes many of our members see the Club as a second home. Throughout its history, the Club has been honoured by the presence of personalities such as HM Mr. John of Bourbon, Prince Klaus of Holland, Prince Edward of England and the King of Malaysia.
Being such a distinguished course, it is not surprising that little by little, urbanisations and properties have been built around it. Nowadays when we talk about Aloha in Marbella we don't just think of the golf course that bears that name, but of a whole area in the northernmost part of the town made up of different residential complexes, establishments, schools and much more.
WHAT IS IT LIKE TO LIVE IN ALOHA GOLF?
Living in the Aloha golf area is great. You need a car to get around, but it is a quiet area and very close to the busiest areas such as Marbella centre and Puerto Banus. In Aloha golf there are many luxury golf courses and clubs, so it is the perfect place if you like this sport. There are also many restaurants and bars, as well as shops and shopping centres nearby, so boredom is not an option here. If you are looking for a quiet place to live, with good weather and close to all amenities, Aloha golf is the perfect place for you.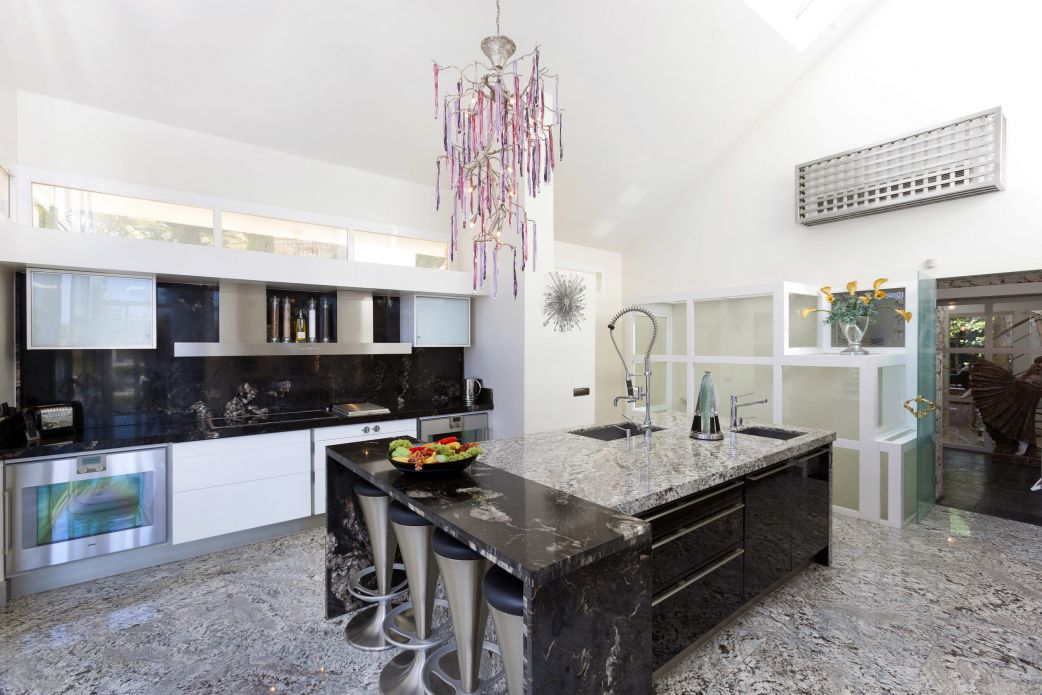 WHERE TO LIVE IN ALOHA GOLF CLUB
The Aloha golf club area is really big and offers all kinds of properties. From stunning villas to magnificent flats to suit every need.
ALOHA GARDENS
Aloha Gardens is a popular complex located just 2 km from Puerto Banús and 6 km from Marbella town, in the heart of the "Golf Valley" of Nueva Andalucía, next to the Aloha golf course.
With the style of a large Andalusian village, within a gated and very secure community. Aloha Gardens is made up of 9 blocks with 2 or 3 storey buildings and are set amongst magnificent tropical gardens.
There are 1, 2 and 3 bedroom flats, duplexes, penthouses and townhouses. The urbanisation has 3 large swimming pool areas. You can find out more by visiting this link.
ALOHA HILL CLUB
The Aloha Hill Club is a development consisting of 140 homes and offers 2 and 3 bedroom flats as well as duplex penthouses with incredible sea views.
It has 4 outdoor swimming pools and a spa and fitness centre, which also has a sauna, thermal pool and sensory showers and within the spa you can receive body and facial treatments if booked 24 hours in advance.
This residential complex is located 10 km from the centre of Marbella. There is also a restaurant and poolside bar.
The flats are modern and have air conditioning, 1 bedroom with double bed, 1 bedroom with 2 single beds, 2 bathrooms with shower or bathtub, and private terrace with views of the mountains, gardens, pool or sea.
Within the facilities there is also an exclusive grocery shop, and there is a concierge service from Monday to Friday. The barbecue area is also available exclusively for the owners.
Here you can find out everything we have available at Aloha Hill Club.
ALOHA LAKE VILLAGE
This is a collection of charming townhouses, which together create a cosy and inviting atmosphere.
There are properties of varying sizes and offer a traditional homely feel with built in fireplaces. Properties within the complex have parking, either designated spaces or a private garage for added convenience. In addition, some properties have their own private gardens. The complex has up to three communal swimming pools and gated security.
A stunning gated development, close to Aloha College and within walking distance of the beautiful and peaceful Turtle Lake. This charming development includes homes of various colours and sizes that create a cosy atmosphere with communal swimming pools.
Here you can see some of the properties we have available.
ALOHA PARK
Within the complex there are 9 blocks with 54 flats each, set amongst stunning landscaped gardens. Tenants have access to a wide range of facilities. Indoor heated swimming pool, sauna and gymnasium, two outdoor swimming pools, 24 hour security and a reception area with concierge. Also, each building has an underground garage with parking spaces and storage rooms.
All ground floor flats have a private garden and swimming pool. But keep an eye on the first floor flats and penthouses, as they have a private jacuzzi.
If you would like to see some of the properties we have available, please visit this link.
ALOHA PUEBLO
This magnificent urbanisation offers accommodation with an outdoor swimming pool. The flats also have private parking and barbecue facilities. But the most interesting thing is that they offer a bicycle rental service very close by and most have sea views.
The Casino Marbella is 3.2 km from the property, while the Villa Romana de Río Verde is 3.4 km away.
A charming urbanisation, which has the design of a typical Andalusian village that is developed on several levels around a central square. In the residential complex there are both flats and townhouses, as well as several cafés, bars and restaurants.
Here you can own different properties of Aloha Pueblo.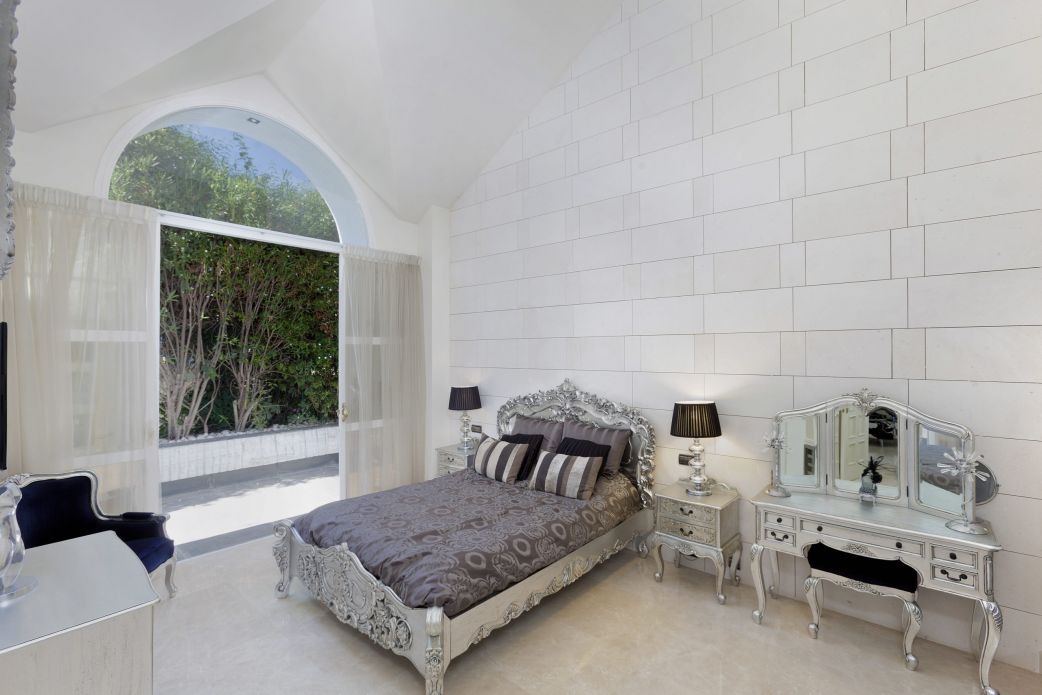 ALOHA ROYAL
An attractive residential complex nestled in the hills and offering stunning views as well as a tranquil environment. The complex has easy access to all amenities, with bars, restaurants, supermarkets and schools.
The development consists of a total of 91 units. In addition, it has one of the highest levels of security, two communal swimming pools, children's play area, garage and a storage room for each property.
Undoubtedly Aloha Royal is one of the most complete urbanisations. Ideal for a permanent family or holiday home.
Here you can see the different properties.
FUENTE ALOHA
This complex has 76 flats and penthouses. The flats have a large terrace overlooking the gardens and two communal swimming pools surrounded by lush gardens with excellent communal areas, as well as an outdoor swimming pool and indoor swimming pool. In addition, the development has 24-hour security and internal camera system, gymnasium, sauna, Turkish bath, underground parking and storage rooms. Everything has been taken care of to the last detail and the maximum security, including fire prevention.
Through this link you can find all the available properties we have in Fuente Aloha.
EL NARANJAL
El Naranjal is a residential complex with a total of 77 semi-detached houses in traditional Andalusian style. A place that with its rural style, its fountains and its cobbled streets exudes a unique style. It also has a magnificent communal swimming pool. The purest Andalusian style to envelop you in a typical atmosphere of the south of Spain.
If you want to know more about these properties, visit this link.
LAS PERGOLAS
A development of 18 attractive and charming townhouses in an unrivalled frontline golf location. These magnificent townhouses overlook the beautiful Aloha golf course and the stunning surrounding countryside.
These wonderful townhouses are surrounded by well maintained communal gardens and have an outdoor communal swimming pool and tennis court. For the exclusive use of the owners.
Here you can find out all the details about this wonderful residential complex.
LAS TORTUGAS DE ALOHA
A quiet and private urbanisation in the heart of the Golf Valley, surrounded by golf courses and close to the picturesque Turtle Lake. It is a perfect place for a leisurely stroll or for those who enjoy outdoor activities.
There are 60 properties in total, with flats and penthouses. The residential complex also has a stunning communal swimming pool, underground parking for each property, stunning gardens and views of the mountains and the sea. As you would expect, there is 24 hour security, tenants' privacy is really important at Tortugas de Aloha.
The properties are spacious and have semi-covered terraces of a considerable size.
If you would like to know more about Las Tortugas de Aloha, please visit this link.
9 LIONS RESIDENCES
Exclusive complex with more than 50 flats and penthouses distributed in nine buildings that give the complex its name. The complex offers very modern and superbly designed properties. It is situated on a slightly elevated position and offers spectacular views of the Golf Valley and the Mediterranean Sea.
Here you have all the details about all the properties.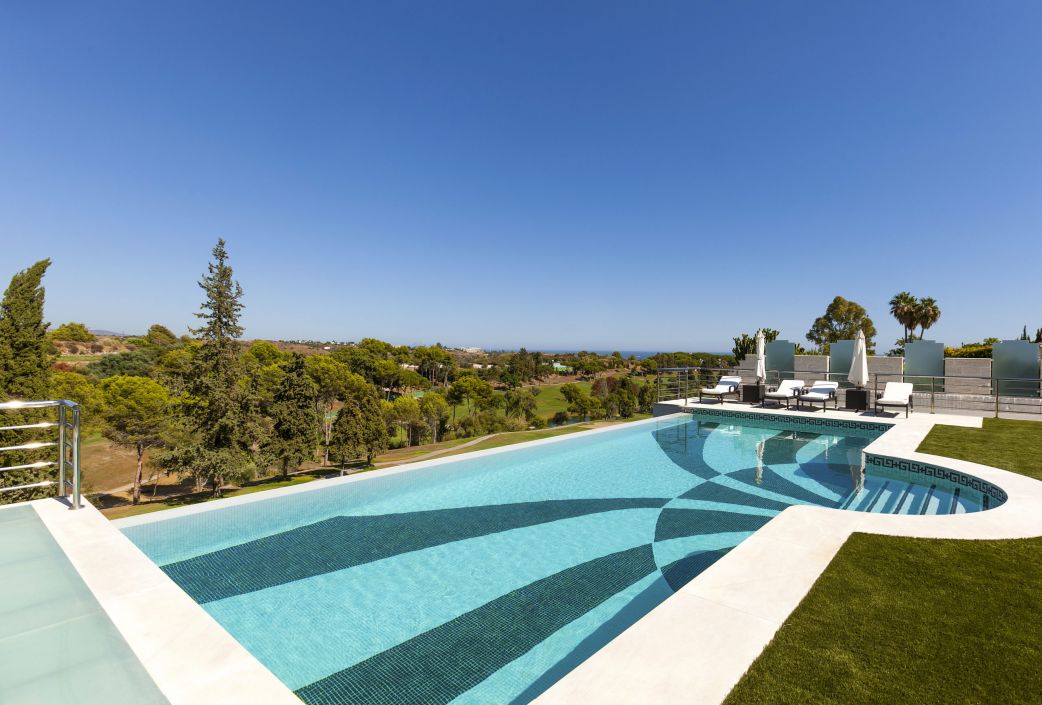 WHERE TO EAT IN ALOHA GOLF
Being a place where there are numerous residential areas and prestigious leisure facilities, the gastronomic offer could not be less. Within what we understand as the Aloha golf area we find different restaurants of all categories and all levels.
One of the most famous is, of course, the club restaurant. With very good reviews and a fairly extensive menu, it is a restaurant located inside the golf course where only club members have access.
But you can also find other renowned establishments, such as Links Bar with a menu dedicated more to an English audience, Aloha Grill, with very specific opening hours (don't forget to book a table in advance) and one of the most special, Masala. With typical Indian food and a charming and original atmosphere.
You will find a wide variety of restaurants in the Aloha Golf Club area, including family restaurants such as El Banco , Nuevo Portón located in the heart of Aloha Pueblo. On the large Avenida del Prado you will find Asian restaurants such as Maa Indian , Tuk Tuk and Bollywood Indian and Mediterranean restaurants such as El Jardin , Studio 68 , Roberto's Pizzeria or Italian Corner . Near Rio Verde you will find Sisters, DIVOT and Bellini.
SHOPS AT ALOHA GOLF CLUB
If you are looking to buy golf accessories, Aloha has its own shop, Pro shop, which offers golfers articles from the best brands in the sector. But if you have other types of purchases in mind, you can go to WiGoGo for a good wine or if you need an electronic device at IN4FIX.
SUPERMARKETS AT ALOHA GOLF CLUB
If you are looking for a long term property, Aloha Golf Club is definitely the place to be. The area has numerous quality supermarkets where you can do your shopping in less than five minutes by car.
These supermarkets are as famous as Mercadona. But you can also find many others such as El Angel supermarket and Al Andalus.
EDUCATION AND SCHOOLS
Very close to Aloha are the most prestigious schools in the area. Almost all of them are international with basic teaching in English.
There are several education centres such as Aloha College Marbella, Colegio Diocesano Francisco Echamendi or Swans International School. As well as other types of advanced education such as the Marbella International University Centre.
DOCTORS AND HOSPITALS IN ALOHA GOLF CLUB.
Magna hospital, one of the best hospitals on the Costa del Sol, is located within this area.
This hospital offers countless services in general medicine and oncology, as well as more specific treatments in aesthetic medicine and other specialties. And less than 10 minutes from all the residential complexes that make up Aloha Golf Club.
SPORTS AT ALOHA GOLF
In addition to golf, there are many other ways to exercise at Aloha Golf Club. Practising other sports, such as Manolo Santana Racquets Club Tennis, Padel & Fitness , Tennis Brothers , Aloha Tennis Club or Costa Bike Club . You can also do other types of activities at Max Pilates Marbella, Radiant Yoga Marbella or Iyengar Yoga. But if you prefer something more in contact with nature, you can walk along the beautiful Puerta Verde de Marbella route.
GREEN AREAS
Near Aloha is the Lago de Las Tortugas. This is the place after which one of the urbanisations is named. It is a magical and charming place where you can enjoy nature and a swim in the beautiful lake. The Embalse de la Concepción reservoir is also located here.
OTHER SERVICES NEAR ALOHA GOLF CLUB.
Not surprisingly, as Aloha Golf Club is one of the largest areas in the whole of Marbella, it has numerous high class services.
In addition to all that Puerto Banús and Marbella town have to offer (as both locations are less than a 10 minute walk away). Aloha Golf is very close to the Casino de Marbella. Known worldwide and a super exclusive place where besides the casino, it also has a daytime swimming pool and bar service.
SELF-CARE AT ALOHA GOLF CLUB.
Of course, Aloha Golf Club also has many self-care services in the area. Wings of Wellness is a very complete studio where you can not only exercise, but they also offer different body treatments and specific classes.
Spafullvitality is a massage and aromatherapy centre in the area where you can go to relax and they offer a massage service and spa centre.
La vida by Vera is a beauty salon where they offer hair styling and hairdressing services. They also offer waxing and manicure services.
Aloha Barber Shop is an establishment dedicated to male aesthetics where they offer facial treatments and a hairdressing and barber service.
GREEN AREAS
WHO DESIGNED THE ALOHA GOLF CLUB COURSE?
Aloha Golf Club is near Marbella on the Costa del Sol. It is one of the best clubs in the Golf Valley, which has one of the highest concentrations of the best golf courses in Europe.
The course was created by the renowned Spanish designer, Javier Arana, who also designed El Saler and El Prat. Aloha was his final design; he died in 1975, just as the course was being completed. In the early years of the club, Enrique Canales added the par three course. Honorary members were Mr. Canales and Mr. Richard Katz, former President of the Club, as are currently José Luis Mangas and golf professionals Mr. Diego Borrego and Mr. Miguel Ángel Jiménez.
Aloha Golf Club was originally managed by the Banco de Bilbao. In January 1986 the first General Meeting of Shareholders was held to elect the first President of the Club, Mr. José María Ibarrondo. The current President, Mr. Rafael Fontán Zubizarreta, was elected on 16th February 2010.
WHAT OTHER TOURNAMENTS HAVE BEEN PLAYED?
Aloha has hosted many prestigious tournaments:
In 1978 it hosted the Spanish Amateur Championship.
In 1989 it hosted the II International Professional Mixed Golf Tournament.
In 1993 it hosted the Match Amateur Spain V.
In 2007 it hosted the Andalusian Open.
In 2008, after the success of the previous year, Aloha hosted the tournament again.
In 2012 the Open de Andalucía (PGA European Tour) returned to Aloha once again.
In 2016 Aloha hosted a major European Tour event, the Spanish Ladies Open.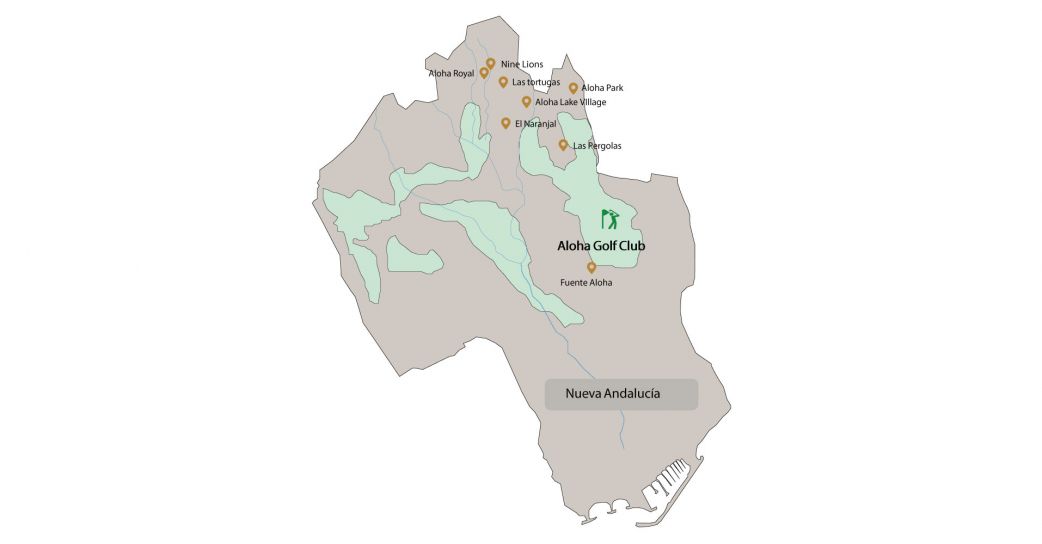 If you need more information about the area or any of our properties do not hesitate to contact us. We have a lot to offer you.

Javier is the founder and CEO of Pure Living Properties. Born and raised in Marbella in an entrepreneurial family who settled on the Costa del Sol in the 1960s, when Marbella's real estate and tourism industry was just a fledgling market, Javier is an expert connoisseur of Puente Romano, which he calls home, and the Golden Mile, but also of the best areas, projects and companies, as their owners and developers have been among his inner circle since childhood.