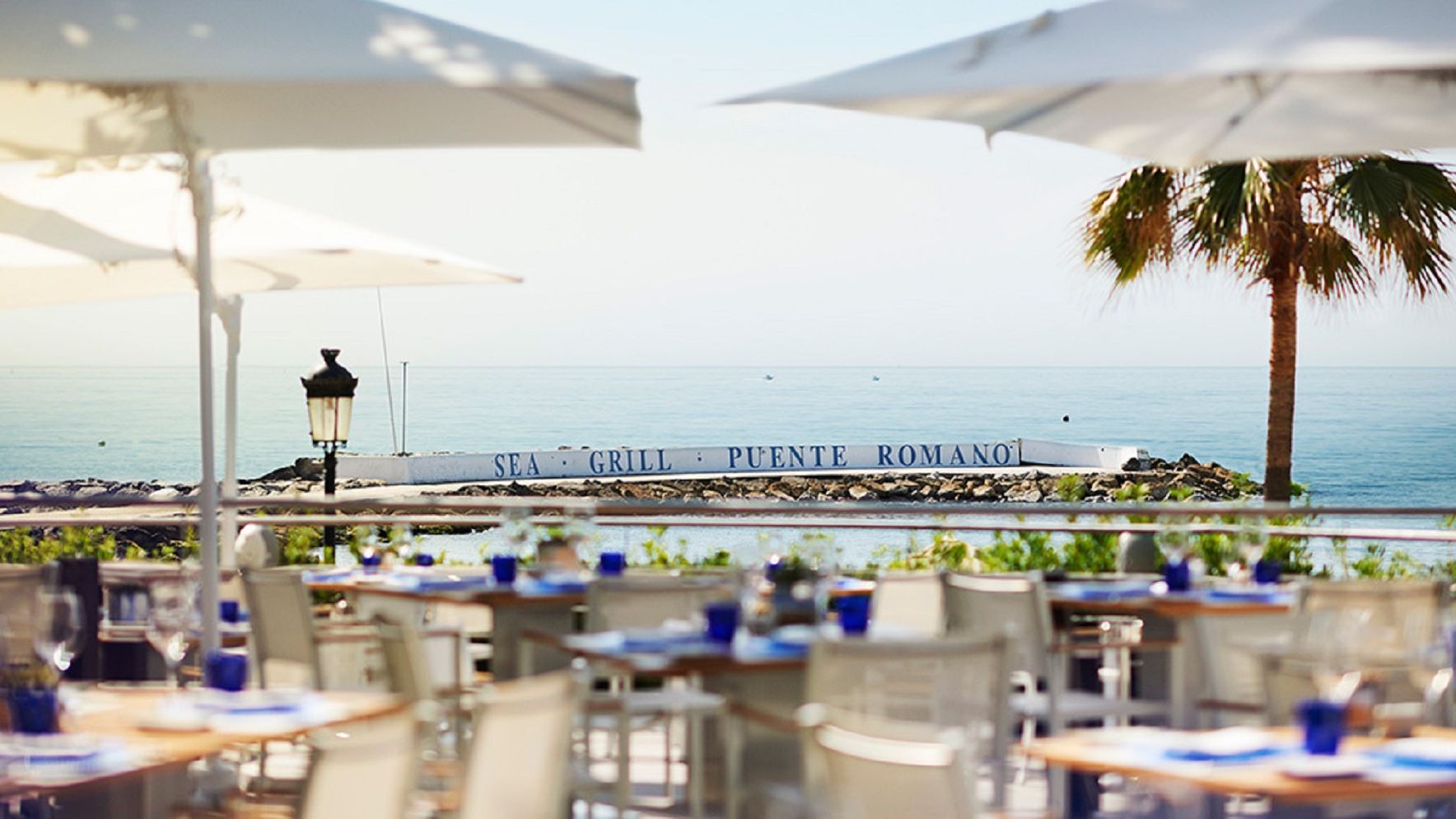 Hotel Puente Romano's Sea Grill restaurant invites diners to admire the Mediterranean while feasting on some of the best fish and seafood available both from Spain and further afield. One of eight restaurants within the hotel grounds, Sea Grill offers one of the most impressive vistas as well as a stunning interior, designed by renowned British award winning interior designer, Andrew Martin.
Although the Sea Grill's menu does include a number of meat based dishes, it is the selection of fish and seafood that really sets this restaurant apart from others in Marbella. The venue is known for its tandoor ovens and charcoal grills adding a unique flavour to its culinary creations, which when combined with the tasty, fresh salads available on the grand buffet or prepared to order by the chef on the a la carte menu, ensure a superb fresh tasting experience. Connoisseurs will appreciate the glass wine cellars displaying the Sea Grill's superb selection of bottles chosen to complement the menu. The staff is on hand to help you select the best wine to enjoy alongside your chosen meal.
The Sea Grill's menu is influenced by Moroccan, Asian, Indian and Mediterranean cuisine, inspiring a wonderful fusion of flavours within every dish. Whether you're looking to enjoy a leisurely lunch, romantic dinner or quick snack, you won't be disappointed. The restaurant is open daily from 13.00 to 16.00hs and from 20.00 to 00.00hrs with a snack service available in between.
From detached villas to luxury bolt holes, there are a number of opportunities for those looking to invest in property within the grounds of the Puente Romano. This three bedroom apartment is ideally located just two minutes' walk from the beach. Fully equipped with air conditioning, this newly refurbished apartment has been decorated by one of Marbella's top interior designers Pedro Peña. As well as beautiful views out across the lush gardens, residents can enjoy the Puente Romano's facilities, including maid service if required.
More contemporary in its architecture, this Puente Romano villa has been fully renovated to a very high standard with open plan living, the latest technology, home cinema, private swimming pool and garden, all within the grounds of the hotel. Its cutting edge design encourages natural light to flood into the home, emphasising the clean lines and top quality finish throughout.
The facilities and amenities within the grounds entice residents, holiday home owners and investors to the Puente Romano, and many are surprised by the variety of architecture, design and finish hidden within the tropical, green foliage. For more information on villas and apartments available to buy and rent at the Puente Romano, contact Pure Living Properties.

Javier is the founder and CEO of Pure Living Properties. Born and raised in Marbella in an entrepreneurial family who settled on the Costa del Sol in the 1960s, when Marbella's real estate and tourism industry was just a fledgling market, Javier is an expert connoisseur of Puente Romano, which he calls home, and the Golden Mile, but also of the best areas, projects and companies, as their owners and developers have been among his inner circle since childhood.