Javier Nieto CEO of PLP advances us some details about the new office
Javier Nieto - Dec 10, 2020 - Pure Living News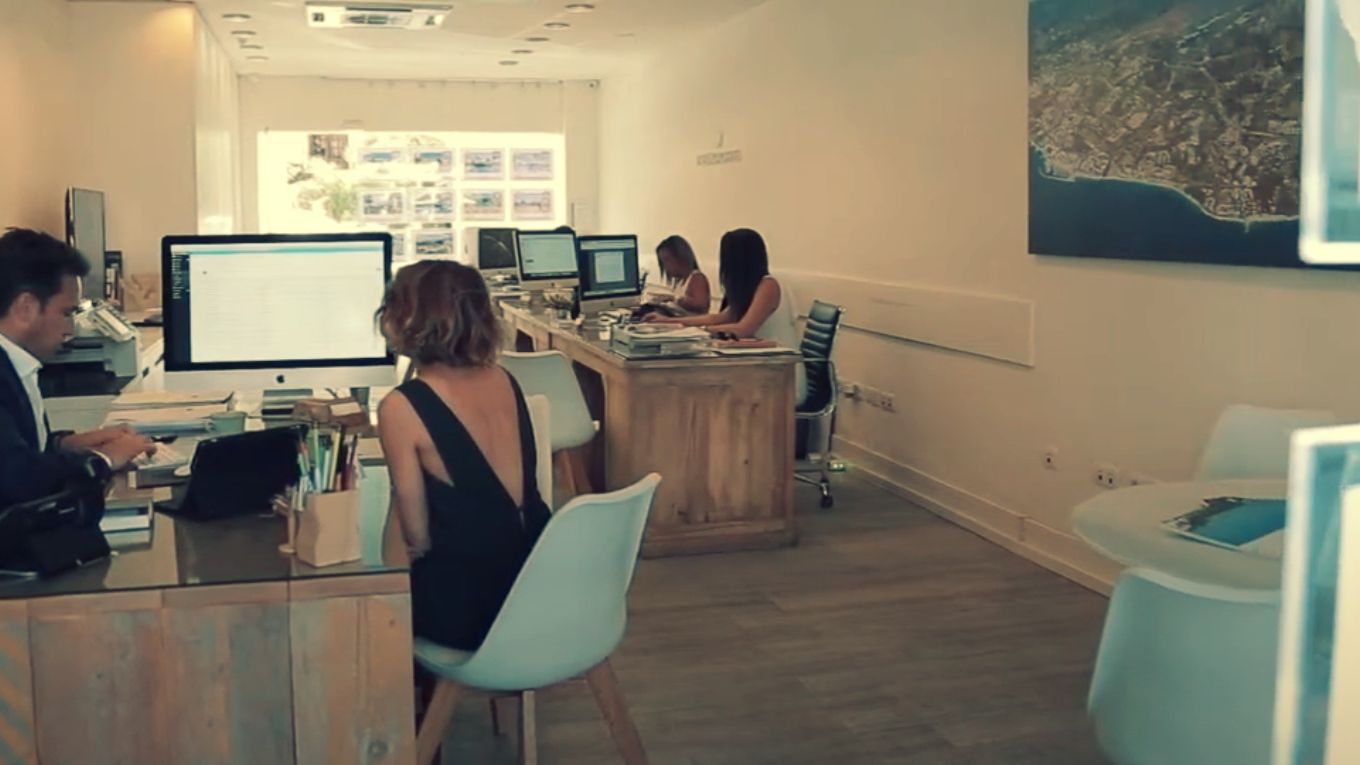 What was the main reason for the reform? To give a fresher and more modern air to the office, to optimise the space?
I have been wanting to reform the office for a long time because, although I was happy with the current design and decoration, I always like to improve and stay current. Inside Pure Living Properties we carry out renovation projects for villas and apartments that I take care of personally, and that is something that I really love. I have been keeping the office reform project totally secret, just between me and the professionals involved who are helping me make it happen. Only they know the project, what the new distribution will be like, the décor… because I want it to be a surprise, especially for my team, as I am really proud of and happy with each and every one of the professionals that make it up.
Although you are reforming the office, you are keeping the same space that Pure Living Properties occupied before, is the location of your office key for the development of your business?
Yes, of course, Puente Romano is the hot spot of Marbella, but for me, that is not the only reason. I spent my childhood and youth between Puente Romano and Marbella Club, so I have a very strong attachment to this area and it always occupies a place in my heart.
How will the new office be structured?
As I mentioned, it is still a secret, we will slowly reveal more and more details.
What style will the decoration of the new Pure Living Properties space follow?
The premises have been to make a project of the highest quality, elegance, timeless, very technological and of course, have a very pleasant space to work and serve our demanding clients.
To which company have you entrusted the reform and decoration?
Part of my job is to shape very very special projects, working both in the decoration and construction of the best properties in Marbella, that is why I have a close relationship with the best professionals in the area, and I have to say that in Marbella we have great architects, decorators, builders, etc… From my point of view the best of the best in the world.
The great disadvantage of our space is the narrowness of the premises, and it conditions us too much, the most repeated phrase of this project has clearly been "if only we had one meter more…" I have been wanting to change our office for a long time and I am really grateful because there have been many professionals in the area who have helped me and shared their ideas. However, it was Pedro Ayora from Inhabit Architects, who presented me with something really special.
I had the pleasure of meeting Pedro on a trip to London organised by Victor from the Illusion company, great professionals who of course, are also part of this project. I was talking with Pedro about different projects that we had underway when I told him about the reform of our space and the truth is that he presented me with an idea that surprised me a lot, it was not what I expected but… it was undoubtedly a very good idea, despite the fact that he had a hard time convincing me and bringing me on board, he succeeded and I cannot be more grateful because the end result is impressive.
What date do you foresee the project to be finished by?
We will be ready by the end of January 2021, it is a Christmas gift for our clients, friends, collaborators and of course for the great family that forms Pure Living Properties.
With the current situation, and the limitations in mobility and capacity, it will be difficult to hold an inauguration event. Do you have any ideas in mind, perhaps a virtual inauguration through your social networks?
To be honest I did want to have an inauguration of the new office and be able to share the project with relatives, agents, clients, but it is true that with the current situation it is complicated, although, I will think of something to be able to show everyone this project that I am so passionate about.
Hotel Puente Romano, 20 – Marbella (Málaga)Tel: 
+34 952 868 945
M: 
+34 665 778 118
Email: 
info@purelivingproperties.com
W: 
www.purelivingproperties.com
Instagram: 
purelivingpropertiesmarbella
Facebook: 
Pure Living Properties Marbella

Javier is the founder and CEO of Pure Living Properties. Born and raised in Marbella in an entrepreneurial family who settled on the Costa del Sol in the 1960s, when Marbella's real estate and tourism industry was just a fledgling market, Javier is an expert connoisseur of Puente Romano, which he calls home, and the Golden Mile, but also of the best areas, projects and companies, as their owners and developers have been among his inner circle since childhood.